It's safe to say that social networking platforms today like Facebook are far beyond just tools to connect with friends and family. Specifically, from a business point of view, these sites pack tons of powerful features to help business owners promote themselves to a wide audience with reasonable costs, and pinpoint accuracy. Whether with organic activity or paid advertising, having a presence on a platform that hosts your potential customers in one place is a no-brainer.
With almost three billion monthly active users, Facebook is an excellent example. Whatever niche your business belongs to, there's a very high chance that you'll find a considerable audience on the social network giant. Having a Facebook marketing strategy is a superbly effective way to reach this audience fast without breaking the bank. If you need a hand developing your Facebook Ads strategy from scratch, keep up with us until the end of the articles to have a head start.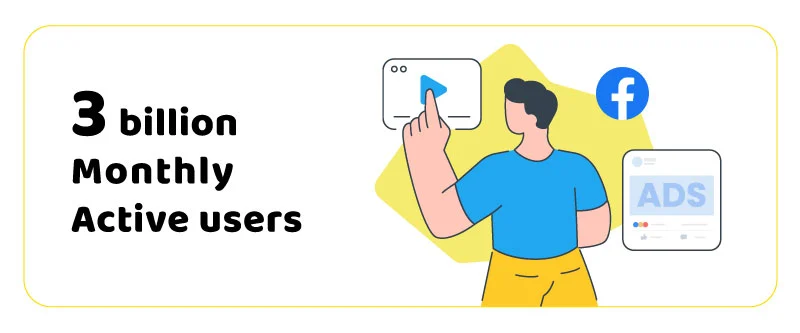 Why Facebook Ads?
The advertising side of Facebook traces its roots back to 2007. Ever since that time, Facebook Ads has gotten more expensive. However, it makes sense. More than a hundred million businesses actively use the platform to promote themselves. Throughout the years, the company has gathered a huge amount of user data and developed its catalog of advertising features that are unparalleled in the industry right now.
Facebook has been fine-tuning its commercial features to help businesses better engage with their customers with relevant and high-quality content. Facebook Ads is now more powerful than ever. It provides high advertising flexibility with advanced targeting abilities. You can have total control over how much you want to spend on your campaigns, and be confident that Facebook will display your ads to the right people.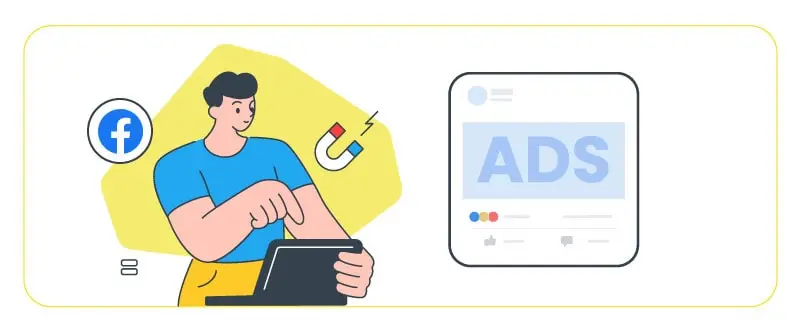 It's true that advertising on Facebook is not as effective as it once was, but that doesn't mean you should skip on it for good. Facebook is still the largest social network in the world. It's perfect for both B2B and B2C advertising, and with Facebook Ads, you can target prospects at every stage of your marketing funnel. Thanks to its superb profiling algorithm, you can introduce your brand to people who might be interested in what you offer. You can retarget users who've shown interest in your products and entice existing customers to purchase again.
How to develop a Facebook Ads strategy for your business
For every business, the specifics of Facebook advertising strategy are different, but the basic structure is the same. Here it goes:
Define a target audience for your Facebook Ads
If you're an absolute beginner at Facebook advertising, you might not even have the slightest clue how powerful it can be when it comes to narrowing down your audience. With Facebook, you can get granular with your ads and only target those who are most likely to buy from, or at least consider your brand and exclude everyone else. When creating a campaign, you can get very broad or very specific with your targeting based on dozens of filters available to define who's going to see your ads and who's not.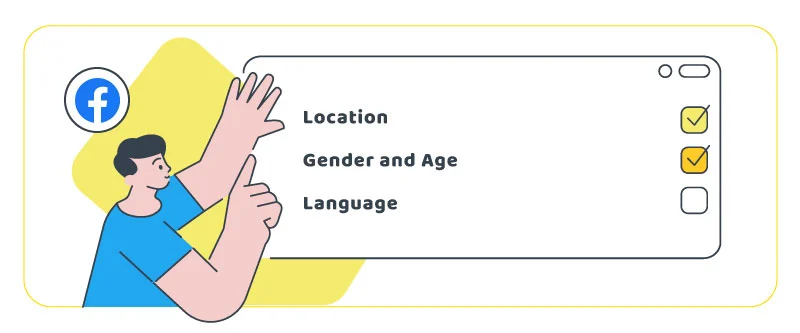 Location: One of the primary filters that lets you target specific countries, regions, states, provinces, cities, communities, and ZIP codes. Local businesses can use the radius feature that gives them the option to select a central point on the map and target the surrounding area.
Age: You can set a minimum and maximum age for the users that are supposed to see your ads on Facebook. The lower limit is 13 and the upper limit is 65+ years old.
Gender: Showing your ads to men, women, or both.
Language: By selecting a specific language that isn't common in your location, your ads will be displayed to people who use that language.
Detailed targeting: Now this is the juicy part. The Detailed targeting feature on Facebook gives you tons of options to get really specific about ad recipients. It's divided into three categories: Demographics (from life events to relationship status), Interests (From hobbies to shopping preferences), and Behaviors (Digital activities, purchase behavior, anniversary, etc.).
Custom and lookalike audiences
If you find shaping up your core audience too difficult, these two great features will help you get started. Custom audiences lets you connect with the people who, one way or another, have shown interest in your brand. What Facebook does here is that it receives a list of customer data (via uploading an email list or Facebook Pixel) and then matches list items with their Facebook profiles and creates a "Custom Audience" list for your ad account. To use this feature, select the "Audiences" item in the hamburger menu on the right-hand side of Ads Manager, then select "Create a Custom Audience".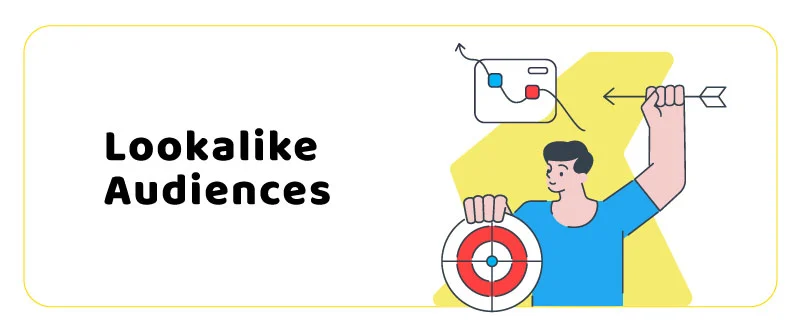 Lookalike audiences gives you the ability to create lists of people who share similar characteristics with your current customers and people who have shown interest in your business. You can find this feature in the same place as the Custom Audiences in Ads Manager. Facebook gives you the option to select the level of similarity to your current audience on a scale of %1 to %10. The higher you go, the bigger and broader your audience will become. Facebook requires you to assign a source for creating the lists. This source could be a custom audience list, the data collected by Facebook Pixel, or the people who follow your Facebook Page.
Set up Facebook Pixel on your website
Proper tracking should be among the very first things on your to-do list. Without reliable data, you basically have nothing to shape an audience with. And by data, we mean your website's past visitors. Their characteristics, behavior, and activities will help you find out who to target with your ads.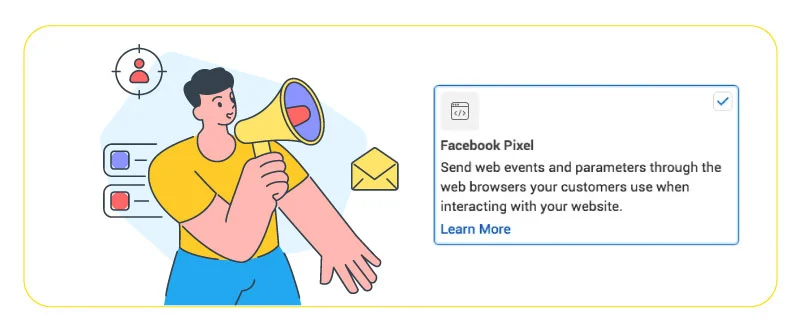 Facebook's own tracking tool is brilliant. It constantly monitors visitor actions on your website and creates an audience database that you can directly use in targeting. Facebook Pixel lets you segment people who have taken specific actions on your store. Later on, you can test these segments and find the best approach to lead them down your funnel. So make sure it's installed and working. You can do this by checking the Event Manager section of Facebook Ads Manager.
Create a marketing funnel
When it comes to Facebook advertising, having a well-defined marketing funnel is essential. Funnels shine a light on the journey your customers take from the moment they make contact with your brand, all the way to the point where they purchase from you. A marketing funnel has different stages which determine multiple factors about your potential customers like how much they are familiar with your brand, what tone you should use to lead them further down the funnel, and what ad type is best for their position. Consider these three stages for your funnel:
Awareness: At this stage, people have never heard of your brand and are just starting to notice you. The goal here is to grab their attention without going for the hard sell right away. You'll introduce your brand with your Facebook ads and make them interested.
Consideration: The next stage in the funnel is encouraging the people you've just attracted to consider what you offer to solve a problem they have. You should highlight your strengths and show your uniqueness. For this to happen, you can publish more detailed content or video ads.
Conversion: The "Aha!" moment. The conversion stage is where you go for the kill. Prior to this stage, you have grabbed potential customers' attention, nurtured them down your customer journey to show them how your product or service best fits their needs, and now all you need is a little push to convert them into actual customers. This push could be a tempting incentive, or a clever retargeting campaign.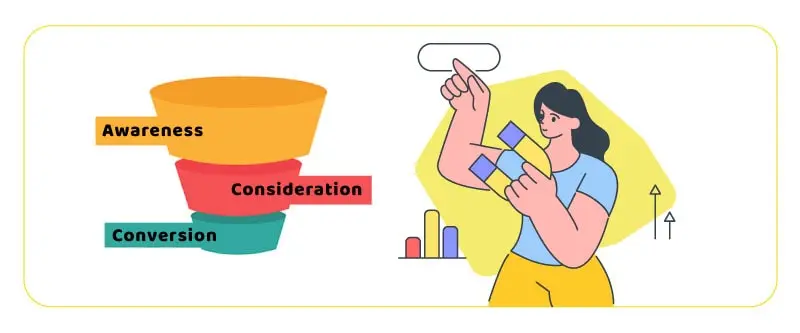 Your marketing funnel determines the direction of your whole campaign. Each stage requires a different tone, creative, copy, and even ad placement. Read our article on paid advertising funnel to learn more about this essential marketing tool.
Retargeting previous website visitors
We mentioned retargeting in the "Conversion" section of the marketing funnel, and we can't stress enough how important it is to acquire customers through Facebook advertising. When running Facebook Ads campaigns, having patience and consistency is essential. Your audience isn't going to turn into brand advocates overnight or with one or two awareness campaigns. That's why you have a marketing funnel. Retargeting is a tool you must use to ensure you're seizing every opportunity you have for turning hesitant prospects into customers.
Whenever I want to explain the concept of marketing funnel and retargeting to someone, I always use this example: How would you feel If someone that you've never met before, stop you on your way to work, bend the knee in front of you, and ask you to marry him? He doesn't know anything about your personality, your life status, or even your sexual orientation. At best, you'll wonder how desperate and in love this guy is and try to sympathize with him.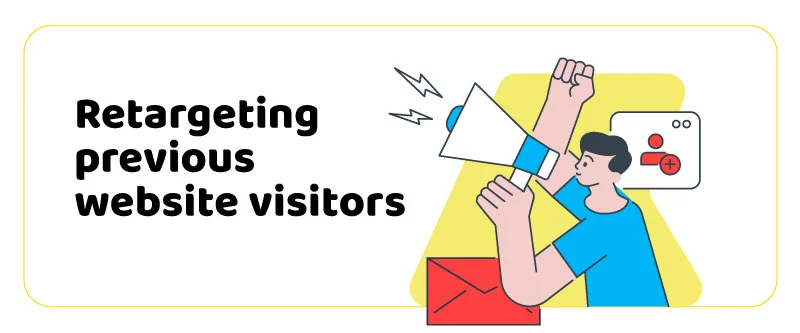 But odds are you'll run away as fast as you could before falling into the trap of this creepy stalker or prankster. The same thing happens when you approach your Facebook audience without having a funnel. (Ok. Not exactly the same but you get the point.). Going for the one-size-fits-all approach in your Facebook Ads and serving a very pushy advertisement that urges everyone to buy from you is like proposing to a stranger out of the blue. You know what the reactions are going to be.
A retargeting campaign focuses on people who have shown interest in your brand through various actions but stopped right there. These people have a high potential to become customers. They know your brand, they have a certain level of connection with you, and they just need a nudge to purchase from you. Identifying targets for your retargeting campaigns is easy thanks to Facebook Pixel. This small piece of code fires up any time a user takes an action.
This action could be adding an item to the cart, signing up, or even visiting a certain product's page. Pixel identifies these actions and associates them with respective Facebook accounts. What you need to do is to retarget these people with tempting content and incentives. You can include a special or limited-time offer, coupons, discounts, or target them with Facebook's Dynamic Ads. These ads promote the products they have already viewed in your shop but haven't purchased.
Related: How to Create a Facebook Ads Strategy for Shopify Businesses
Keep track of your campaigns and learn from your competitors
The best Facebook Ads campaigns are the ones that are constantly optimized to get the best performance possible. Regardless of the goals you try to achieve with your paid presence on Facebook, you need to optimize your campaigns to minimize your CPC and get the most bang for the buck. Otherwise, you'll quickly drain your budget without getting any meaningful results (and then blame everything on the evil Facebook).
If you're a newbie, start out small to get familiar with the overwhelming Facebook Ads Manager before spending big bucks on campaigns. Split-test different creatives, ad copies, and even ad types (photos, videos, carousels, placements, etc.) to find the right combination for every campaign you have for your funnel stages.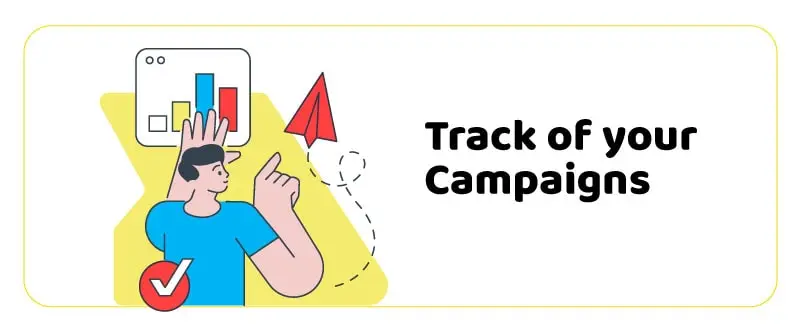 Luckily, Facebook is very generous in terms of giving performance insights and provides you with extensive performance reports that'll help you fine-tune your ads. To optimize your Facebook Ads strategy in the most cost-effective and non-time-consuming fashion, learn from the successful businesses in your niche. This way, you'll skip the lengthy process of trial and error and keep up with the latest clever trends and solutions that the brightest marketers in your industry have come up with.
Also, you'll be keeping tabs on your rivals, closely following their Facebook presence, which will give you an edge. The best way to do so is using a Facebook ad spy tool like AdFlex, which gives you total freedom in finding, tracking, and analyzing the most profitable ads on Facebook.
Keep your Facebook Ads quality ranking high
Facebook uses a performance metric to assess how much an ad's target audience finds it relevant based on their feedback. The result used to be indicated by a "relevance score", ranging from 1 to 10, but now the platform has a much better, more detailed ranking system called Ad Relevance Diagnostics.
It gives advertisers way better direction on how they could boost the quality of their ads so that more users engage with them. Ad Relevance Diagnostics measures how your ad performs across three dimensions of relevance: Quality Ranking, Engagement Rate Ranking, and Conversion Rate Ranking. Maintaining high rankings in all three aspects leads to Facebook deeming your ads high-quality and significantly lower costs-per-click. Read our guide on how to improve Facebook Ads quality ranking to learn more.
Facebook Ads strategy for Restaurants
Advertising on Facebook is a significantly effective way of attracting customers for Restaurants. An active social media presence has enormous benefits for restaurants since sharing Food and eating experiences are particularly popular among users.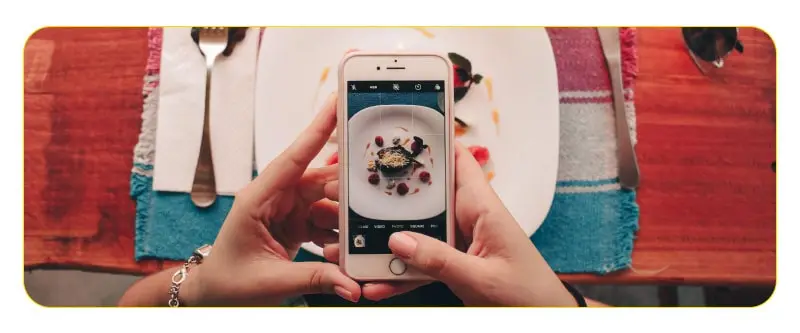 The core principles of creating a Facebook Ads strategy for restaurants are the same as explained above, but restaurateurs should also consider investing more in creating high-quality creative assets like promotional photos and videos of their menu. Make sure to keep your ads fresh by promoting new additions and seasonal or occasional dishes.
Facebook Ads Strategy for e-commerce businesses
If you own an ecommerce business, promoting your brand on Facebook is a must to expand your reach, attract prospects, and convert them to actual customers. Much like any other business, you should also develop a well-though-out Facebook Ads strategy for ecommerce brands; One that covers your entire marketing funnel (You should have one, by the way), and includes your key plans to introduce your brand to people who don't know you, and retarget the ones that have shown interest in your brand.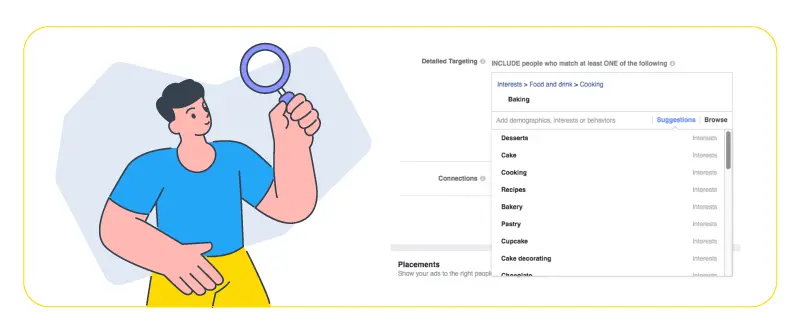 Luckily, Facebook Ads has some brilliant features for e-commerce ads that let users experience shopping in your store without actually leaving Facebook. You can also read more about fashion facebook ads
Conclusion
Facebook is undeniably still one of the best digital advertising solutions for businesses of all sizes and verticals. Millions of brands use it because it works, but many also fail as a result of not having a comprehensive, well-thought-out Facebook ads strategy. Hopefully, our guide served as a beacon to give you vital directions. Developing a strong ad strategy according to these tips and combining it with continuous optimization and the virtue of patience will significantly raise your chance of getting your desired results from advertising on Facebook.
FAQs
Are Facebook ads still effective 2023?
The answer is a strong yes. Even though advertising costs on Facebook have considerably increased throughout the years, It's still the largest social network in the world with three billion monthly active users. Facebook's advertising features and technology are simply best in class, giving you tons of options to market to a massive audience with very high accuracy and with loads of performance insights to help you optimize your campaigns.
What is the most effective type of Facebook ad?
There's no definite answer to this question. Every Facebook ad type is effective in its own way. You need to check if it fits your advertising goals, your strategy, and your resources.
How can I improve my Facebook ads 2023?
Having a comprehensive Facebook Ads strategy is essential when using the platform as a paid advertising tool. You need to clearly define your audience and connect with them throughout a slow, but consistent process that starts from introducing yourself, to making them interested, to giving them a strong incentive a turning them into customers. Test different combinations of ad types, creatives, copies, and placements to see what best resonates with your audience.