If you run a Shopify e-commerce website and are not a complete newbie, you probably know how vital it is to utilize social media advertising in your business strategies. Social platforms provide a level of flexibility and control that no other marketing channel could match. Specifically, Facebook is a terrific place to run ads.
As the most popular social network in the world, Facebook has an exceptionally advanced advertising platform. Nevertheless, the Facebook Ads dashboard could be really confusing. The vast customization options may give you the freedom to advertise the way you want. However, this also makes it difficult to plan out a strong strategy if you don't know what you're dealing with.
There are lots of things you need to know before running your campaigns. From choosing ad types and target audiences to bidding strategy and performance tracking and more. If you're an e-commerce newcomer or haven't gotten the desired results from your previous Facebook ads, you're in the right place. We will explain every necessary Facebook advertising know-how for Shopify store owners.
Why do you need a Facebook Ads strategy?
Facebook owns one of the most sophisticated online advertising platforms in the world. Small businesses to billion-dollar brands use this platform to find new customers. It's almost perfect for achieving any marketing goal. Facebook currently has three billion monthly active users.
In other words, the platform has such a massive user base that it's almost impossible not to find your audience in it. 44% of users admit that Facebook has directly influenced their shopping behavior. In another huge stat, 26% of all users who clicked on ads have reported making a purchase. Advertising on Facebook is a perfect way to put your brand in front of millions of people. If done right, the chances of converting them to customers are very high.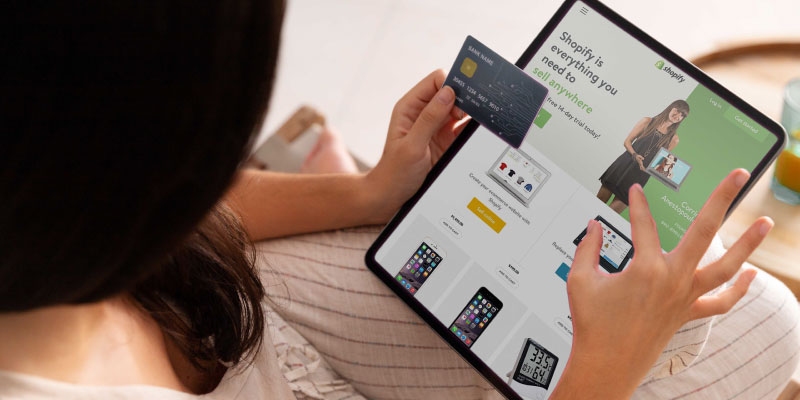 A myriad of targeting, optimization, and tracking options are available to advertisers. But there's another factor that gives Facebook a considerable edge: With Facebook Ads, you can target prospects at every stage of your marketing funnel. Thanks to its superb profiling algorithm, you can introduce your brand to people who might be interested in what you offer. You can retarget users who've shown interest in your products and entice existing customers to purchase again.
All of these features are certainly very promising and they could definitely help you expand your business and generate more revenue. But that doesn't mean you can simply jump onto the Facebook train and expect massive numbers. Regardless of your business type, you need a strong foundation for your campaigns to achieve success. This foundation is your Facebook Ads strategy.
The heart of every Facebook Ads strategy for Shopify Stores: Pixel
Proper tracking should be the very first thing on your to-do list. Without reliable data, you basically have nothing to shape an audience with. And by data, we mean your website's past visitors. Their characteristics, behavior, and activities will help you find out who to target with your ads.
Thankfully, Facebook's own tracking tool is top-notch. It constantly monitors visitor actions on your website and creates an audience database that you can directly use in targeting. Facebook Pixel removes the guesswork and lets you segment people who have taken specific actions on your store. Later on, you can test these segments and find the best approach to lead them down your funnel. So make sure it's installed and working. You can do this by checking the Event Manager section of Facebook Ads Manager.
Focus on building brand awareness first (If your business is new)
If you've just launched your Shopify store or have no historical data, you need some website traffic first. Instead of just telling people to buy your products right away, you should start by getting them to know your brand. After you got them to visit your shop and check out a few product pages, you'll gain actionable audience data. This data could later be used for remarketing and creating lookalike audiences to expand your customer base.
To build brand awareness, you need to run reach-focused ads. Keep in mind that your goal is getting potential customers to know you. Since you haven't shaped your core audience yet, you'll need to find another way to specify targets for your ads. Don't worry though. You can find a preliminary audience with the least amount of trial and error using the following methods:
Use your buyer personas
If you've mapped out your customer personas before, now would be the perfect time to use them. Having buyer personas means you've already visualized your ideal customers. You already have a good idea of their characteristics, interests, and concerns. Use all this valuable info when setting targets for your awareness ads.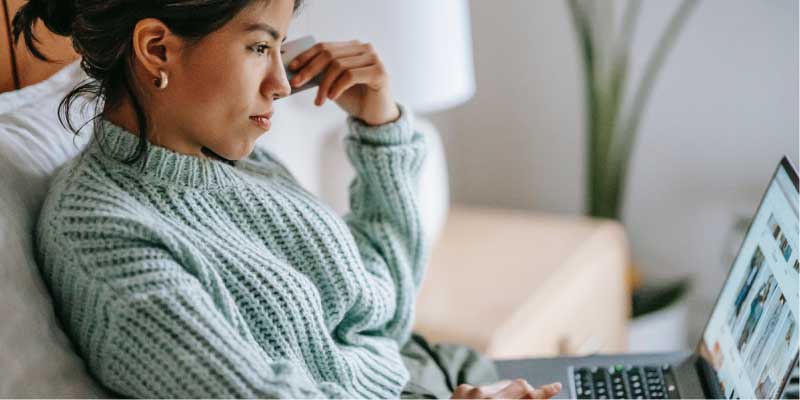 Use your competitor's audience
Facebook Ads Manager has a fantastic feature that identifies similar brands to yours. You can choose to target people that those brands are targeting with their ads. The feature gives accurate suggestions, so you can be confident Facebook will show your ad to people who will find them relevant.
Use a Facebook ad spy tool like AdFlex
The best way to define a core audience is to use a Facebook ad spy tool to discover whom exactly your rivals are targeting. For instance, use AdFlex to search for successful ads in your niche and see their targeting properties.
Thanks to AdFlex's powerful search filters, you can narrow down your search results to ads that are most relevant to you. You can select specific product or service categories and CTA types, then sort the results based on popularity. Look for the ads with the highest engagements and check which demographics, locations, and interests they're targeting.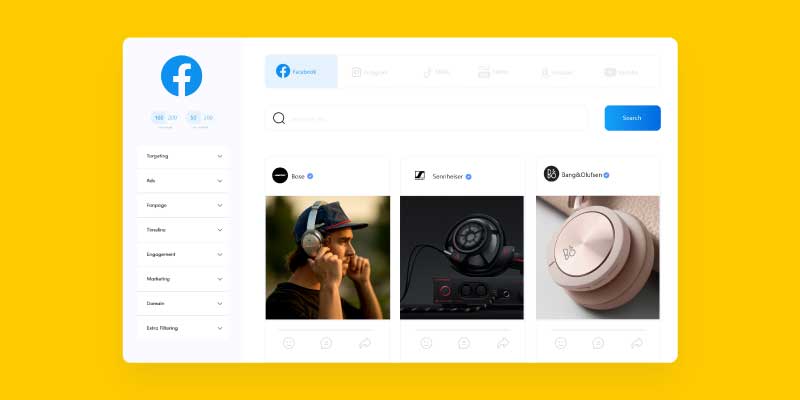 After figuring out who should be at the receiving end of your ads, use these tips to maximize the impact of your campaign:
When working on ad copy and creative, focus on introducing your brand and how your products fit your customer's lifestyle and interests. Make sure you don't sound pushy and aggressive. Your main objective is generating awareness and driving website traffic, not making sales.
When creating ad sets, don't add too many interests. Create multiple, single-interest ad sets instead. This way, you can test which target group responds better to your campaign and allocate your budget to better-performing ads.
Use clicks as your optimization event. By default, Facebook charges you based on impressions. But with CPC, you will only pay when someone clicks on your ads and visits your website.
Create custom and lookalike audiences
After running your reach campaigns, you should have enough data to develop a remarketing strategy. The people who've visited your website through your awareness ads might have performed diverse actions. From checking out specific pages and creating accounts to adding items to carts and even making purchases, each of which fires up Facebook Pixel. The next step is to create custom audience groups based on all of these events. In other words, you're going to categorize all of your generated traffic based on what they did on your store after clicking on your ads.
Your goal here is to expand your qualified audience as much as possible. Facebook's Lookalike Audience feature makes it very easy. This feature finds people similar to your current audience. All you have to do is to give it the audience groups you created as sources. Facebook will create lookalike audience groups for each one of them.
Run campaigns to target and test lookalike audiences
The goal here is the same as the first awareness campaign you ran. You need to introduce your brand to the new prospects Facebook found you with the Lookalike Audience feature in the previous step. Only this time, your targeting is much more accurate.
Run another awareness campaign with the lookalike groups as the targets for at least a week. Remember that the optimization event for this campaign is still user clicks.
And the last Facebook Ads strategy for Shopify stores: Retargeting!
At this point, you have established a large, qualified audience. By the time your previous campaign ends, Facebook Pixel has tracked all the actions performed on your website by the traffic you've generated using your awareness campaigns. Since you've created a custom audience group for each action, Pixel has updated each group anytime an event happened on your website by a visitor. In other words, you have a large pool of invaluable data about your potential customers. Now, it's time to go for the sale!
You're going to run a third campaign to retarget everyone who has performed an action on your store. The people you'll target are in the later stages of your marketing funnel, so this campaign must be adjusted accordingly to convince them to buy from you:
Now you can be aggressive in your ad copy and creative. Focus on the products themselves and the value they bring. Adding an incentive will give your prospects the push they need to make the purchase. Free shipping, discounts, and special offers are good examples.
Make sure to use Dynamic Product Ads. DPA shows your target audience ads containing the products they have previously viewed on your website. It's a super-effective way to make people come back to your shop and purchase the products they eyed.
Exclude people who have already made purchases. You don't want to spend your budget on advertising to people you've already managed to turn into customers.
Set your optimization event to Conversion. Your objective is not to drive website traffic any more. Facebook will only charge you after visitors make purchases.
Enjoy the results
Our Facebook Ads strategy for Shopify store owners will result in a tremendous boost in website traffic, sales, and ultimately, ROAS for Facebook Ads. With this approach, you will be able to get the most out of Facebook's powerful capabilities for your ad campaigns and establish an ever-growing customer base for your Shopify online store.
FAQ
How to spy on Facebook Ads for Shopify dropshipping stores?
Spying on your dropshipping competitors is super easy with AdFlex. To find successful ads linking to Shopify websites, head to the search panel and find the Marketing filter category. In the e-commerce drop-down menu, select Shopify to add it to your search parameters. From this point, you have multiple ways to specify your niche. You can search for keywords in ad texts, set Fanpage Categories, or select related interests in the Targeting filters. Lastly, sort the results base on Most Popularity to find the most successful Shopify dropshipping ads.
What is the best Facebook ads strategy for Shopify dropshipping?
An effective strategy uses a combination of reach and conversion campaigns. Focusing only on each one will result in high ad spending and poor results. You need to introduce your brand to your audience first. After you've managed to grab their attention and get them to visit your Shopify store, you must retarget them with an intriguing offer and convince them to make a purchase.
How can I spy on my Shopify competitor's Facebook Ads?
Spying on your Shopify competitor's Facebook Ads is a piece of cake with AdFlex. Thanks to the dedicated e-commerce filter, you can limit your search results to ads that link to a Shopify online store. Specify your niche using the Fanpage Category or Interest filters or search for related keywords in ad texts or website domains.