A tiny blue checkmark next to your name will do wonders. No matter what social media you're active in, verification badges are very prestigious. It proves to the users that you really are who you claim to be. It adds credibility to your social media presence and has several other benefits for businesses (and individuals) that make it hard to ignore.
Luckily, getting a verification badge isn't a complicated process. Particularly in social networks run by Meta, submitting a verification request takes little effort. However, the company has strict criteria for approving verification requests, and meeting them might be challenging. Nonetheless, the advantages you'll gain make up for all the troubles. Keep up with us to learn how to verify Facebook business page.
What exactly is account verification?
Well-known businesses and individuals should focus on getting their Facebook accounts verified. There's a significant chance that there are many accounts with similar names and looks to them, some of which are made to diverge people from finding the official page or other malicious intents.
Verifying your account grants you a blue checkmark, along with other benefits. But the most important thing is that Facebook approves that your account officially represents a figure or brand.
How to verify your account
The first step would be filling out the form to request account verification. You can find the link to it here.
Firstly, Facebook asks you to choose between submitting a request for a page or a profile. By choosing Page you will be prompted to select a page associated with your account. If you wish to verify your profile, you must enter your profile's URL.
Next, you have to provide Facebook with an identification document. This is where the process differs for brands and individuals.
For businesses or organizations
Phone or utility bill
Certificate of formation
Article of incorporation
Tax exemption
For accounts representing people
Passport
Driver license
National ID card
Important note: Remember to upload a high-quality, visible document of the right type and ensure it's not expired. It must contain an official seal or signature. Also, your name or your brand's name and info should match the one in the submitted document.
The next section of the application form is dedicated to proving the notability of your account for users. You need to specify the category relevant to your account. There's a variety of options available, but if your page or profile doesn't fall into any of them, you can select "other."
Facebook requires you to show that what your account represents is in the public interest. First, you have to choose a country. Most people believe that you have to select the region your brand originates from. Although, Facebook itself has stated that you should specify where the person or organization is the most popular. So make sure you choose the right option.
After that, Facebook asks about your audience. Filling this part and the next one is optional, but providing a clear explanation about who follows you and why would help Facebook better understand why your account should get verified.
Next, you can list all the names you or your company is known by, including in other languages. This is particularly helpful to prevent imposters and fake accounts from misguiding users and stealing them away from your page.
Finally, you can provide Facebook with links to other social channels, websites, articles, etc. that highlight the credibility and value of your brand to the public. This section is optional too, but you should definitely fill it out to maximize your chance of getting the verification badge.
When you finish filling out the contact form, review all the details you entered, and click the "send" button at the bottom of the page.
Facebook won't specify how long it takes for them to get back at you and the timeframe differs for almost all applications. It could take between 48 hours to 45 days. We know. That's a crazy gap, but that's how it is.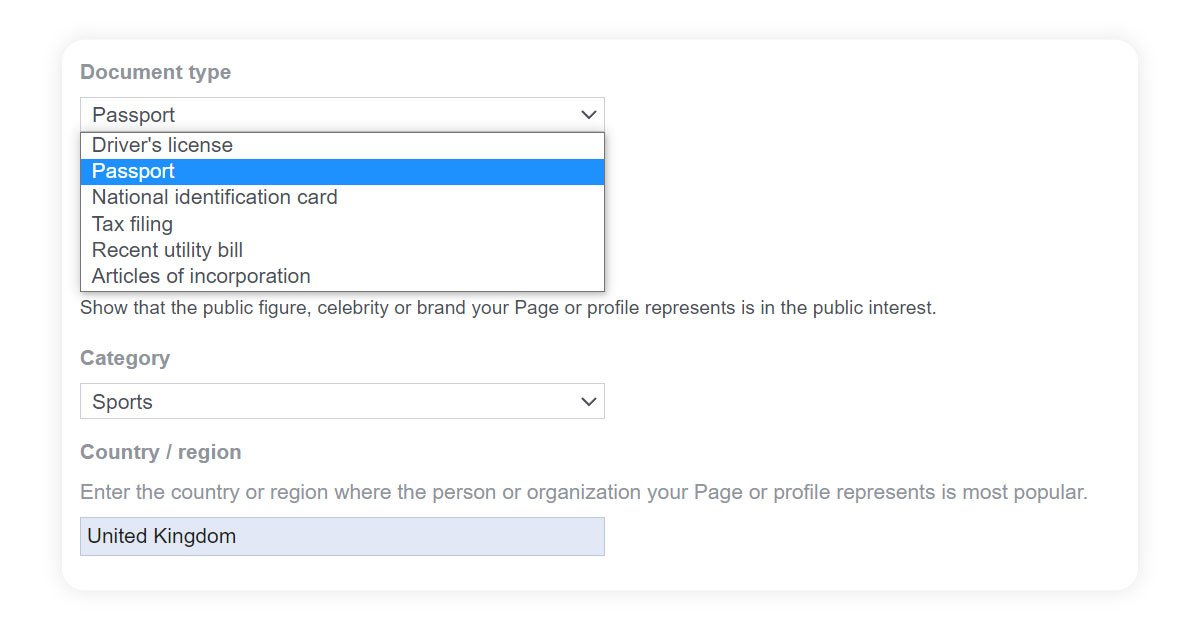 Before You Try…
As we mentioned earlier, requesting verification from Facebook is easy, but there's a reason you don't see a tiny blue checkmark next to every page with lots of followers. Facebook doesn't give a badge too easy and only deems accounts eligible that adhere to its terms of service and community standards and enjoy the following qualities:
Authenticity: your account must represent a real person, entity, organization, or business.
Completeness: every bit of account details must be complete. This means your account should be public and have a bio, profile photo, and at least one post.
Uniqueness: the whole point of getting verified is to avoid confusion and prove that your account is the only official presence of you or your company on Facebook. Only one account per entity can get verified, except for large companies with region-specific accounts. Pages for general interests are not eligible for verification (like nature photography)
Notability: the business or person your account represents must be well-known and featured in multiple news sources (paid promotions don't count).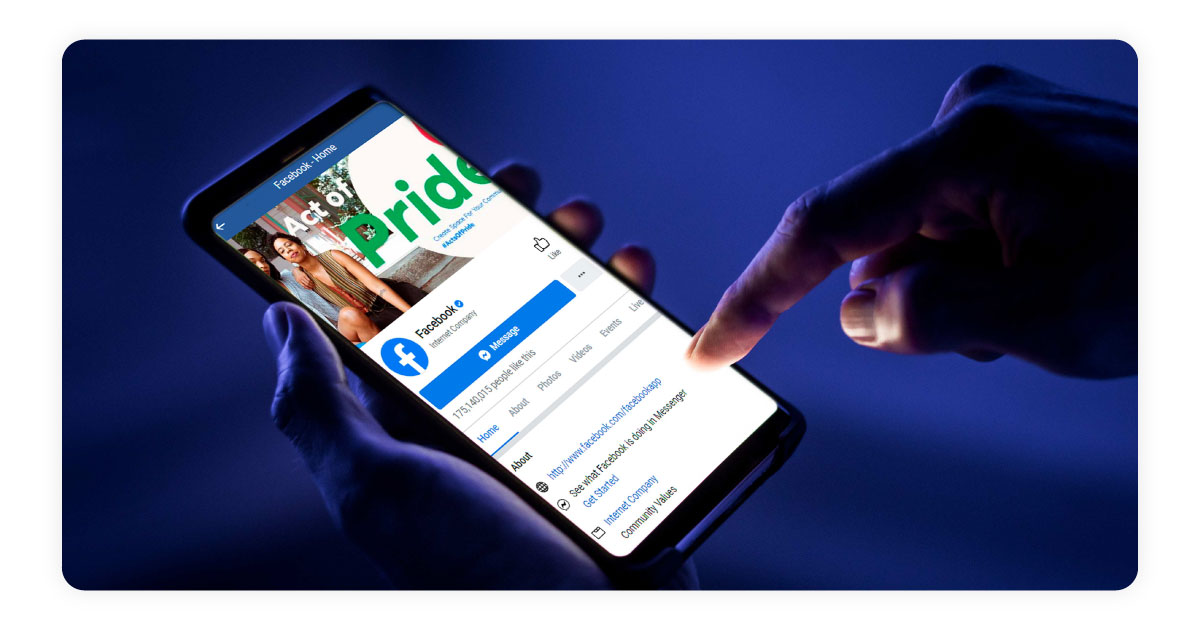 Conclusion
Of course, it is! Getting a verification badge significantly increases your credibility and evokes a sense of trust in users. Other than it, getting verified has multiple benefits that can boost your social media presence:
Facebook has thoroughly reviewed verified accounts, which means their authenticity and credibility are approved. Hence, verified accounts always appear on top of the results page when people search for your brand.
As your account gets incredibly easier to find, you'll attract followers at a much higher rate.
You'll gain early access to Facebook's beta features which gives you an edge against non-verified competitors.
FAQ
Do I have to verify my Facebook business page?
There's no obligation to verify a Facebook page, but applying for a verification badge is free and has numerous benefits if you manage to earn it. It significantly increases your credibility and makes your page much easier to find.
How long does FB business verification take?
From the moment you send your application, Facebook starts reviewing it. The process can take from 48 hours to 45 days.
Why can't I verify my Facebook business account?
Facebook doesn't give a badge too easy and only deems accounts eligible that adhere to its terms of service and community standards. Your account must have the following qualities to be considered eligible for a blue checkmark: Authenticity, completeness, uniqueness, and notability.