Harness the Power of Facebook Ads
Become a successful Facebook Advertiser with a top-notch Facebook Ads spy tool like AdFlex and save valuable time and energy.
There is always a better idea
Tested ideas for your FB ad campaigns
AdFlex brings proven ideas from over millions of successful ad campaigns from your competitors on Facebook
Precise Facebook ad targeting
Discover who the ads are aimed for and use that to revamp your advertising campaigns
Research best products and offers
Use the intelligence from AdFlex Facebook ad spy tool to research Affiliate networks, advertisers, popular products and offers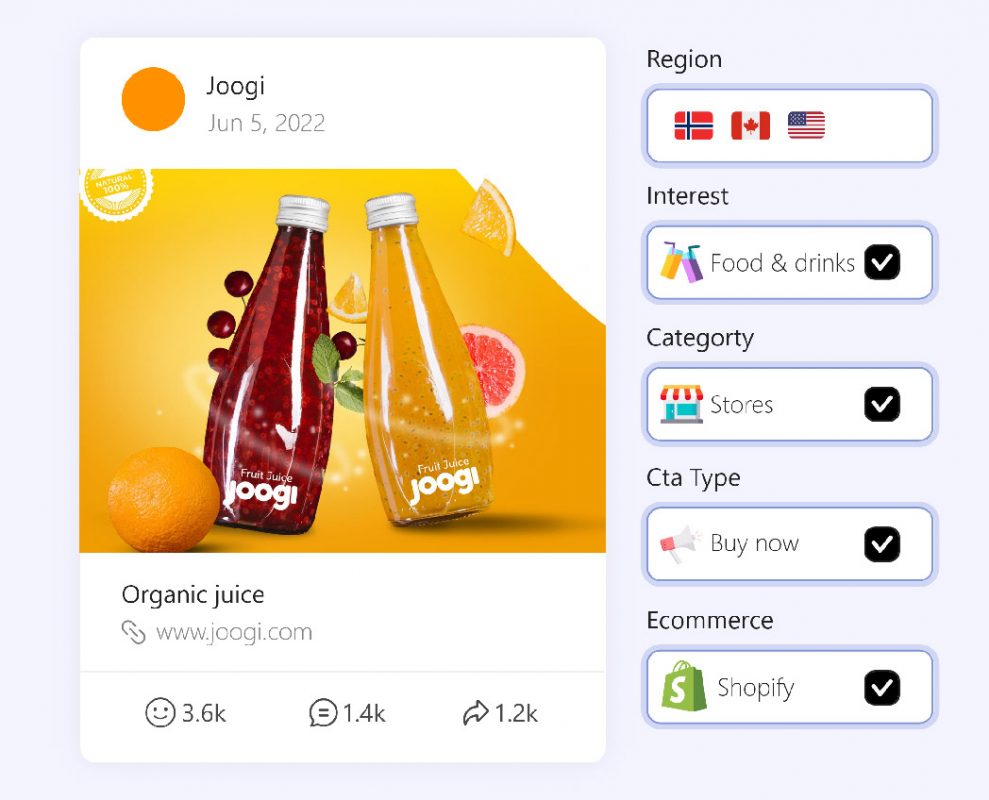 Win against your competitors
Use Fanpage and Domain filters to discover your true competitors on AdFlex's Facebook ad spy tool
Look into your competitors' marketing methods and see what's missing from your ad campaigns
Strengthen your ad campaigns using data obtained from your competitors using AdFlex.
Dig into every ad's
landing page
Ready to transform your Facebook Ads?
Try AdFlex now for FREE and enter the big leagues!
"Adflex is one the good ones"
"Don't hesitate on using Adflex. Everything just becomes easier"

Mark Ling
Founder of Affilorama
"Best Set of Ad Spy Features"
"The range of filters and selections available in Adflex is amazing. Nothing I cannot find"

Sean Worthington
Affiliate Manager at Sapphire Media
"The next best thing after affiliate marketing itself"
"Adflex has been the core to my campaigns. There's not a single ad I'd run on Facebook without researching in Adflex first."

Rae Hoffman
Affiliate Marketer
Ready to transform your native ad campaigns?
Try AdFlex now for FREE and enter the elite market!
How can I spy on Facebook ads?
Spying on successful Facebook Ads campaigns has plenty of benefits that will ultimately lead to smarter business decisions and more revenue. There are two main ways to do so: Facebook's Ad Library, which is the official ad archive of the social platform. Or third-party ad intelligence tools, known as "spy tools" like AdFlex.
How can I know competitors' Facebook Ads targeting?
A Facebook Ads spy tool like AdFlex can help you find out exactly which demographic and locations your rivals are targeting with their campaigns. Facebook lets advertisers target users based on age, gender, location, language, interests, and many more factors. AdFlex can break down all this info to show you precisely where your competitors are focusing on.
How can I see Facebook ads about affiliate networks?
Thanks to the powerful search filters of AdFlex, you can easily find the ads that direct users to websites on affiliate networks. Simply select the network you're looking for in the "Affiliate Networks" in the Marketing tab and you're good to go. AdFlex covers almost all major affiliate networks, including Amazon Associates, Awin, ClickBank, and more
How do I monitor my competitors' Facebook campaigns?
Keeping tabs on your rival's Facebook Ads campaigns is super easy with a powerful ad spy tool like AdFlex. There are multiple ways available to follow an ad campaign. You can search for your competitor's name, product, or any other related keyword and view their ads on the results page. Thanks to AdFlex's *Fanpages* feature, you can check out every ad of a specific advertiser and monitor all their marketing activities on Facebook.
How can I see my competitors' Shopify Facebook ads?
All major e-commerce platforms, including Shopify and WooCommerce, are covered in AdFlex's search parameters. All you have to do is select the platform of your choosing in the "Ecommerce" section of  the marketing tab and search for the keyword.