In addition to being the largest social network globally with almost three billion users, Facebook is now also the world's largest marketplace. With every passing day, online shopping is becoming more popular among consumers. Meta (née Facebook) understands this very well. That's why it's been regularly introducing innovative e-commerce features. Facebook aims to integrate a seamless shopping experience into its social platform. A big part of this effort belongs to advertisers. In addition to developing highly advanced targeting solutions, Facebook has also facilitated product promotion in creative ways.
The fashion industry significantly profits from the growth of e-commerce on social platforms. According to Statista's 2021 research, almost one-fourth of total online retail sales in the US belongs to this industry. Whether you're a fashion retailer, affiliate, dropshipper, or clothing company owner, an active Facebook presence should have high priority in your marketing strategy. Users have already proven they're not afraid to buy clothes online compared to the past. On the other hand, Facebook has paved the way for you to get the most out of paid and organic marketing on its platform. In this article, we're going to focus on the "paid" part and give you some well-proven tips to create the best Facebook fashion ads.
Facebook has never been this good at putting branded content in front of its users. With the top-notch campaign creation and management tools it provides, advertisers have an easy job finding their ideal customers on the platform. Nevertheless, many brands fail to achieve desired results with their Facebook Ads campaigns. It's pretty natural, really. Anyone who wishes to run FB ads has to take care of several factors. Getting the hang of Facebook Ads Manager is not so easy. You need to think of what audience to target, how to maximize visibility, what creative and copy to use, and much more.
Luckily, you don't have to start from scratch. Instead of venturing on untested paths and wasting time and money, you can take advantage of what others have learned in their experiences. With the pro tips we'll explain, you could jump-start your campaigns and optimize them to the fullest to generate the highest revenue for your fashion brand.
Don't forget your marketing funnel
Having a marketing funnel is extremely helpful for developing a strong advertising strategy. The whole idea revolves around the fact that a person must go through a journey before becoming a brand's customer. One's knowledge, opinion, and emotions towards the brand are different at every stage of this journey. Therefore, the brand's tone and message must be adjusted accordingly. There could be a need for extra incentives to move prospects down the funnel at certain stages.
Focus on building awareness first
There's a big difference between Facebook Ads and Google Ads: People on Facebook are not necessarily there to "shop". Whereas on Google, when someone's searching for a product, he/she has the intention to buy. The beauty of an effective Facebook ad campaign is that it convinces users to purchase, even if they had zero prior intentions to do so. Getting people to that point is a process, the beginning of which is making them aware of your brand.
This is really important especially if your brand's new or you've just decided to advertise on Facebook. Thankfully, the platform already has everything you need to nurture prospects into customers. Start by running an awareness campaign with the goal of introducing your brand to people who might be interested in what you have to offer. Your campaign should have the following characteristics:
The goal is brand awareness, so it's important to be non-aggressive in your ads. Try to showcase how unique your clothing line is and how it fits perfectly in your target audience's lifestyle. Exciting videos and lifestyle photos of your fashion products can be very useful here.
If you have a website, make sure to set up the Facebook Pixel tracking module on it. The tool records every action users take on your website and collects actionable data which you can use later in your retargeting efforts.
Retarget the users who have interacted with your brand
Once you've grabbed the attention of your audience, it's time to slowly nurture them into buyers. At this point, with your awareness campaign, you've put what you have to offer in front of people and managed to stimulate some sort of interaction. This could be video views, website visits, add-to-carts, link clicks, etc. All these users who have passed the first stage of your funnel can be the focus of your retargeting campaign thanks to Facebook's custom audience feature and the Pixel module.
Pro tips to create the best Facebook fashion ads
Take advantage of these handy tricks to maximize your campaign's efficiency and generate the highest click-through rates:
Use Dynamic Product Ads
Facebook's Dynamic Product Ads (DPA) can boost your retargeting campaigns significantly. It dynamically displays the products that users have checked out or added to their carts, but not purchased. Repeatedly reminding targets of their items of interest is a great way to entice them to consider those products again and make the purchase this time. Accompanying your retargeting DPA ads with an extra incentive would do wonders. It gives your prospects the push they need to complete the checkout. The incentive could be a discount code, free shipping, limited offers, etc.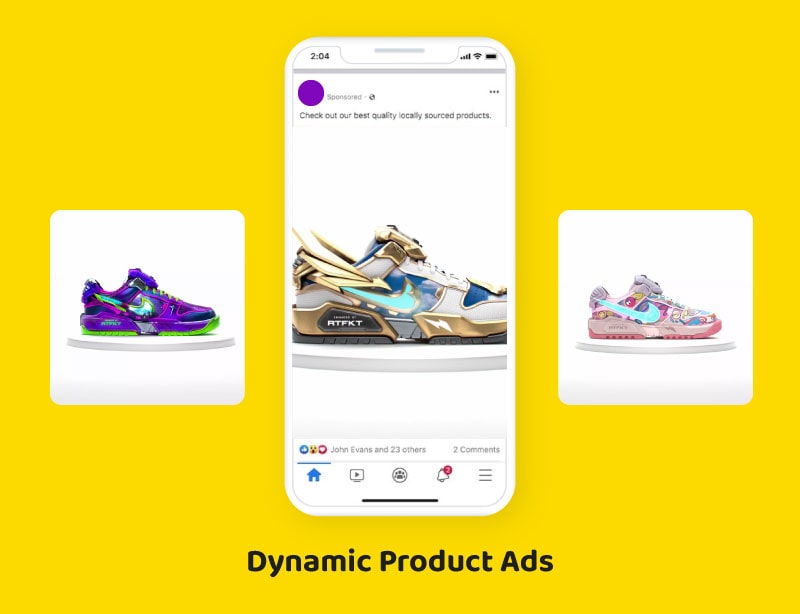 Take advantage of influencers and user-generated content
It's proven that consumers put a lot of trust in the shopping advice of others. Friends, family, and even total strangers are way more successful in convincing someone to buy something than advertisers. A clever way to benefit from this fact is to reflect customer satisfaction through testimonials and user-generated content. Encourage your customers to share their experience with your products via posting photos, videos, or even text reviews. Then utilize this content in your ad creative and copy to build trust and credibility.
You can get even better results by partnering with influencers and taking advantage of their impact on consumer opinions. It could be costly, but getting a popular influencer to endorse your brand can boost campaign performance to the roof.
Don't miss the opportunity of special occasions
Special occasions like holidays, global events, and seasonal trends provide the perfect opportunity for you to attract more customers. Don't shy away from pivoting your Facebook ads campaigns toward a holiday theme that is not even related to your product selection. Potential customers are more encouraged to buy during special occasions, especially if they could grab an exclusive deal.
Use Facebook Instant Experience
Facebook has been improving the ad experience of its platform through various innovative ad formats and placements. In recent years, the company has put a lot of focus on making the branded content blend in with the organic user experience. One impressive fruit of their effort is the Instant Experience feature; a full-screen experience that gorgeously highlights your products in a beautiful and smooth way.
Instant Experience is a mobile-optimized package full of awesome features in the form of a single ad. This ad appears in feeds with a cover photo or video and a carousel below it. When the user taps on it, a fast-loading landing page opens with multiple customizable sections. You can showcase your collections or best products on a grid layout, tell a visual story, or create a lookbook. Instant Experience has four different pre-built templates, each optimized to reach a specific goal:
Instant Storefront: As the name suggests, Instant Storefront lets users browse your product selections instantly and shop straight from Facebook. You can put clickable product photos in a grid with price tags and provide a smooth shopping experience.
Instant Customer Acquisition: This template is great for leading viewers to your website and driving specific actions. You can include photos and videos in a list layout, with each section having a short description and a CTA button that links straight to your landing page.
Instant Storytelling: The Storytelling template is very similar to Customer Acquisition. The difference here is that the list layout only contains one CTA button at the bottom, so you could tell a story with visuals and texts without interruption.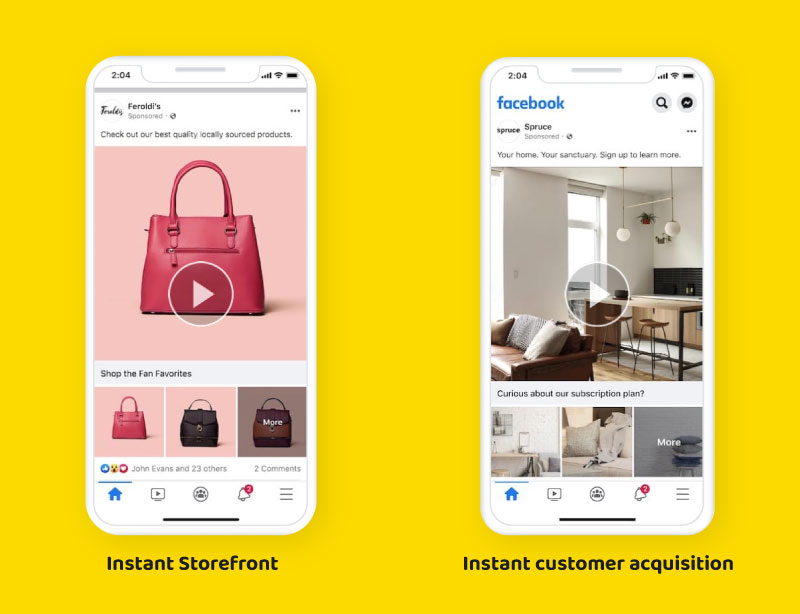 Instant Lookbook: With this template, viewers can seamlessly explore your products and instantly visit their detail pages. You can include lifestyle images of your products with additional photos and price information that appear below them. Each image can be tagged with a link to the product page. Similar to all the other templates, there's a CTA button at the bottom.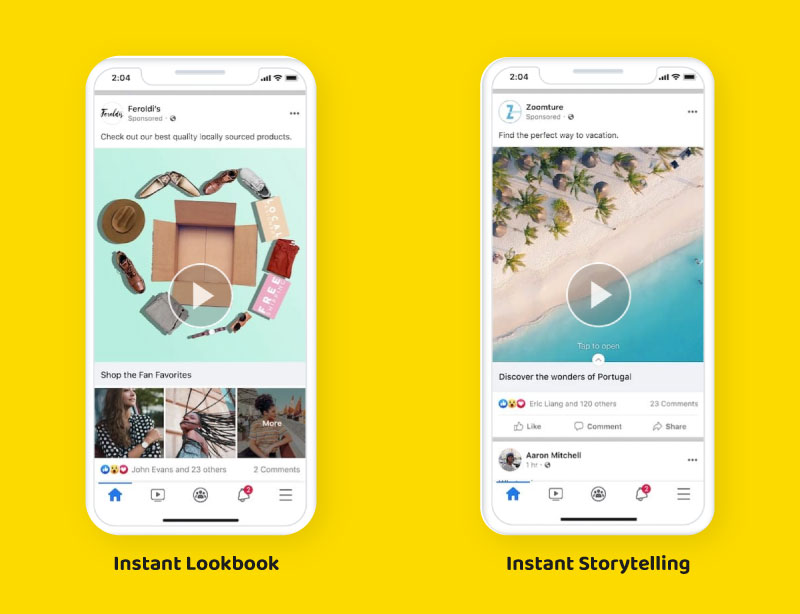 Instant Experience ads are very flexible. There's no obligation to use Facebook's default templates. You can create a custom template and showcase your products the way you want. It's particularly great for fashion and clothing ads since you can exhibit your special collections, customer-favorite clothes, and color variations in an eye-catchy and user-friendly way.
Get inspiration from the best Facebook fashion ads available
Even if you have full knowledge of what options you have for promoting fashion products on Facebook, it still may not be enough to find the right angle. Above, we mentioned all the powerful options you have at hand to create profitable ads, but if you're still struggling to find out how to make the best out of them, you can get inspiration from advertisers who've been successful in this matter. Thanks to advanced ad spy tools like AdFlex, it's pretty easy. You can also Learn how to use AdFlex Facebook panel.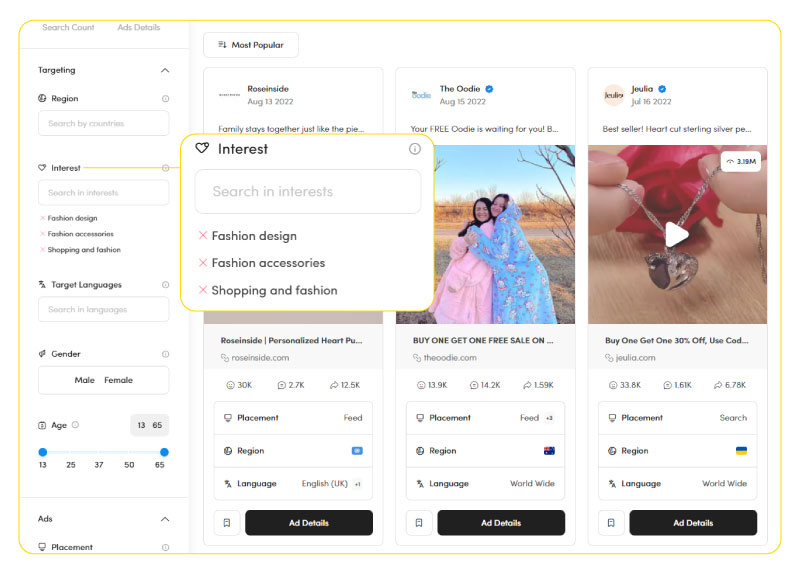 With AdFlex, you can search in a massive database of Facebook ads and find the ones that have been successful in hitting the spot and making huge money for their owners. AdFlex has flexible filters to help you find them quickly and easily. You can search for fashion-related keywords in ad texts or view all the ads from fashion and clothing Facebook Pages. There are multiple benefits of using a Facebook Ads spy tool:
If you're an affiliate marketer, you can discover the most popular products in different markets and between different demographics
You can check out what copies and creatives work the best for different products
Discovering seasonal patterns is very easy with an ad spy tool. You can check to see which ads get the most attention at different times of the year and find the most profitable ads
If you're a dropshipper or clothing company owner, you could find the most optimized landing pages and get inspiration for designing highly-focused, converting pages
FAQs
How do I promote my fashion brand on Facebook?
Promoting a fashion brand on Facebook requires a well-thought-out marketing funnel. Start by introducing your brand to your intended audience with eye-catching lifestyle photos of your products and drive them to your website. Then retarget the users who have interacted with your website with retargeting campaigns. Make sure to install Facebook Pixel on your online shop to track every user interaction. Taking advantage of Facebook's diverse advertising features like Dynamic Product Ads and Instant Experience helps attract more attention and get better results.
How do clothing brands create ads?
Much like any other industry, getting potential clothe buyers through a sales funnel is a process with different stages. Smart brands don't just shout their name and list their products on Facebook or any other channel. It's important to build brand awareness first, making people interested in the brand and checking out its website. After grabbing attention, they retarget users with products that they've shown interest in. Using beautiful creative assets, including attracting offers, and taking advantage of Facebook's unique features helps massively along the way.
How would you attract customers to buy clothes?
Instead of just posting boring photos or videos of the clothes, try to show them in action. Investing in creating beautiful creative assets for your fashion ads is never a waste of money. Show how your products fit in different styles and how great they look on different occasions. Creating collections and carousels is a great way of showcasing your clothes and encouraging customers to purchase them together.