Many people don't know that the Ad Library is wildly inaccurate, buggy, and incomplete. Unfortunately, many third-party spy tools use scrapers that collect all their data from Facebook Ad Library. The result is irrelevant ads and a waste of your time and money. So it's crucial to choose a competent and up-to-date ad spy tool to gather valuable intelligence on the competition and keep up with trends.
AdFlex is designed with simplicity in mind. After your sign-up process, you'll be directed to the dashboard to begin searching. Start simple by typing a keyword related to a product or service you're interested in. AdFlex will find and retrieve every ad containing that keyword in just a few seconds. Or you may want to keep your eyes on a specific advertiser and see how they handle their ad campaigns. You can quickly look up their name in domains or even directly search for their Facebook Page. You can also search ads based on an ad's landing page URL chain if the advertiser uses a funnel.
A well-equipped spy
It's not a good ad spy tool of it doesn't enable you to find what you're looking for with surgical precision. To help you tailor your query and hit the spot as quickly as possible, we've packed AdFlex with many powerful search variables. And since our software deals with Facebook directly, it can figure out all the parameters that shape an ad's target audience and lets you search based on them.
This powerful tool lets you fine-tune your search with more than 20 variables, including interest, age, region, language, and more. It can find ads in every placement and does this organically, meaning it doesn't use Facebook's Ad Library to find ads. Let's break them down one by one.
AdFlex filters
Save Search
Any filters you apply using Adflex's panel can be saved to revisit later. After setting your filters and conducting a search. You can use the 'Save Search' button and give your current search a name to be saved and used later.
Audience Targeting Tab
Facebook allows advertisers to publish ads to a specific audience segmentation better to deliver their products or services to the right prospects. AdFlex allows you to search based on these features to see what ads are shown to a specific target audience.
The filters in this tab help you find ads based on :
The filters in this tab help you find ads based on :
Region
this feature enables you to search ads based on the location they are being published in. You can select single or multiple countries at once. This way, you have access to all ads published in those regions. Also, by choosing "Worldwide", AdFlex shows ads with "Worldwide" targeting. For example, suppose you intend to see ads that are only being published in the US. In that case, you can select "United States" from the dropdown, and the search shows you ads that have been targeted for the US specifically and ads that have the US as one of their targeted regions.
Exact checkbox
There may be circumstances where you need to see ads published exclusively in a single country. This is possible via the "Exact" checkbox.
This is especially useful to find your local competitors' ad campaigns or investigate audience interests in a specific location. Also, as a drop shipper, you can discover products performing well in a specific location or find ideas for ad styles matching the audiences' tastes.
Interest
Facebook advertisers can show ads to audiences with specific interests. AdFlex leverages this data to categorize ads. You can search for particular interests to see ads that have targeted audiences with this specific interest.
For instance, by typing in "Food," you will see a list of interest options related to "Food". by selecting one or multiple interests, AdFlex shows you ads targeting those specific interests.
In addition to finding ad styles, investigating your rivals, or finding successful products in a specific niche, you could tap into advertisers' micro-segmentation of the audiences' interests and conduct a deep analysis for your ad campaign.
Behavior
Applying this filter will make it possible to target ads based on user behavior on Facebook. e.g., "Mobile Device User" refers to a set for which the publisher of the ad has targeted Mobile Users as an audience for the campaign, which is set on the behavior section at the time of publishing the ad. AdFlex can offer this data to marketers to make their ads suitable for Mobile Devices Users.
Target Language
These feature filters ads based on their target audience's language. Facebook categorizes its users based on their language to interact with the platform. AdFlex can gather this data to help narrow your search to show results based on the language they are targeting.
By selecting "Dutch" from the Target language dropdown, you can see all ads that target users who interact with Facebook using the Dutch language.
As you can see, not all results are in Dutch because the advertiser has targeted users who use the Dutch language on Facebook but have decided to use English for the ad copy. By combining the interest filter and target language, you can get valuable insight into the performance of ads targeting a particular interest amongst users with a specific language.
Gender and Age
You can see which set of ads are targeting males or females, or both by applying this filter in your search. Also, by setting an age limit, you can find ads that target a specific age group.
Using these features, you could narrow your search to ads targeting your target audience, whether a particular gender or a specific age range.
Ads tab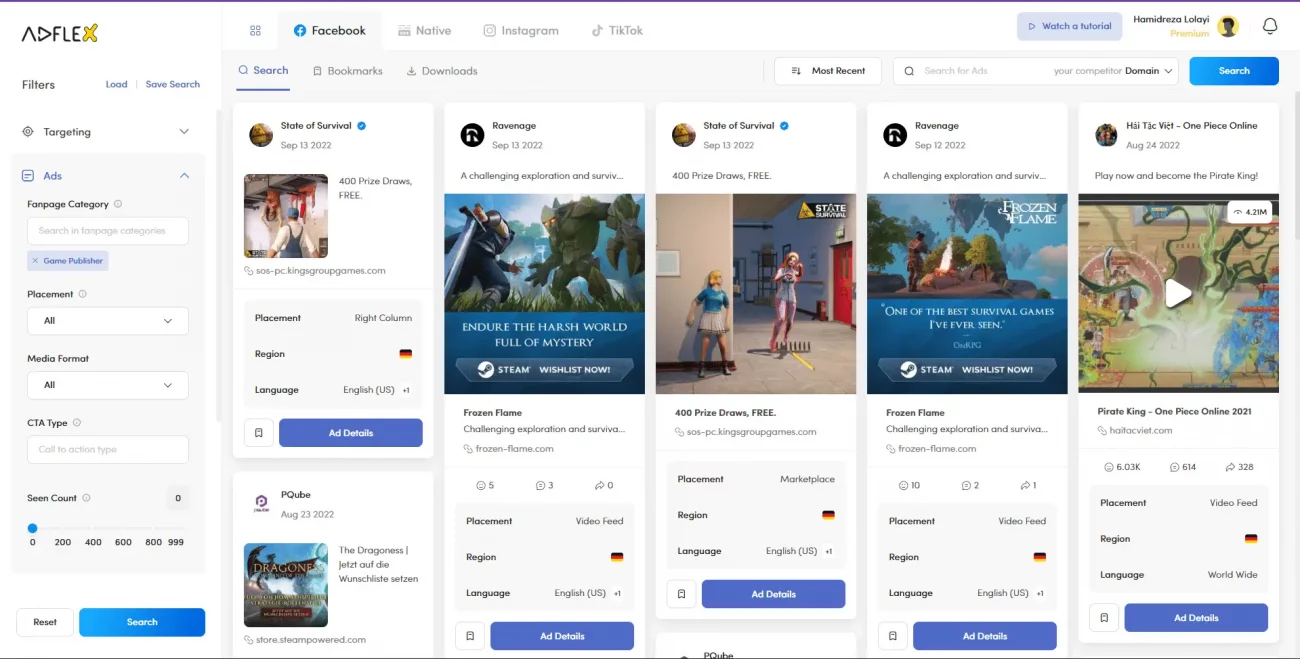 Category
By setting categories, you can narrow your search by a specific business category, e.g., beauty, online games, or any category of your choice. This is based on the fan page category of the publisher of the ad.
For example, by typing in the word "game," all game-related categories will appear in the dropdown menu for you to choose from. If you choose "Games/Toys," you will see that the results shown are from pages whose category is specifically Games and Toys.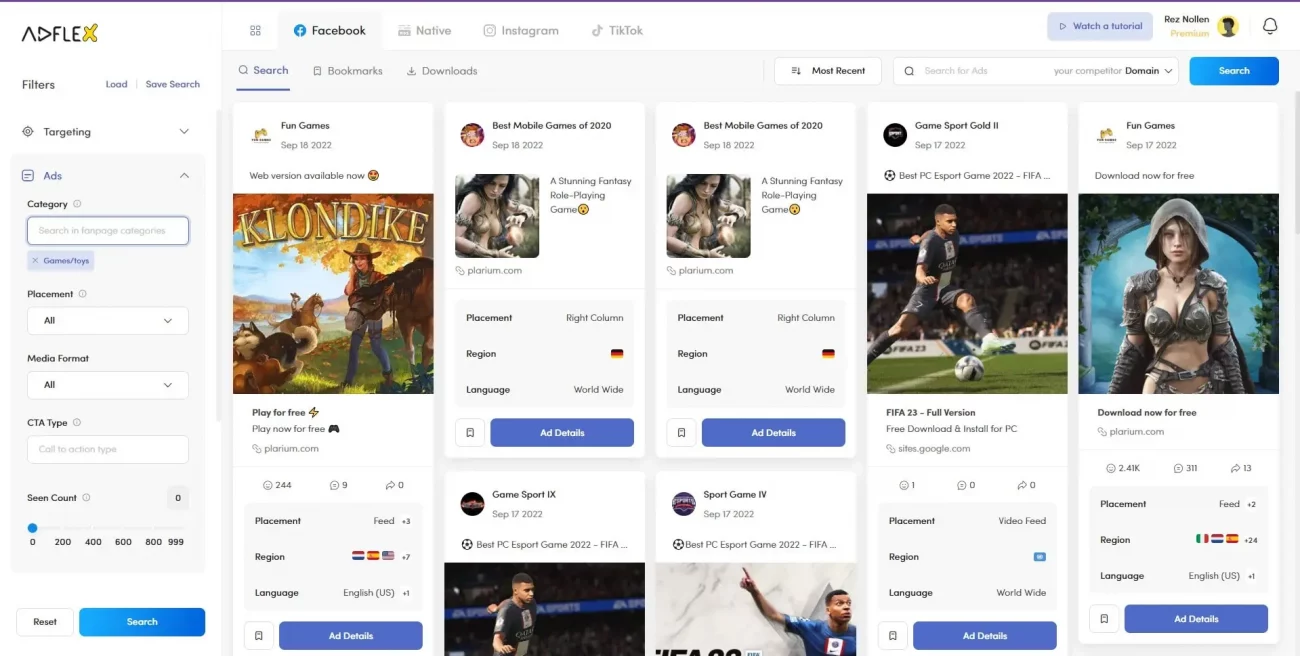 This feature is handy for analyzing your niche and investigating competitors' activities. Also, you can combine this feature with "Interest" in targeting to find accurate results in a specific niche.
Placement
Using this tab, you could search for ads placed in certain sections of Facebook. You could dig deeper into each advertising placement available from Facebook through this tab.
This unique feature of AdFlex is beneficial when advertisers are researching which type of ad works better on each placement on Facebook. You can see all ads published on the marketplace, search results, feed, right column, and the main feed.
Media Format
The ads format can be chosen from this section, whether you are looking for Image ads, video ads, or carousel ads
this filter can help you find formats that are popular with a specific niche
CTA Type
A relatively important feature that helps advertisers discover ads based on the call-to-action button placed in the ad, such as Buy Now or Shop now.
This feature can help save time on researching successful call-to-action for an ad. note that CTA type filter is beneficial when combined with other filters on the platform.
Say you need to discover which CTA is the most effective in attracting an audience. You can accurately find effective CTA types by combining the interest or category filter with the CTA.
Seen Count
This feature counts the number of times AdFlex has encountered this ad on Facebook. AdFlex regularly crawls Facebook to find ads; every time an ad is seen, the instance is recorded in AdFlex's database. A high seen count could indicate one or both of the following two scenarios. First, a remarkable budget could have been dedicated to a campaign, or second, the ad has been running for a long time. by using this feature, you could find ads that are either being used repeatedly or ads that their advertisers have high hopes on them.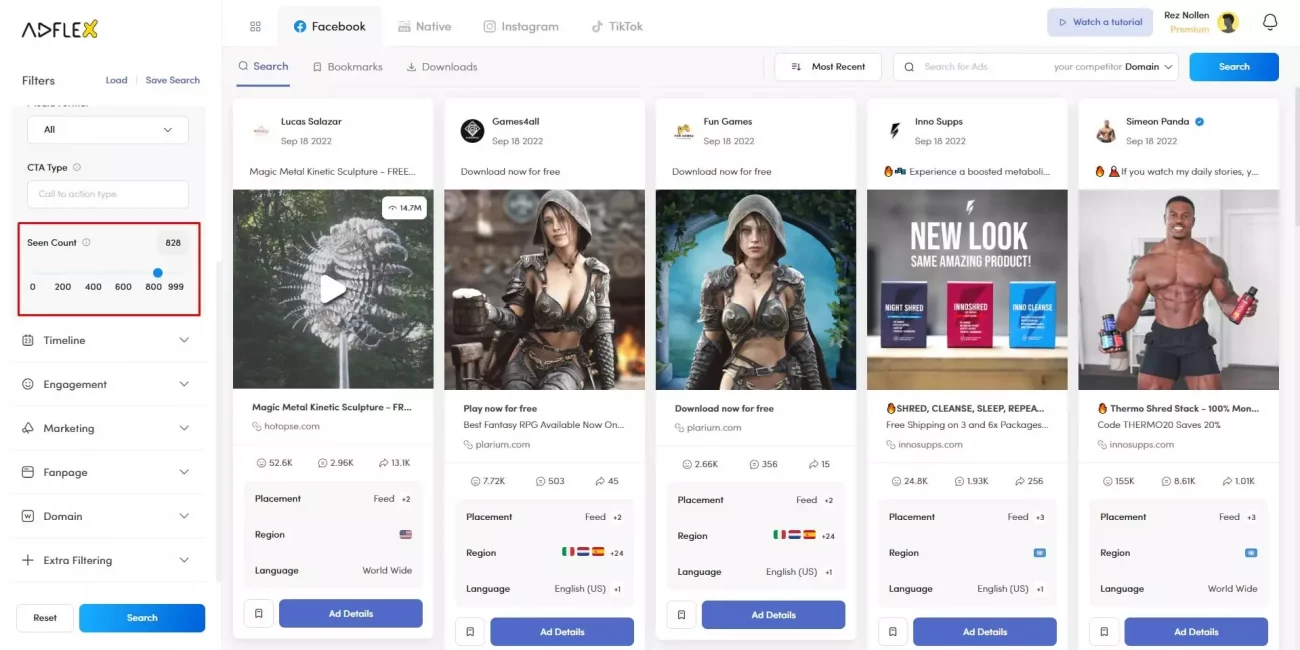 Timeline Tab
First Seen
this feature refers to the period in which AdFlex first saw the ad. by using this feature, you could search for ads that were first published in a specific period to find either new or relatively old ads.
Last Seen
this refers to the period in which AdFlex last saw the ad. Applying this filter helps you find when was the last time the ad was seen by AdFlex.
Active days
This number calculates the difference between the first and the last time AdFlex observed an ad. A large number could indicate the success and profitability of an ad on Facebook.
Engagement Tab
You can filter ads based on their general engagement on Facebook, including the number of times they have been shared between different users on Facebook, the number of comments, amount of reactions, and the number of views for an ad on Facebook.
Marketing Tab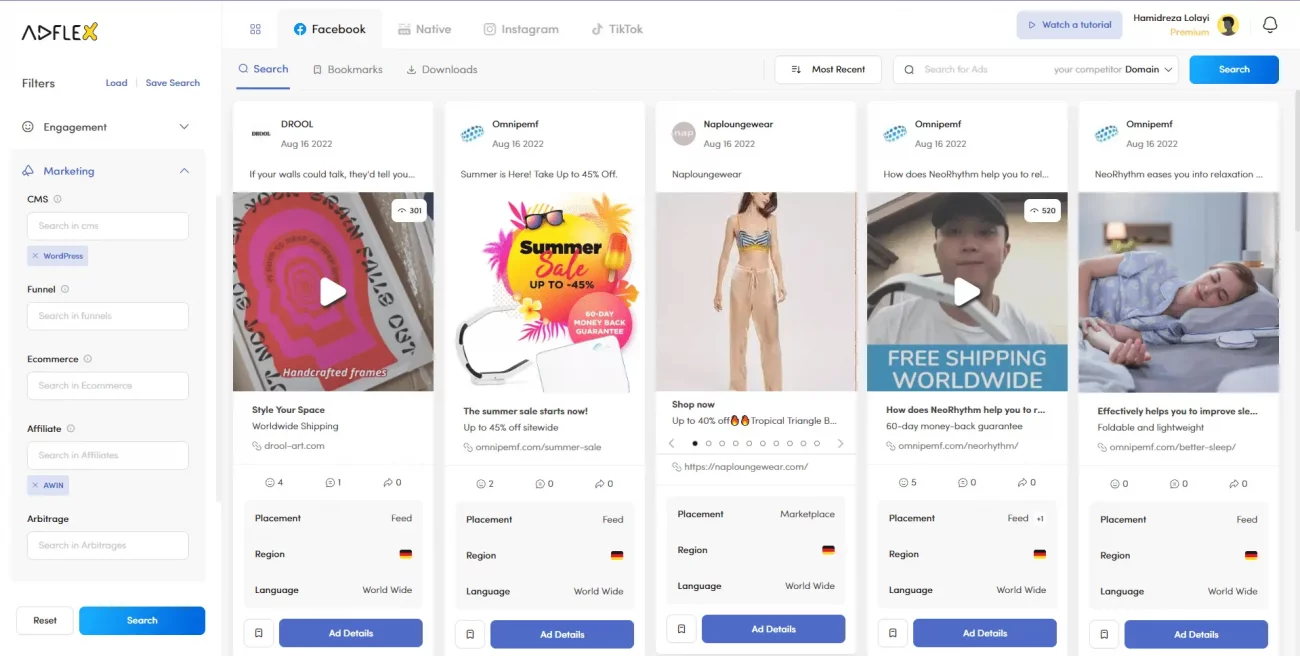 If you want to figure out how your competitors handle their online marketing in technical detail, AdFlex can help you with that too. The special Marketing filters enhance your research even further by letting you target specific funnels, e-commerce and affiliate platforms, or content management systems.
CMS
This feature filters ads based on the CMS platform the advertiser has used to create a landing page for his ad. advertisers could use this feature to collect ideas for creating a landing page for a specific ad.
Funnel
Advertisers employ various funnels in their advertising processes. Using this filter, you could search for specific funnels detected on the promotion's landing page.
This feature is used to determine which products are implementing funnels and how effective they are when using funnels.
Ecommerce
this filter allows for finding ads using an ecommerce platform to redirect the viewers. Using this feature, you could eliminate non-product promotions.
The first option of the dropdown menu, Cart Functionality, narrows the search to ads that employ an "Add to Cart" button, which essentially works as a select all ecommerce platforms feature. Alternatively, you could select specific ecommerce platforms to search for product promotions from the said platform.
Affiliate Networks
Using this filter, you could find ads promoting products sold on specific affiliate networks.
By applying this filter, you could investigate the effectiveness of each affiliate network's products on Facebook. Furthermore, you could compare the data you see on AdFlex with the data your affiliate network gives you to make an informed decision when choosing a product to advertise.
Arbitrage
This unique AdFlex feature comes in handy when looking for arbitrage ads. Many Facebook ads redirect traffic to other networks, such as Google Search Engine or Google Display.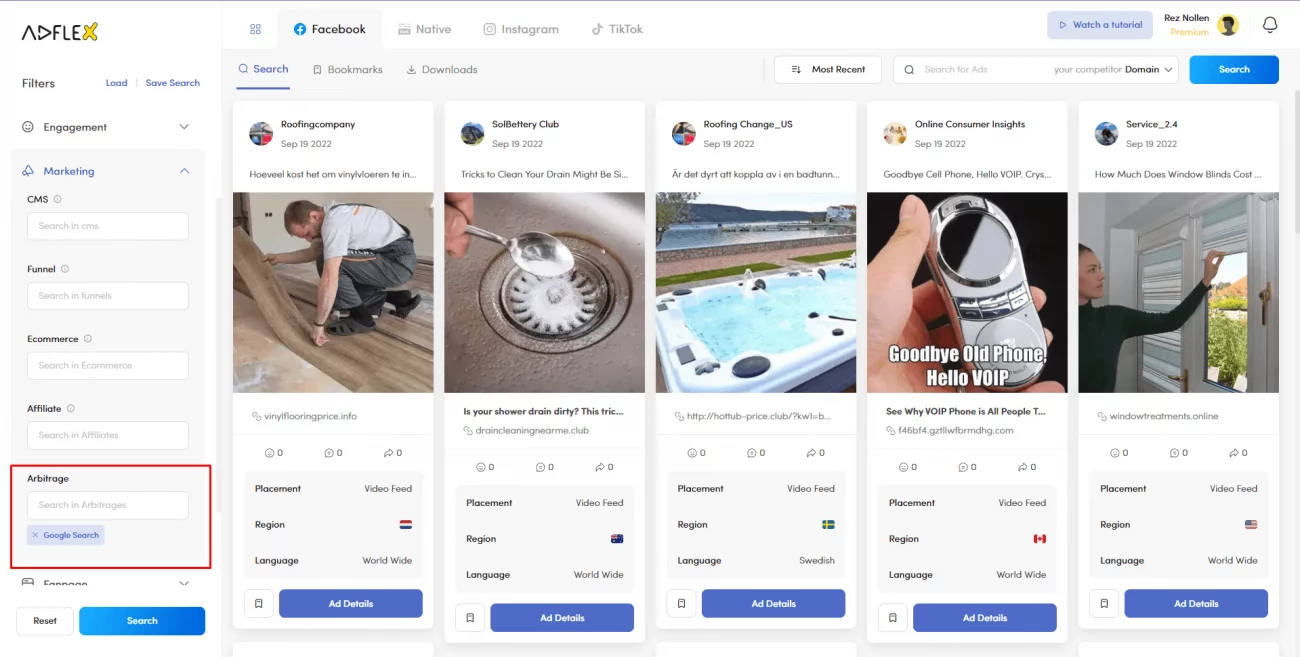 Some affiliate networks partner with search engines and resell through a network of affiliate marketers using display ads.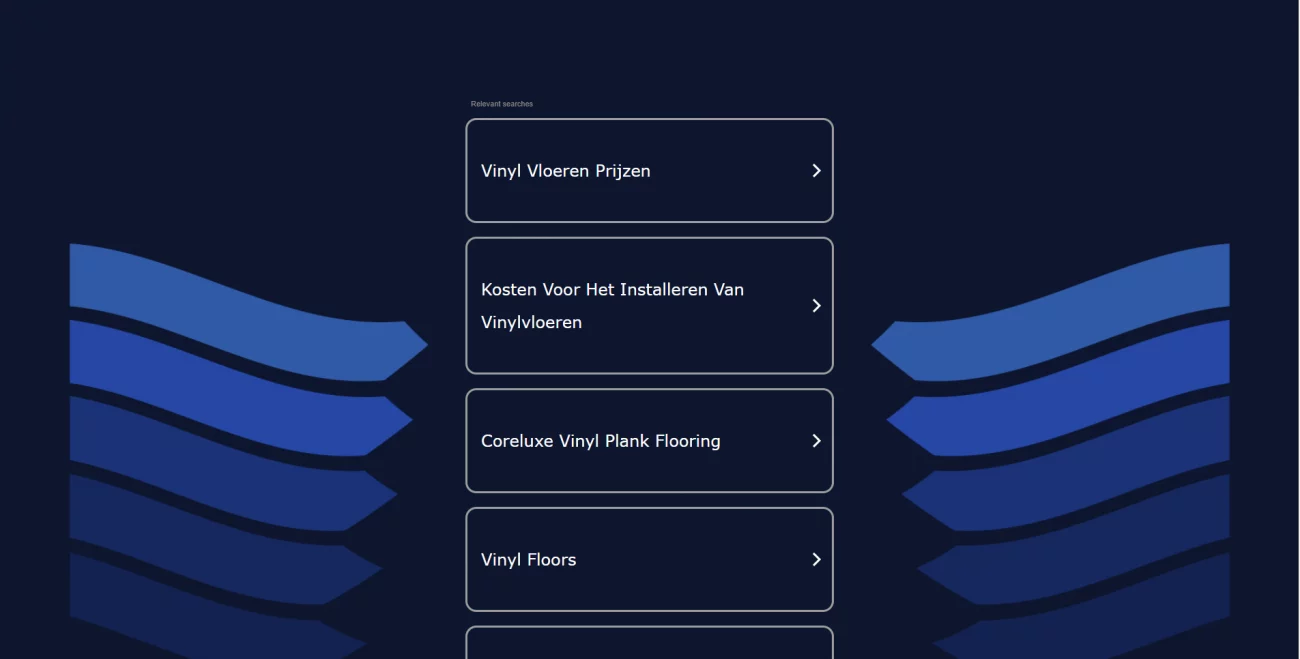 Arbitrage could be especially useful for keyword research to find profitable arbitrage ads. You could compare your findings in AdFlex with the given data in your affiliate network to determine which keywords are likely to make more profit.
Fan page Tab
To better categorize your search, the Fan Page tab enables advertisers to break down the search based on the number of followers on Facebook. The verified business page switch ensures that only ads from verified fan pages are returned as search results.
This feature is used to find products or promotions from smaller business pages. Also, the same could be applied when looking for bigger businesses that are present on Facebook.
Domain Tab
Using this filter, you could narrow your search based on the domain of the landing page. You can filter the domain based on the domain's age and the domain's traffic based on data from similarweb.com.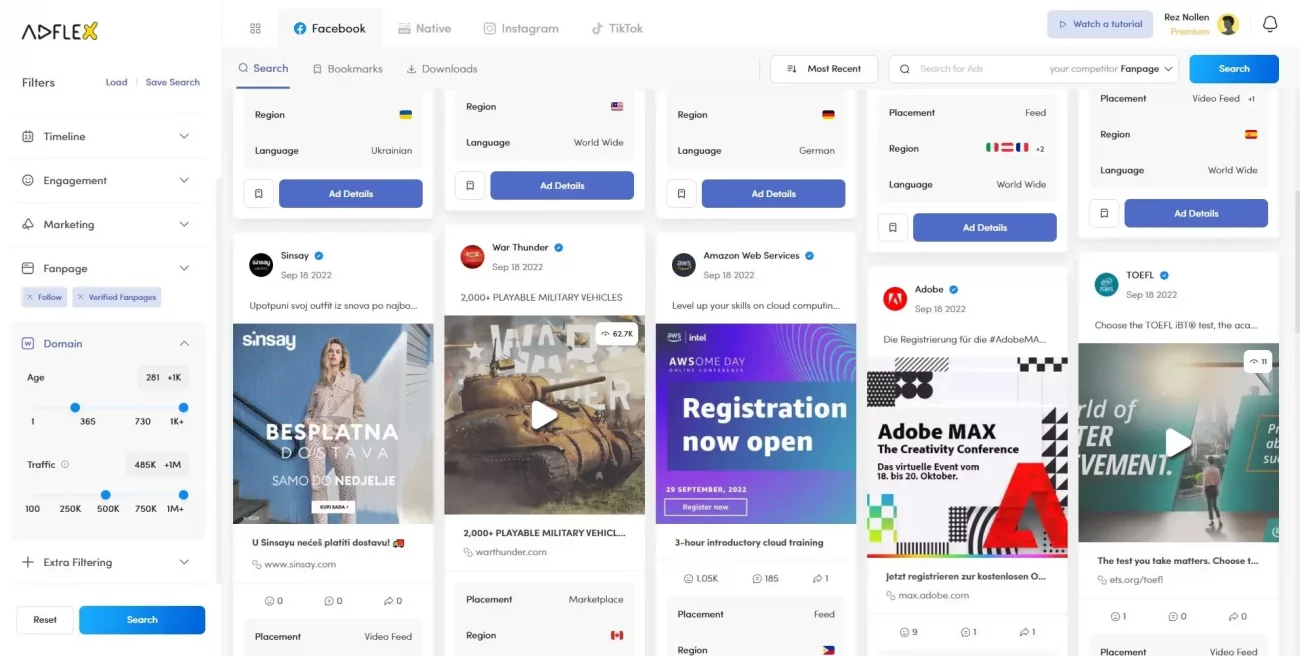 By setting the traffic filter to higher numbers, you can search for landing pages with more traffic which could show either a vast advertising campaign or a domain that is remarkably authoritative and has a good number of organic traffic.
Extra filtering Tab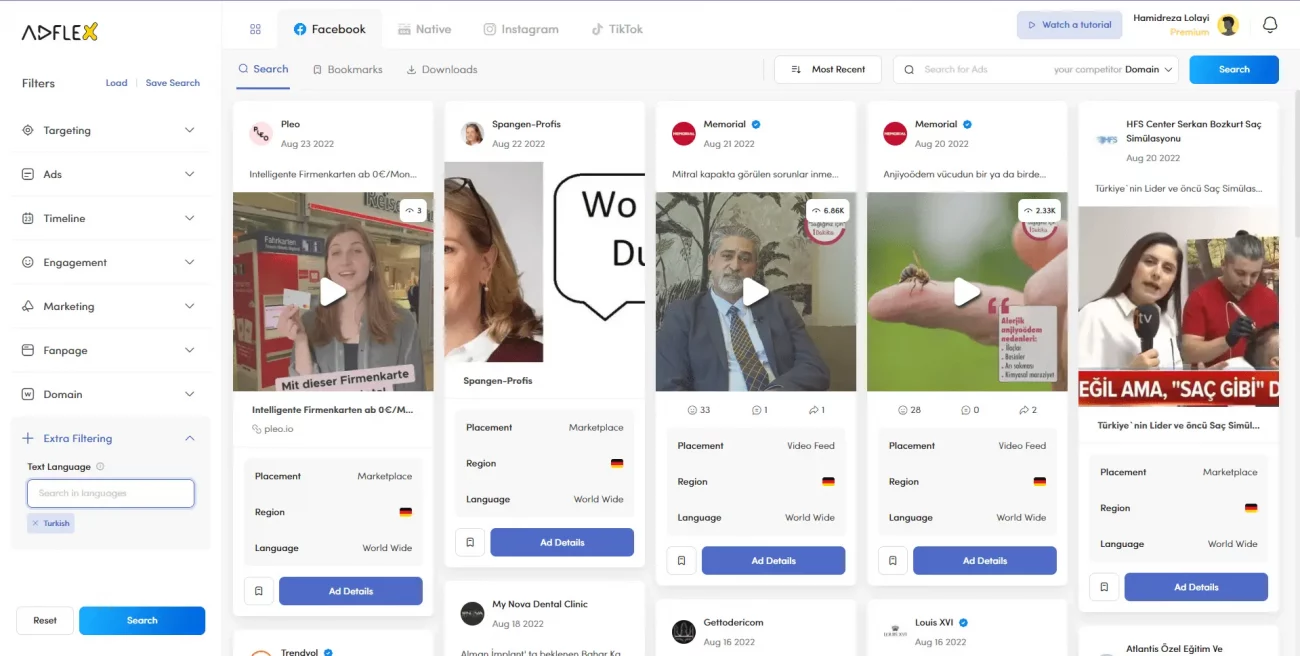 Text Language
Unlike the target language filter in the Targeting tab, this filter only focuses on the text used in the ads so that you can find ads written in a specific language.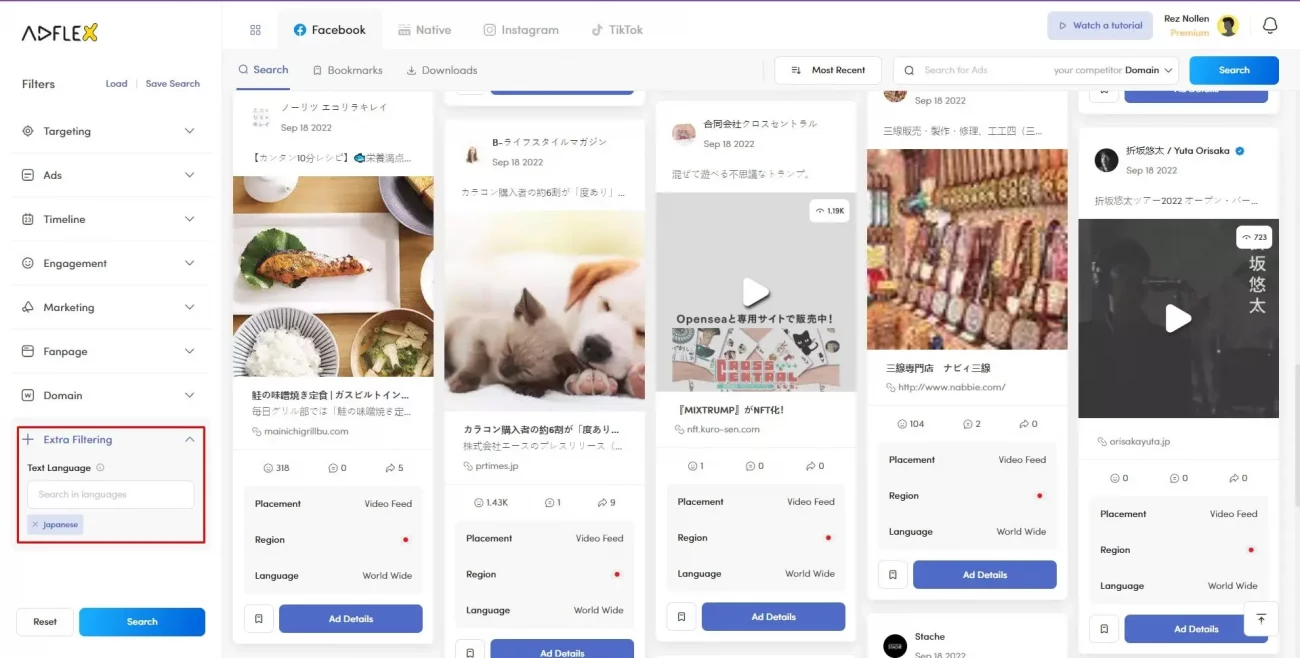 You can use this to find what products or promotions are being published for audiences with a specific language.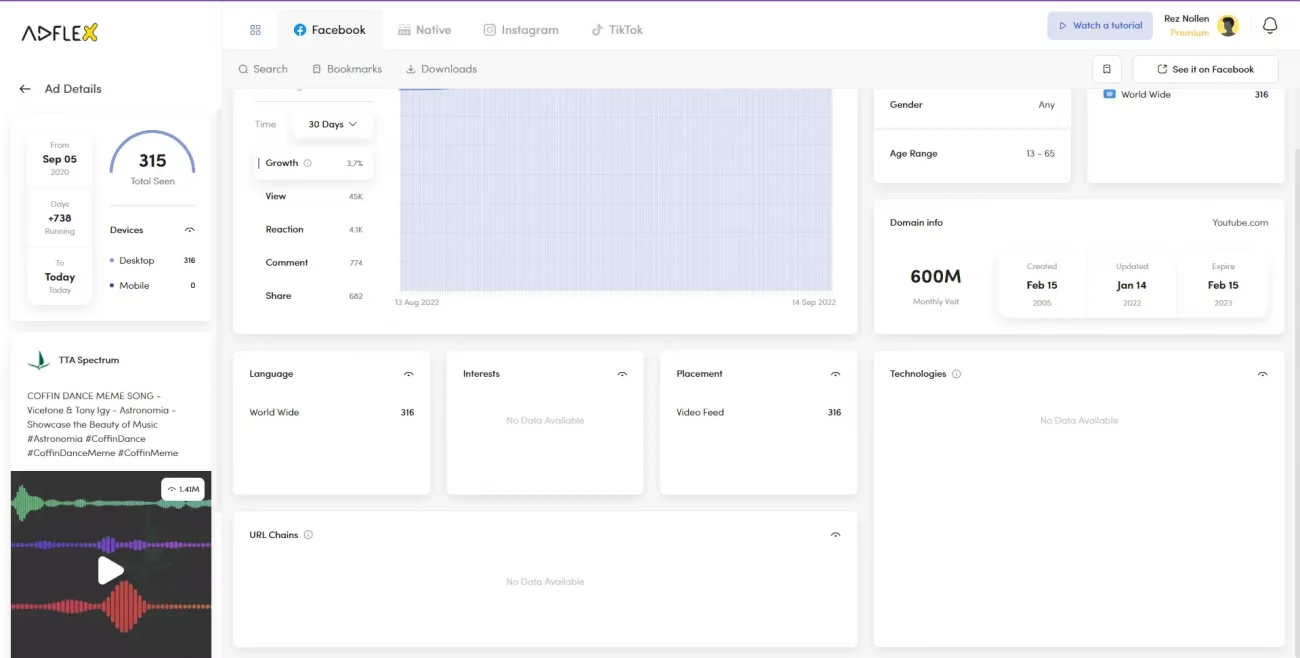 By clicking on the Ad Details page on an ad, you can get detailed information on the selected ad. you can have access to various ads data, including all the locations the ad has been published on, the whole interest categories that the publisher selects, the engagement growth, the first time and the last time AdFlex saw it and the total number of days the ad has been active.
Seen Section
The first section (top left corner) demonstrates different information about Adflex encountering this ad. The "From" date shows the first time this ad was seen. The "To" date shows the last time this ad was seen by Adflex on Facebook, and the "Days" counter shows the difference between the first and last date this ad was seen.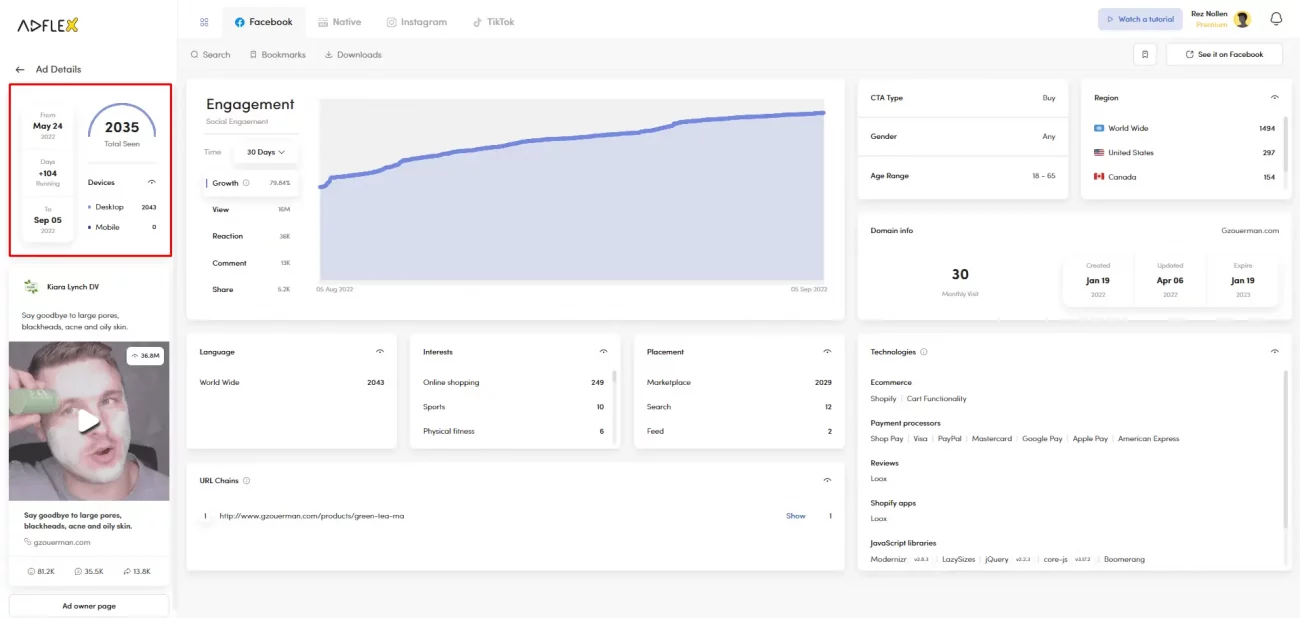 The "Total Seen" counter shows how many times Adflex's crawlers have seen this ad which is then broken down into 'Desktop' and 'Mobile categories down below.
Engagement Section
The Engagement section gives information about the ad's social engagement over time. Using the data given on the chart which shows the change pattern of engagement counts, you could investigate how well an ad is being perceived over time, or whether it is being pushed at any certain point in time (in case a sharp increase is observed).
Targeting Section
Directly below the Engagement section you can see 'Language', 'Interest' and 'Placement' targeting of the ad. these numbers show how many times an ad was seen with a certain targeting goal and how many times it was seen in certain advertising placements.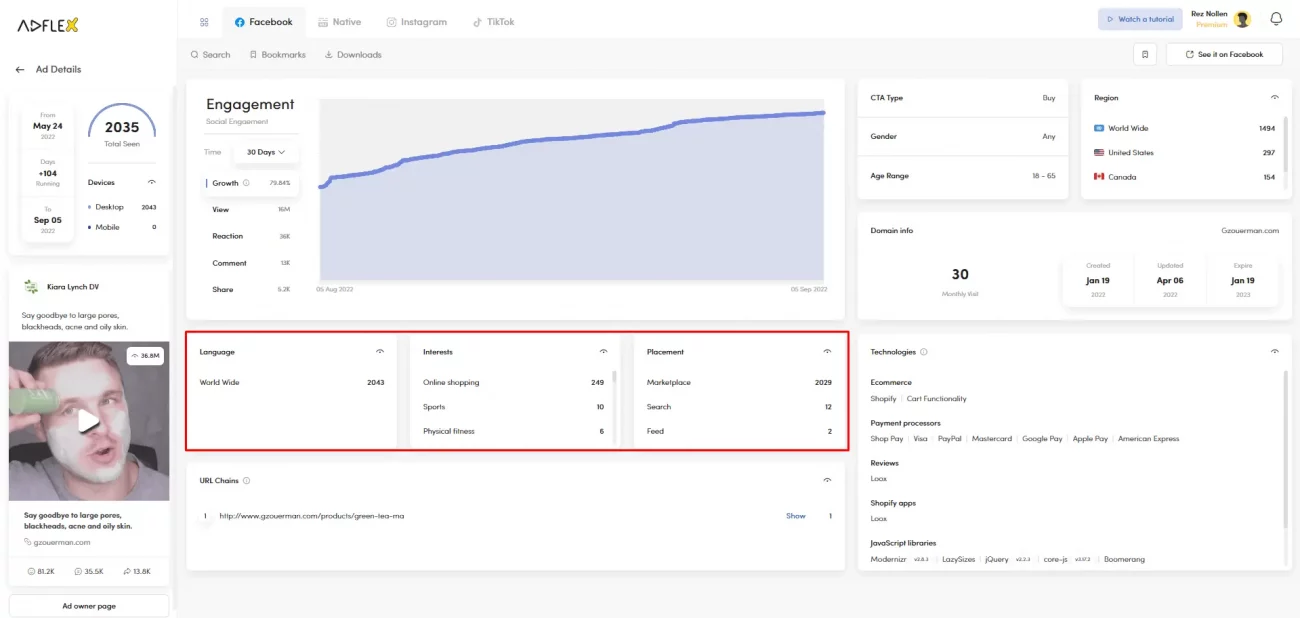 Region Section
On the top right corner of the page the 'Region' targeting count is seen which shows how many times each region was seen to be set as the target for the ad.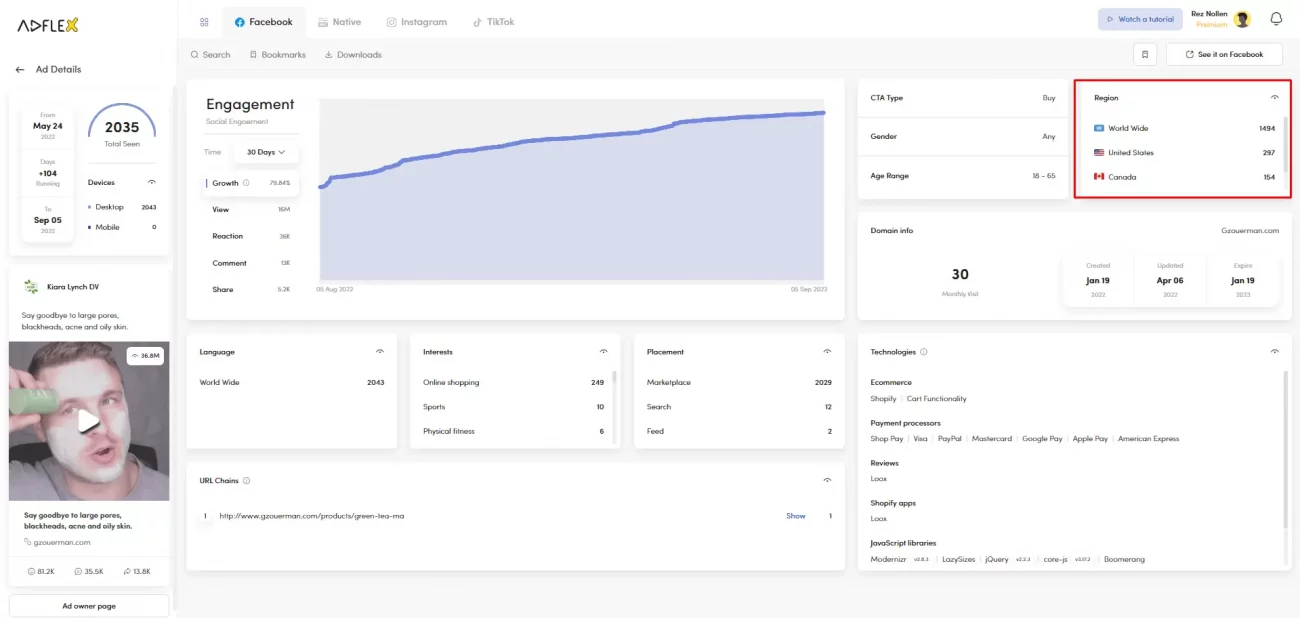 CTA Type Section
Next to the 'Region' information, you could see the 'CTA Type'. This indicates the button text used for the call to action of the ad. This is specially helpful to know to help you further compel your audiences to react to your ad.
Gender Section
Immediately below the CTA information on the top right hand corner, you see the 'Gender' Category showing which gender was set as the target for this ad. If it reads "Any" it means both genders where set as the target of the ad.
Age Range Section
Below the gender section, you could observe the age range which was used as the target for this ad.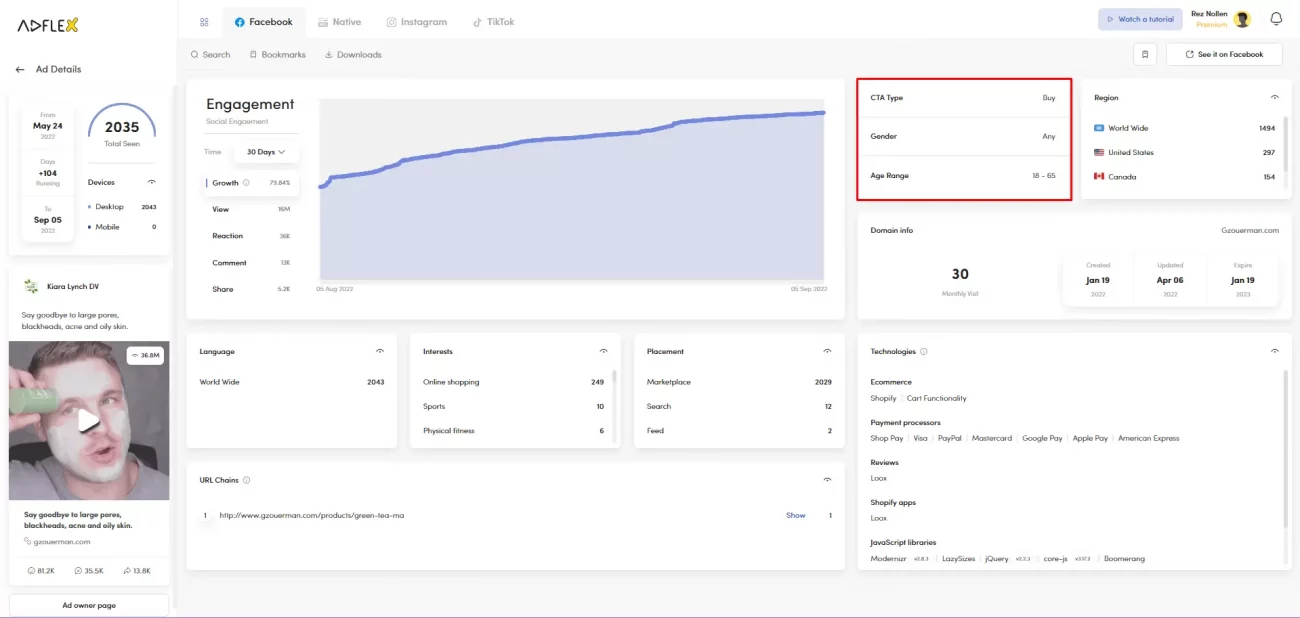 Domain info Section
On the right hand side of the page, you can see a box labeled 'Domain info' which gives information about the landing page's creation and expiration date, last updated time and its monthly visits based on the information obtained from similarweb.com .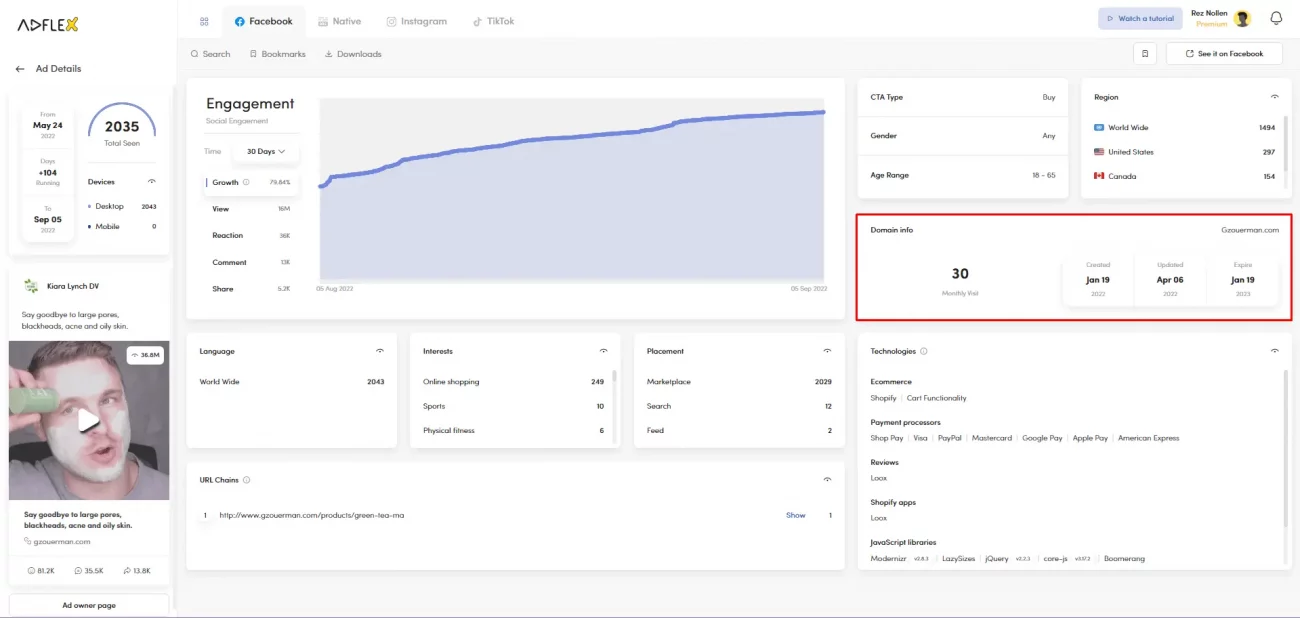 URL chains
Target URL is used to quickly check the individual redirect path of any ad's landing page URL. Through this data, you could discover which landing page is used more for a specific ad. you could also investigate any A/B tests conducted by an advertiser on the ad's landing page and use that data to improve your landing page.
Technologies
This section provides all the technologies used in the ad's landing page, including the JavaScript libraries, third-party tools, etc. You can also see the affiliate networks, CMS, and ecommerce platform used for the ad.