It's no secret that people love sharing their experiences with friends and family on social media. Food and eating experience sharing is particularly popular among users, to the extent that food blogging has become a hot profession. Considering this, an active social media presence has become crucial for restaurants. And we don't mean just for helping the business flourish, but to simply keep it alive.
People don't just go to the nearest restaurant they find anymore. They search for the best places to eat on search engines and social apps. They read reviews and comments, check out photos and videos of dishes, and make sure their favorite influencer and friends have approved a place before giving it a try.
This huge shift in customer behavior calls for a new marketing approach by restaurateurs. They need to incorporate social media marketing in their strategies to take advantage of the huge customer acquisition potential of these platforms. Facebook Ads in particular could be a game-changer for restaurants. It allows business owners to reach a massive audience with very high accuracy and with total control over ad properties, spending, and performance. We'll discuss the best Facebook ads strategy for restaurants in this article at AdFlex to help you get the most out of the blue social network for your business.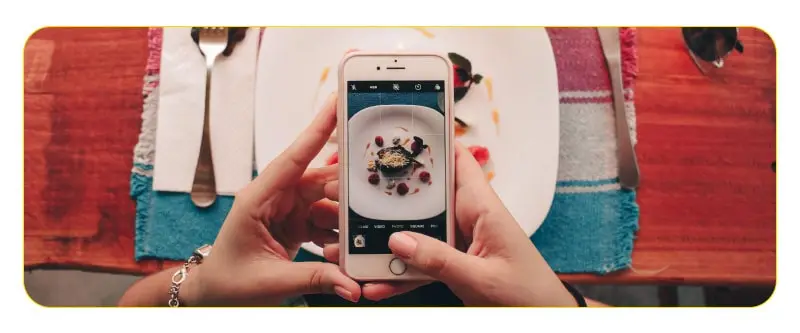 The benefits of Facebook Ads for restaurants
In case you don't know already, Facebook is the largest social network in the world with over 2.9 billion monthly active users. This gigantic user base allows for a better customer reach than any other online platform. Facebook users actively use this platform, not just to share, but also to discover dining experiences. A study has shown that %49 of people use Facebook when searching for a restaurant (Source).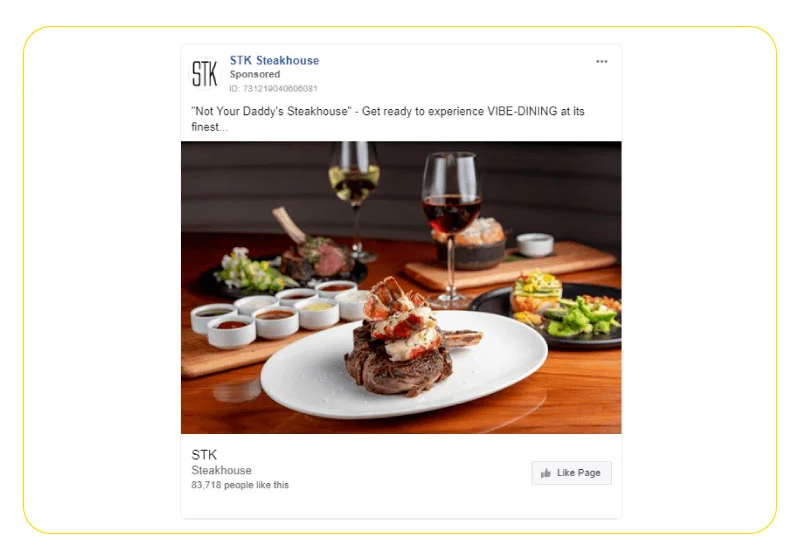 For years, Facebook has been fine-tuning its commercial features to help businesses better engage with their customers with relevant and high-quality content. Facebook Ads is now more powerful than ever. It provides high advertising flexibility with advanced targeting abilities. You can have total control over how much you want to spend on your campaigns, and be confident that Facebook will display your ads to the right people. Overall, Facebook Ads is a cost-effective and extremely effective way to achieve business goals fast. That is if you know how to handle your campaigns in the relatively complex Facebook Ads Manager and leverage the best Facebook advertising tactics in your strategies.
The most effective Facebook Ads strategies for restaurants
Set a clear objective
Before rushing into anything, you need to ask yourself some important questions. The answers to these questions determine the trajectory of your Facebook Ads campaigns:
What are you trying to achieve with your campaigns? Do you want more sales or higher brand awareness?
Who exactly is your preferred audience? What group of customers are going to enjoy eating at your restaurant?
How do you market my business on Facebook? How is your tone going to be?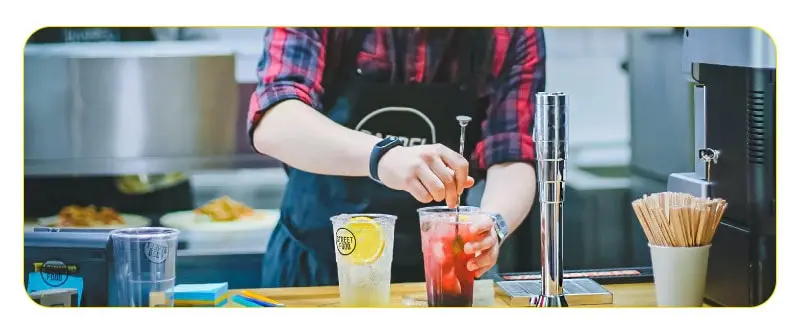 Answering these questions helps craft a message that fits your brand and resonates with your potential customers. It also helps with your campaign creation process; You'll know which segments and interests you have to target, what optimization goal you have to select in Ads Manager, and what creative and copy you have to use to generate interest.
Target location wisely
For a restaurant business, accurate location targeting is insanely important. You'd want to focus on areas that are in your establishment's perimeter and target local customers. Luckily, Facebook Ads Manager gives you total freedom in location targeting. On the "Ad Set" level, you can search for preferred areas or add locations in bulk if you run a restaurant chain. Selecting locations can be done by defining a radius, or entering an address or zip code.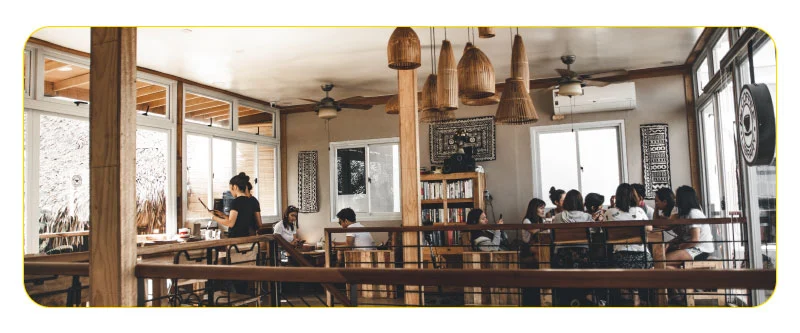 Focus on your existing customers first
People who've already tried out your restaurant should be your first ad recipients since it's more likely for them to revisit your place. An effective approach would be targeting these customers with promotional offers or informing them of a delicious new dish on your menu.
There are two ways to do this. The first method is uploading your email, SMS marketing, or online ordering lists directly to Facebook Ads Manager. Facebook will match list items with their profiles and creates a "Custom Audience" list for your ad account. To use this feature, select the "Audiences" item in the hamburger menu on the right-hand side of Ads Manager, then select "Create a Custom Audience".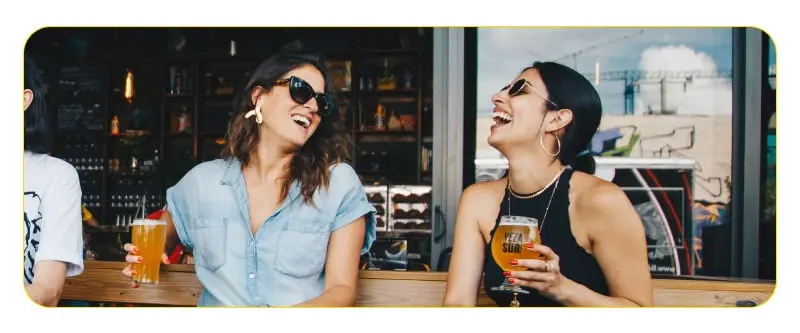 The second way is using the Facebook Pixel module. This piece of JavaScript code is installed on your website (if you have one) and tracks every user action on it. Facebook then uses the collected data to create custom audience lists for you. This feature is very useful in identifying prospects who have shown interest in your restaurant by visiting your website, signing up for an email list, or adding items to carts.
Use lookalike audiences
To attract new diners to your restaurant, take advantage of Facebook's "Lookalike Audiences" feature. This handy option gives you the ability to create lists of people who share similar characteristics with your current customers and people who have shown interest in your business. Catching the attention of lookalike audiences is much easier than "cold audiences" who are completely unfamiliar with your brand.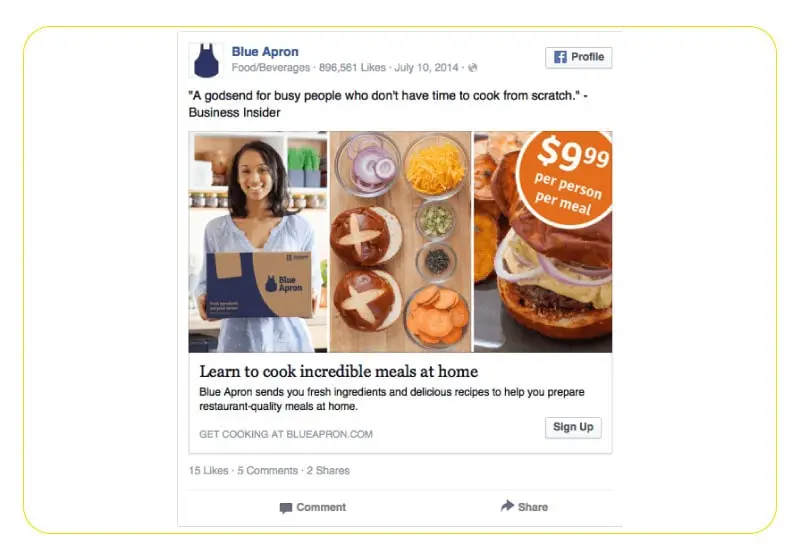 You can find this feature in the same place as the Custom Audiences in Ads Manager. Facebook gives you the option to select the level of similarity to your current audience on a scale of %1 to %10. The higher you go, the bigger and broader your audience will become. Facebook requires you to assign a source for creating the lists. This source could be a custom audience list, the data collected by Facebook Pixel, or the people who follow your Facebook Page.
Test different ad formats and creatives
Keep in mind that as a restaurant owner, you're not just serving food. You're selling a unique experience. You need to reflect that in your ads in order to stand out among the huge number of rivals in your niche.
If you already have shaped your brand identity, try to make your creative and ad copies consistent with it. This means that your tone should fit your brand and any type of assets you use in your ads should fall in line with your visual identity.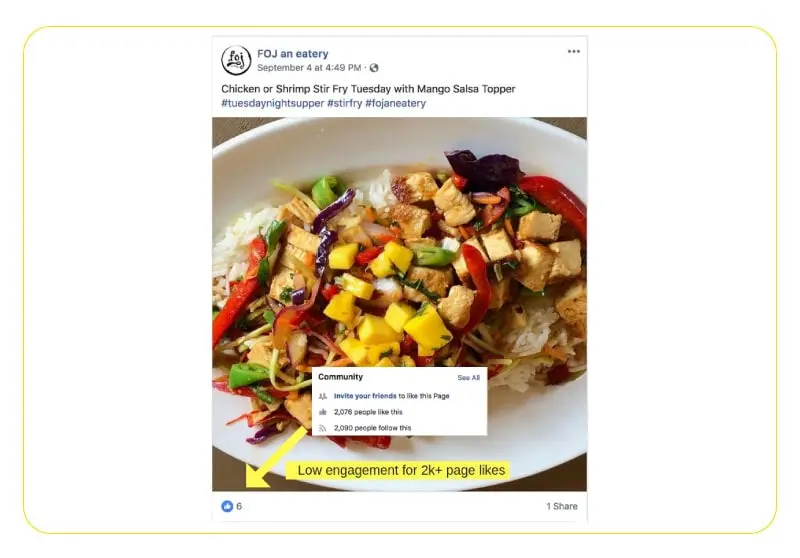 As a restaurant, your food and the look and feel of your establishment are the main hooks for potential customers. Obviously, you have to present those to your audience with eye-catching photos and mouth-watering videos. Here are some tips to improve your Facebook advertising strategy:
Don't sleep on the human side of your business. Highlight your staff and include your customers in ads to showcase the friendly atmosphere of your restaurant and generate trust. This way, you'll encourage customers to revisit and even bring more people with them next time. The more you reflect the unique experience of your restaurant in your ads, the better. Emphasize your top-notch service and the high quality of your food.
Keep your ads fresh and dynamic. If a delicious new food has been added to your menu, make sure to tell your audience about it in your ads. If it's possible for you, plan on adding seasonal and occasional dishes to your menu and promote them in your ads. This helps maintain an up-to-date, professional image of your brand and bring back previous customers.
Incentives should be an important part of your ad strategy. Get creative with your promotional offers and target both previous and new customers with special incentives. For example, offer discounts, coupons, or free meals on first-time orders, reviews, or seasonal dishes. You can create a sense of emergency by providing these special offers for a limited time.
Target specific interests
Your restaurant might have a specific theme, serve a certain type of food, or have any sort of distinct characteristics that makes it more appealing to specific groups. Make sure to consider that when choosing target audiences for your campaigns.
Thankfully, Facebook has made interest targeting very easy. On the Ad Set level, there's a section called "Detailed Targeting" that includes a myriad of different interests, demographics, and behaviors. It's really impressive how accurate you can get with your targeting on Facebook Ads. You can narrow down your audience to people with certain diets, habits, and even life events coming up.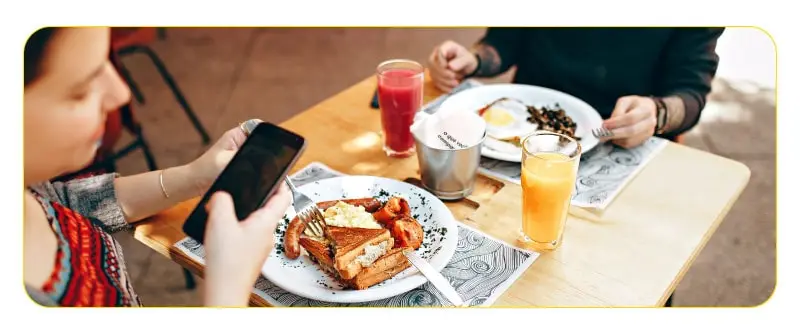 For example, if your restaurant hosts events for special occasions, live entertainment, ceremonies, and community gatherings, select audiences with related interests to them. Keep in mind that laser targeting should be in combination with suitable creative and copy. Don't use the same photos, videos, and texts in all of your campaigns.
Use remarketing
As previously mentioned, your current customers should be the pillar of your advertising strategy. People who've had the experience of dining in your restaurant have the power to bring in new customers and become regulars themselves. Once you've managed to get people to visit your establishment, make sure to collect a means of contact with them.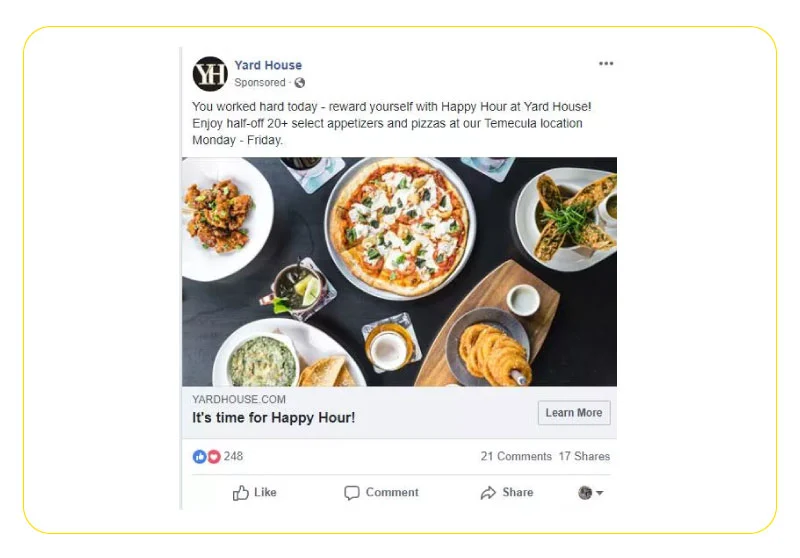 This could be their email address or phone number. For online customers, setting up Facebook Pixel on your website will take care of this task for you. Then, you need to retarget these people with tempting content and incentives. You can develop a referral program or provide a limited-time offer to evoke them to come back to your restaurants with their friends and family. Take advantage of special occasions, holidays, and trending events to grab their attention with relevant offers.
Time to shape your own Facebook Ads strategy
Having a robust advertising strategy for Facebook ensures your campaigns are targeting the right audiences with the right tone at the right time. It helps you organize your campaigns and seize all the opportunities to establish a stronger connection with customers and expand your clientele. It doesn't matter what type of business you own, as most of the tactics here also work for any niche. If you wish to learn this topic, check out our complete Facebook Ads strategy guide.
Conclusion
There you go. Here are seven effective Facebook Ads tactics for restaurants to get the most out of the popular platform for their business. By following these tips, you'll be able to shape and maintain an unforgettable, trustworthy image of your brand and reach customers more than with any other traditional advertising method.
FAQs
Do Facebook Ads work for restaurants?
Yes, but it definitely depends on how you use it. Facebook Ads have the potential to help you reach a massive audience and establish a connection with it. But it's important to have a well-thought-out strategy, set clear goals, consider your intended audience's interests, and have the right tone, creatives, and timing.
What is the best way for restaurants to advertise?
Remember that you're selling an experience, so you should reflect that in your ads. Investing in creating high-quality creative assets for your ads is never a waste of money. Set a clear tone, focus on your current customers first, and take advantage of special occasions and holidays.
How do I promote my restaurant on Facebook?
You should look at Facebook as a long-term advertising solution. Remember it's a process, starting with targeting your current customers and leads. Make sure to set up Facebook Pixel on your website, and use the customer and lookalike audience's feature to expand your customer base. Highlight new items on your menu and take advantage of themes, trending events, and special occasions. Once you've managed to gain leads and attract customers to your establishment, make sure to retarget them with further exciting offers.
---