TikTok has become a massive sensation in the marketing landscape in recent years, thanks to its very high potential to help businesses get huge returns on investments. The platform is mind-blowingly popular among the younger generation and currently enjoys more than 1 billion monthly active users.
TikTok has been a breath of fresh air in the social network scene, successfully matching millions of creative content creators with large communities. A smooth, pleasant user interface combined with a top-notch suggestion system and a never-ending flow of joyful, fun, exciting, and helpful video content has made TikTok one of the hottest places on the Internet right now.
Brands and advertisers understand the marketing power of TikTok very well; That's why millions of them have been taking advantage of the platform to connect with the hard-to-please Generation Z and millennials through various creative ways.
TikTok has laid the groundwork for businesses with its superb app and dedicated features to create high-quality original or paid content, and more brands are adopting it in their marketing strategies every day. If you've decided to enter the race or looking to improve your game, stick with us in this article to learn the ultimate TikTok Ads tips and tricks and maximize your revenue.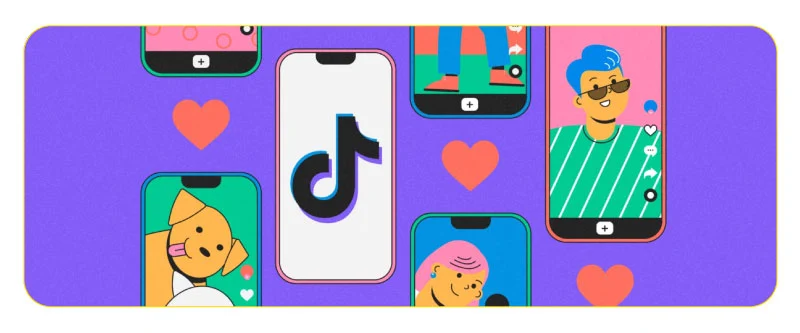 What's TikTok Ads?
Even though TikTok has been around for almost seven years, it just started experimenting with a business suite in 2019. At first, the platform only provided limited advertising options with very high prices which were only available to large companies. Now, with the addition of a bidding system, TikTok Ads prices have significantly decreased and become even lower than Facebook.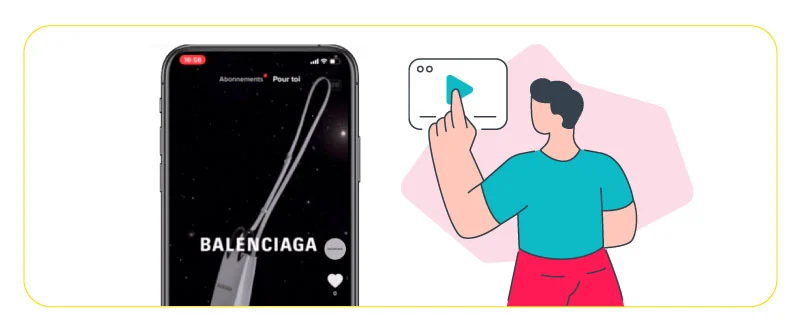 TikTok Ads Manager is now more evolved and contains dozens of standard and advanced advertising and performance monitoring features. ByteDance (the company behind TikTok) has equipped the app with enough advertising solutions to help brands harness the power of its massive fan base. In addition to standard formats, TikTok features some clever ones that take advantage of the platform's nature and user behavior. Here are the different ad formats in TikTok:
In-feed ads
TopView ads
Branded hashtag challenge ads
Branded effects ads
Spark ads
TikTok Promote
To learn what each of these formats is and what it is good for, make sure to read our article on the best ways to promote on TikTok.
Should you advertise on TikTok?
It's been a long time since advertising on TikTok was only affordable to large businesses. The social network admittedly had eye-watering price tags for its ad spots, making it a non-vial option for SMBs. Now, with the inclusion of self-service and in-feed ads and an automatic bidding feature, the huge advertising potential of TikTok is accessible to almost everyone. The spots are still limited, but they're beautifully integrated into the app to get the best results. TikTok Ads could reach a massive audience spread across many countries.
In the United States alone, TikTok has over 120 million users. For companies aiming to cater to Gen Zers, millennials, and female demographics, this platform is an advertising paradise. Almost half of TikTok users are between 18 to 24 years old of age, 25% of which are women. But does this mean that everyone will benefit from advertising on TikTok? Well, it depends on your business.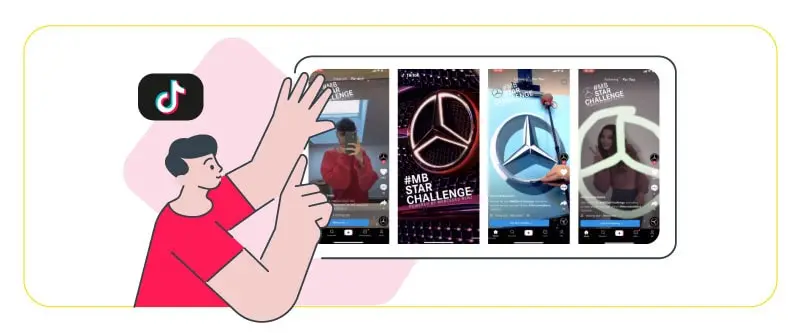 I've met many business owners who are eager to follow the trend and focus their advertising on TikTok, and I always tell them that before jumping into anything, ask themselves some questions. TikTok Ads is great but it's really different than other major digital marketing channels.
If you're going to run campaigns on TikTok, you'll need to rethink the way you promote your brand and make it look less like an ad as much as possible. Honestly, this the ultimate TikTok Ads tip I can give. Besides, you're only limited to the video format and you'll need to pour a lot of creativity and fresh ideas into your paid content. If you can check all these boxes, TikTok is the place to go.
Now, let's learn about the best tips and tricks you could use to get the most out of your TikTok ads:
Don't make it look like an ad
We said this once and we're going to say it again: Your TikTok ads shouldn't look, sound, and feel like an ad. People on TikTok are there for the content, and the app's design clearly demonstrates how the developers have planned to feed original, engaging content to users with as few interruptions as possible.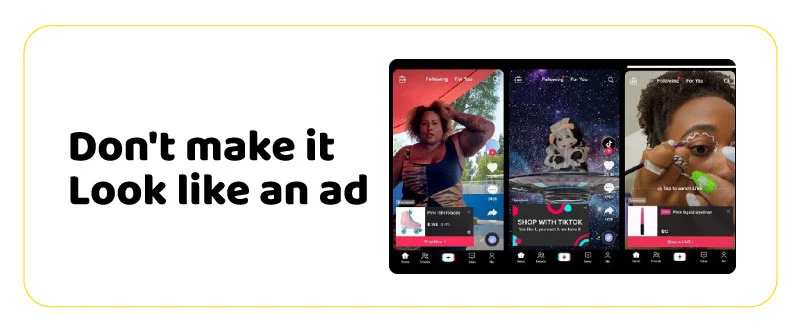 Unfortunately, there are no universal tips for how to not make ads look like ads, and you have to rely on your creativity. Give top priority to your audience and focus on entertaining or educating them first. Salesy campaigns and imperative marketing messages won't take you so far on TikTok.
Take advantage of trends
We can't stress enough how important trends are on TikTok. By riding the waves of trends, you'll seize every golden opportunity on TikTok to reach new audiences. Luckily, TikTok never runs out of trends. It could be a catchy new song, important news, a flashy new filter, or even a newly popular meme.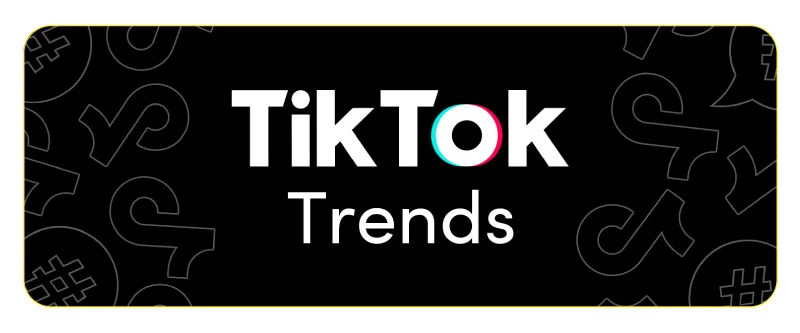 TikTok's content suggestion algorithm favors popular and trendy content, so creating relevant content and utilizing trending hashtags is a smart way to take advantage of this opportunity.
Tap into the power of influencers and user-generated content
An important reason why TikTok has reached this level of popularity is its large community of creative influencers that are constantly filling the platform with entertaining, informative, and highly engaging content. And while TikTok keeps empowering these influencers by adding new content-creation features and monetization options, it also helps businesses use their potential to reach new audiences and go viral. TikTok's Creator Marketplace is an impressive feature to helps brands connect with the appropriate influencer.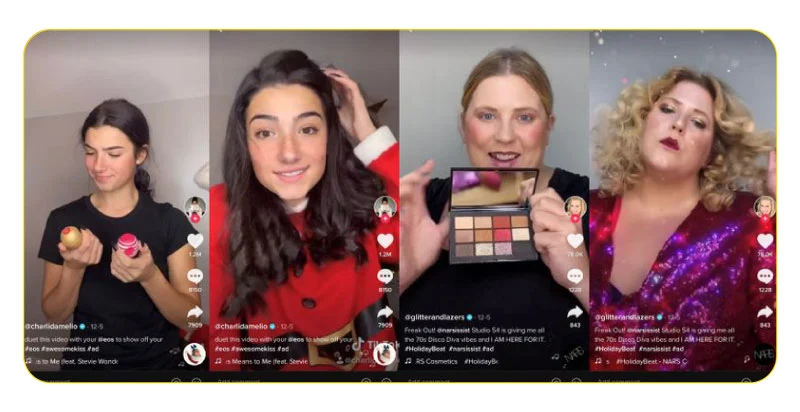 Partnering up with creative and popular content creators, regardless of their (and your) niche, is a very effective way to promote your brand in a unique and different way, generate trust among users, and create massive brand awareness. There's also the cheaper, but equally effective method of using user-generated content by encouraging your audience to publish videos doing a challenge.
How to tailor your ads
Use these tips to create high-quality, algorithm-friendly ads with breakthrough creatives:
Create vertical videos. By default, TikTok has a vertical orientation and almost all of the content on the platform has this format. So make sure your videos are shot vertically so the users won't have to rotate their devices every time they want to see your ads. According to TikTok itself, vertical videos experience a %40 increase in impressions compared to square or landscape videos.
Sound is almost as important as visuals. Generally speaking, music is a big part of TikTok. The platform has a sound-on environment and much of the content revolves around trending sounds and records. Having audio in your ads is a must, and it better be a currently popular one. Luckily, TikTok gives you the option to select a sound from its vast selection of trending and popular songs on the platform.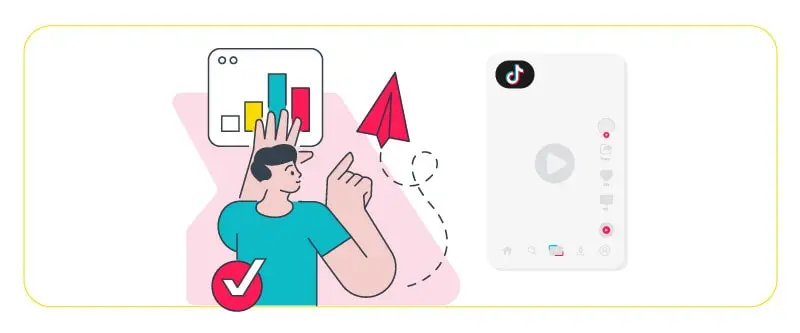 Start big. Remember that every TikTok user has an ocean of fun content at his/her disposal and it's not hard to swipe over your video. Visually, ads on TikTok are not very distinguishable from organic videos, so you have a few precious seconds before the viewer realizes your video is an ad. Start your videos with something shocking or eye-catching that can easily grab everyone's attention. Getting viewers on the hook in the first few seconds significantly increases your ad's completion rate. Learn more about how to get more views on TikTok.
Make it short. Although your ads could be up to 60 seconds long, we recommend something between 20 to 35 seconds. Longer ads have less chance of being viewed to the end. Leave some of the information for the caption and make concise, short videos that are suitable to your message.
Shoot high-quality videos. Using high-resolution videos in your TikTok ads improves brand image and increases impressions. Consider using videos with a video resolution of at least 1280×720.
TikTok Ads Best Practices
TikTok Ads have quickly become one of the most popular and effective ways for businesses to reach a younger demographic. With over a billion monthly active users, TikTok offers a vast audience of engaged users that can be targeted with a variety of ad formats. To get the most out of your TikTok advertising campaigns, it's essential to follow best practices that can help you create effective ads and optimize your campaign performance.
One of the most important things to keep in mind when creating TikTok Ads is the importance of engaging ad content. TikTok users are accustomed to seeing creative and entertaining content, so it's essential to create ads that capture their attention and encourage them to engage with your brand. Some tips for creating effective TikTok Ads include using eye-catching visuals, incorporating popular music or trends, and keeping your messaging short and to the point.
Another key consideration when creating TikTok Ads is selecting the right ad format for your campaign goals. TikTok offers a range of ad formats, including in-feed ads, branded effects, and sponsored hashtag challenges, each with its own unique strengths and benefits. By selecting the most effective ad format for your campaign, you can better reach and engage your target audience, driving greater campaign performance and ROI.
Finally, it's crucial to measure and optimize your TikTok Ads campaigns regularly. By tracking key metrics like engagement, clicks, and conversions, you can gain insights into which ad content and targeting strategies are most effective, and make adjustments accordingly. This can help you continually improve your campaign performance and maximize your advertising spend.
In summary, by following TikTok Ads best practices and focusing on engaging ad content, selecting the most effective ad format, and regularly measuring and optimizing your campaign performance, you can create highly effective TikTok advertising campaigns that drive results for your business.
Conclusion
We hope these well-proven TikTok Ads tips and tricks help you in crafting high-converting campaigns that will make your brand go viral on the platform. I strongly recommend using TikTok as a normal user to learn about its culture, language, and user behavior to create ads that are fully compatible with this distinct environment. Combine the knowledge you gain with these tips to shape the ultimate TikTok advertising strategy and get huge ROI.
FAQs