TikTok is the fastest-growing social platform in the world. Ever since the global launch of the app in 2016, it has become the favorite place for over 1 billion active users to share their funny and casual short videos. TikTok's massive market share paved the way for the app to become a prominent advertising platform for businesses. If you wish to be one of them, follow this TikTok Ads step by step guide. We've covered everything you need to know about advertising on the platform.
Why TikTok Ads?
The business side of TikTok has only been around for almost three years, but it has found a place in the marketing strategies of tons of brands. The popularity of TikTok among the younger generations has brought a unique opportunity for companies to market to one of the hardest demographics out there.
TikTok ads could reach a massive audience spread across many countries. In the United States alone, TikTok has over 120 million users. For companies aiming to cater to Gen Zers, millennials, and female demographics, this platform is an advertising paradise. Almost half of TikTok users are between 18 to 24 years old of age, 25% of which are women.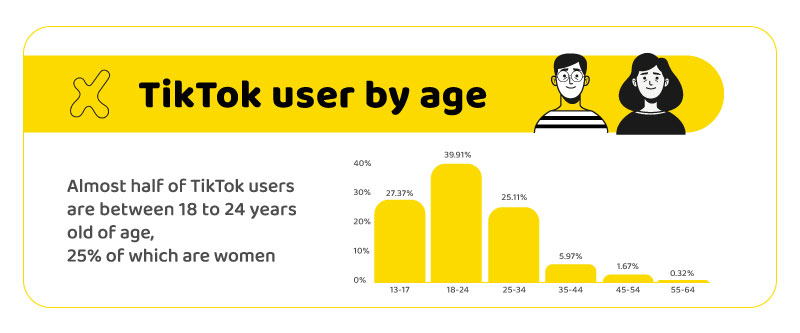 Which brands should try TikTok ads?
TikTok ads can achieve impressive results, just not for everyone. As we mentioned, most users are youngsters looking for joyful and entertaining video content. This fact alone can cross it off the list of advertising opportunities for many companies. If you run a law firm that provides services to hedge funds, TikTok is probably not the place for your ads.
On the other hand, TikTok ads could be a brilliant investment for brands with target audiences under 30. The platform's international reach rate is simply incredible. In several Asian and Middle Eastern countries like Saudi Arabia and Vietnam, TikTok has a massive 50% reach vs. population rate (age 18 or higher). So if you're active in these markets or trying to expand your business in them, you should definitely consider TikTok in your marketing plans.
TikTok ad types
TikTok is still a relatively new social platform. Therefore, advertising options here are not as extensive as on Facebook or Google. Nevertheless, ByteDance (the company behind TikTok) has equipped the app with enough advertising solutions to help brands harness the power of its massive fan base. In addition to standard formats, TikTok features some clever ones that take advantage of the platform's nature and user behavior.
In-feed ads
Most ads you see on TikTok belong to this type. In-feed ads mostly reside on the For You page. These self-service, sound-on ads are full-screen and blend in with other organic content you see in TikTok feeds. You can create in-feed ads in TikTok's Ad Manager.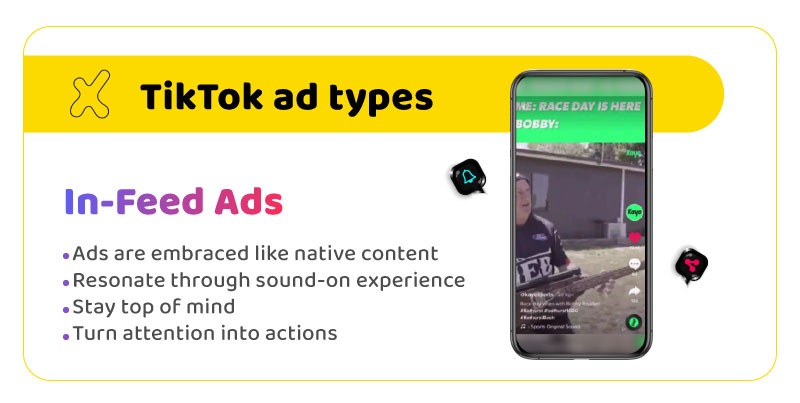 TopView ads
TopView ads cover the whole screen to fully grab the viewer's attention. TikTok calls it its "most premium real estate" since ads of this type appear as a full-screen takeover as soon as the user opens the TikTok app.
The extra-high visibility of TopView ads makes them an ideal choice for boosting brand awareness. They could be 5 to 60 seconds long and play automatically with the sound on.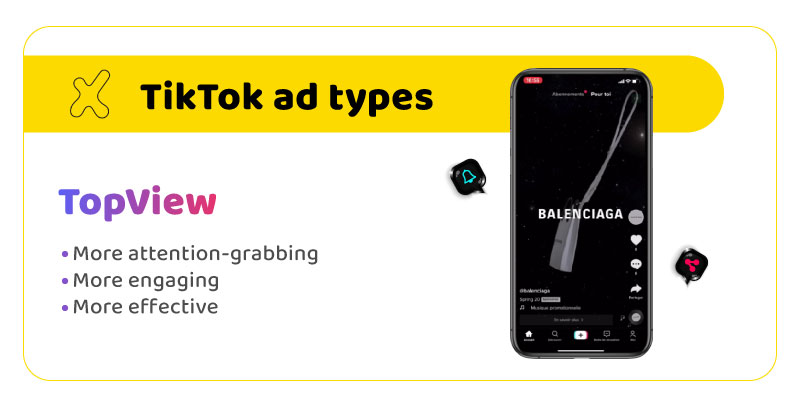 Branded hashtag challenge ads
Branded hashtags are unique to TikTok. These ads tap into the power of TikTok's hyperactive community to provide brands with an incredible way to engage with their audience and spread their name.
A branded hashtag campaign starts with a promoted video that features a branded hashtag and sound. Brands then challenge users to create their own content and share it with others while using the aforementioned hashtag and sound in their videos. The campaign could last three to six days and the user-generated content appears on the challenge's dedicated page.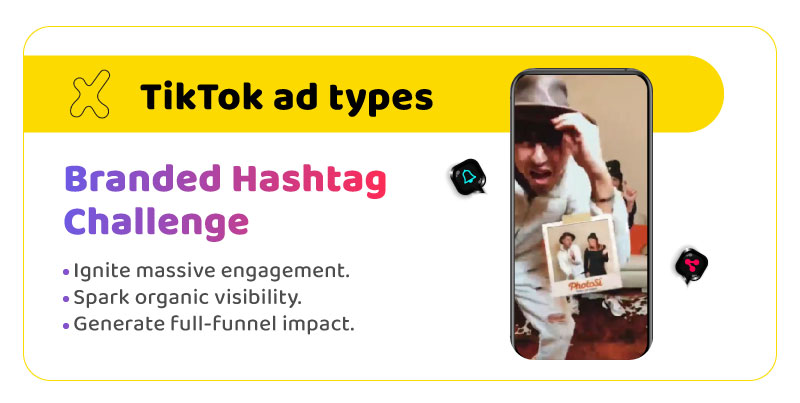 Branded effects ads
Just like Instagram, AR effects and filters are important parts of TikTok's content. Brands could create custom filters, effects, and stickers and encourage video creators to use them.
Spark ads
Spark ads is another unique TikTok advertising category. It works somehow similarly to Facebook's Boost feature, where you pick an organic post and promote it to reach a wider audience. The difference here is that alongside the option to promote your own posts, you can also leverage other creators' content in your advertising (with their approval).
TikTok Ads step by step guide
Now that you've become familiar with TikTok's ad formats, it's time to learn how you can actually create and publish them.
TikTok Ads Manager is the platform's central hub for creating, managing, and monitoring campaigns. In order to access it, you need a TikTok Business account. So if you still haven't created one, do that first via this link.
Pick an objective
TikTok ad objectives fall into three categories, each with its own properties to help you reach your marketing goal:
Awareness
Reach: Display your ad to as many people as possible
Consideration
Traffic: Direct viewers to your preferred URL
App Installs: Getting people to download your app
Video views: Getting the most views possible for your video ads
Lead generation: Collect leads for your brand
Community interaction: Drive traffic to your page or profile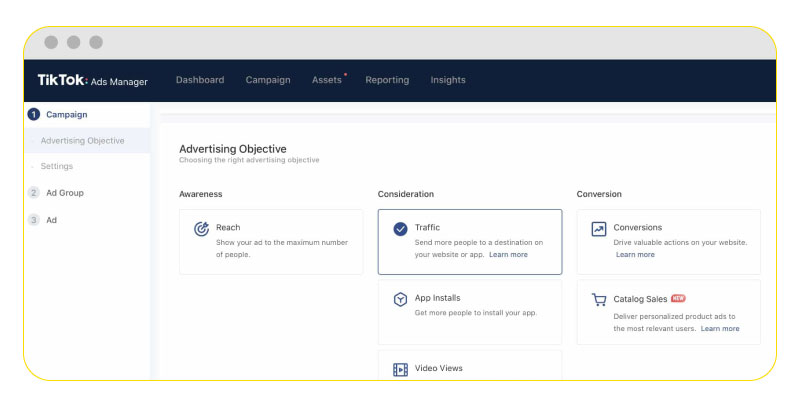 Conversion
Conversions: Drive desired actions on your website
After choosing an objective, you should give a name to your campaign (only visible to you and your team). This name can be up to 512 characters.
Next, you can opt-in for a split test. If you choose this option, TikTok will test your ad groups against each other to find out which one performs better.
Setting a budget limit is the next step. If you're not short on money, you can skip setting a budget limit for your campaign and select No Limit. If not, you can choose between a daily or a lifetime budget. For both cases, the minimum budget must be at least 50 USD.
Create ad groups
Your campaign can include up to 999 ad groups. Start by specifying a name for your ad group. Then, you have to choose where you'd want your ad to be served. Alongside TikTok, ByteDance has several other apps that could host your campaigns:
News Feed apps: TopBuzz, BuzzVideo, News Republic, and BaBe
Helo (Only available in India)
Pangle: The TikTok audience network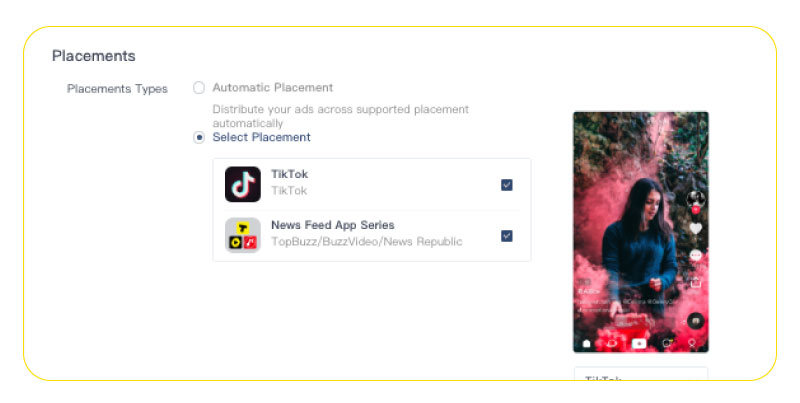 If you wish to run your campaign on placements other than TikTok, bear in mind that these services are not available in all regions. So make sure to check out the list of the supported regions first. TikTok also provides automatic placement, which selects the optimal ad placements for your campaign by itself.
Next, you can choose whether to let TikTok set up the ad creative for you. The Automated Creative Optimization generates a combination of your image, video, and text assets. The system also automates ad delivery and shows the best-performing combination to the audience.
Choose your target audiences
Almost all social platforms let you narrow down your target audience, and TikTok is no exception. You can create a custom audience by uploading IDFA or GAID or using lookalike audiences. Targeting filters include:
Location
Gender
Age
Language
Interests & Behaviors
Device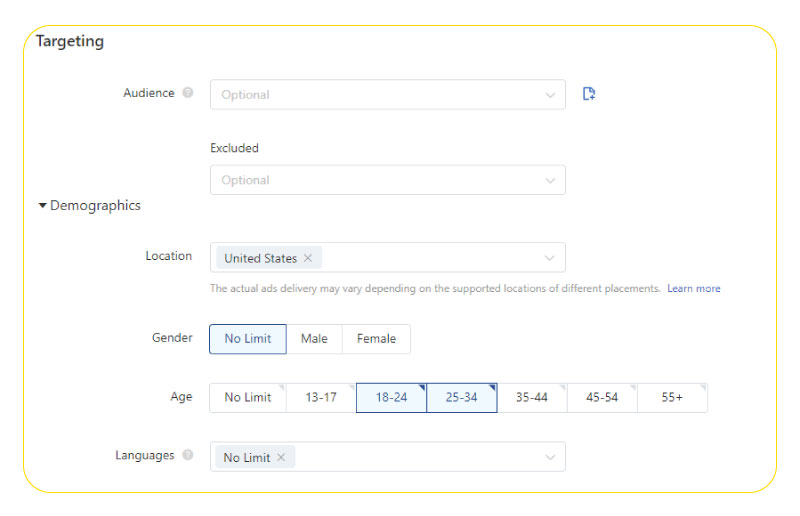 Set a budget for and schedule your ad group
Specify a daily or lifetime budget for your ad group and select the time you want it to start and end. There's a Dayparting option available that lets you pick certain hours or days in which your ad group runs.
Select a bidding strategy
At this stage, you should first pick your optimization goal, which could be one of the following depending on the objective you've chosen before creating ad groups:
After that, choose a bidding strategy:
Bid Cap: Automatically keeps the average cost per result below your specified bid threshold. You must enter the maximum cost per result you'd like to bid on.
Cost Cap: An average cost per result. The cost per result will fluctuate above and below your bid amount.
Lowest Cost: The system tries the get the maximum number of results possible at the lowest cost per result.
Next, you should choose a delivery type for your ad group. There are two types available:
Standard delivery: Spends your budget evenly over the scheduled campaign date.
Accelerated delivery: Quickly spends your budget to get fast results.
Create your ad
After choosing a name for your creative, you should select your preferred ad format (image, video, or spark add). You can set a custom display name and profile picture to be displayed on your ad instead of your original ones.
There are multiple ways to add creatives to your ad. You can upload your photos or videos straight from your computer, or select them from your library. TikTok Ads Manager also has an impressive video creation tool.
Choose a thumbnail for your ad, then enter your ad's text. You can set a link for your ad by toggling the Destination Page switch. This link could lead to your website or to a TikTok Instant Page, which is a fast-loading in-app page you can create or select from your library (if you have one already).
After clicking submit, your ad will go through a review process, and if approved by TikTok, it will be served on your selected placement.
Conclusion
TikTok Ads is still young. Even though its business suite is not advanced as say, Facebook, it's still pretty amazing how far the platform has come to provide powerful advertising opportunities for businesses in just a few years. By following the steps above, you'll be able to harness the gigantic reach power of TikTok ads and transform your business like never before.
FAQs
How can I advertise on TikTok for free?
In order to advertise on TikTok, you have to create a TikTok business account which is completely free. Running ads on the platform, however, is not free. Similar to almost all other online advertising channels, TikTok Ads uses a complex bidding system to determine which ads to show to its users.
Why can't I create a TikTok account?
If you're receiving the "Not eligible" error when creating an account on TikTok, it may be because you've entered the wrong age on the sign-up page. TikTok doesn't allow people under the age of 13 to use its app. This restriction is 16 years old in some countries. Try clearing your cache and cookies and try again by entering the right age when signing up.
How can I create a business TikTok account?
Download and open the TikTok app. Create an account either by using your email, or your Google, Twitter, or Facebook account. Tap "Me" in the lower right corner, then the three dots in the upper right corner, then "Manage Account". Tap on "Switch to Pro Account", after which you have to use between "Creator" or "Business" accounts. Then select the category that your business falls into, enter a website and email address, and you're good to go.