Unless you've been living under a rock for the past three years, you've probably heard about TikTok. The short-video sharing platform is the fastest growing social network in the world, having surpassed the impressive one-billion-users milestone in 2020. TikTok is incredibly popular among the Generation Z and millennials, as the platform is filled with engaging, entertaining content. The ever-growing TikTok community have embraced the app not just for entertainment purposes, but also as a powerful hub for finding like-minded people, following what's going in the world, and even discovering travel destinations, dining places, and local businesses.
Similar to millions of people around the world, marketers also find TikTok an excellent place to focus on. The platform brings a massive opportunity to reach a gigantic audience and promote a brand in the most natural, creative way possible to date. There are numerous reasons to adopt TikTok in your marketing strategy which delving into requires a whole other article, but if you've decided to give the platform a try, here you'll find the best ways to promote on TikTok.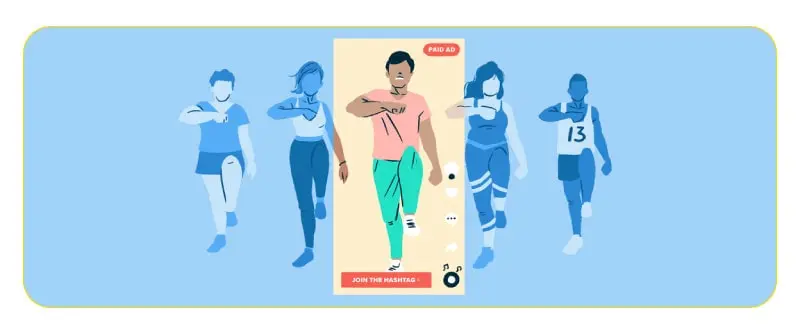 To better clarify the best brand promotion ways on TikTok, we'll put them into two categories: Paid promotion (TikTok Ads), and organic activity. On the business side, TikTok is still not as evolved as other major social networks like Facebook and Instagram, meaning there are fewer advertising spots available. There is a positive side to this, since the platform is still not saturated with ads and the competition is not as fierce as Facebook, which is good news for small to medium businesses. Nevertheless, the option of promoting yourself through organic activity on TikTok is always available, and greatly effective.
TikTok Ads is still young, but very effective
It's been a long time since advertising on TikTok was only affordable to large businesses. The social network admittedly had eye-watering price tags for its ad spots, making it a non-vial option for SMBs. Now, with the inclusion of a self-service and in-feed ads and an automatic bidding feature, the huge advertising potential of TikTok is accessible to almost everyone. The spots are still limited, but they're beautifully integrated into the app to get the best results. ByteDance knows the behavior of its user base very well, and has come up with some innovative advertising features to help its customers tap into the power of TikTok.
But what I do mean by "beautifully integrated"? TikTok Ads are great examples of modern native advertising and its capabilities. In-feed ads are among the best ways to promote on TikTok since they're very similar to other organic posts you see on your For You page, both in terms of form and content. They appear as short-videos between normal posts, and they tend to be entertaining, educative, and overall similar to a fun TikTok post, so much to the extent that you might not even realize you're watching an ad in the first few seconds.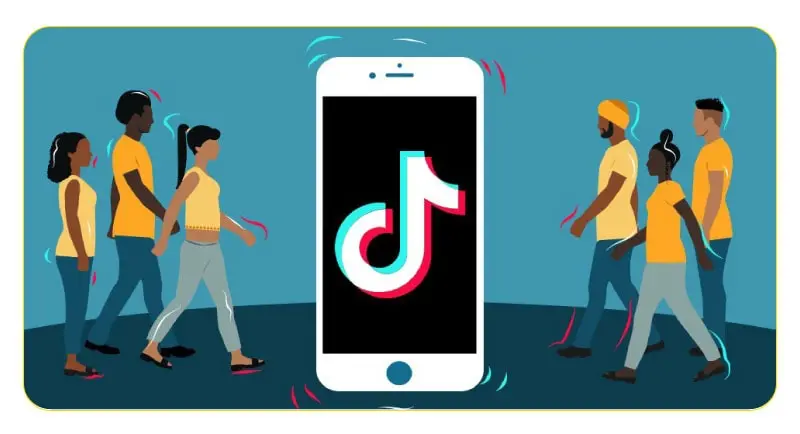 TikTok Ads could reach a massive audience spread across many countries. In the United States alone, TikTok has over 120 million users. For companies aiming to cater to Gen Zers, millennials, and female demographics, this platform is an advertising paradise. Almost half of TikTok users are between 18 to 24 years old of age, 25% of which are women.
Paid promotion or not, research your audience first
TikTok has more than a billion users. But does this mean it's definitely the right place for you to focus on? It's a given that brands should promote themselves where their potential customers are present. As we mentioned, most TikTok users are youngsters. This fact alone can cross it off the list of advertising opportunities for many brands. If you run a law firm that provides services to billion dollar companies, TikTok is probably not the place for you.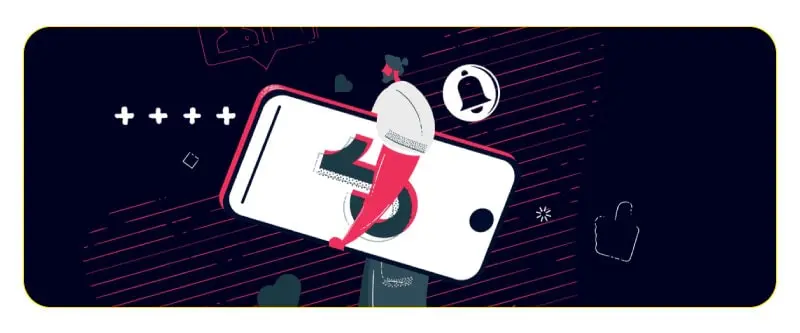 On the other hand, TikTok could be a brilliant investment for brands with target audiences under 30. The platform's international reach rate is simply incredible. In several Asian and Middle Eastern countries like Saudi Arabia and Vietnam, TikTok has a massive 50% reach vs. population rate (age 18 or higher). So if you're active in these markets or trying to expand your business in them, you should definitely consider TikTok in your marketing plans.
What are the advertising opportunities on TikTok?
TikTok is still a relatively new social platform. Therefore, advertising options here are not as extensive as on Facebook or Google. Nevertheless, TikTok features some clever features that take advantage of the platform's nature and user behavior.
In-feed ads
Most ads you see on TikTok belong to this type. In-feed ads mostly reside on the For You page. These self-service, sound-on ads are full-screen and blend in with other organic content you see in TikTok feeds. They're not much different than other videos on the platform in terms of appearance and users may not even realize they're watching an ad until several seconds into the video. You can create in-feed ads in TikTok's Ad Manager.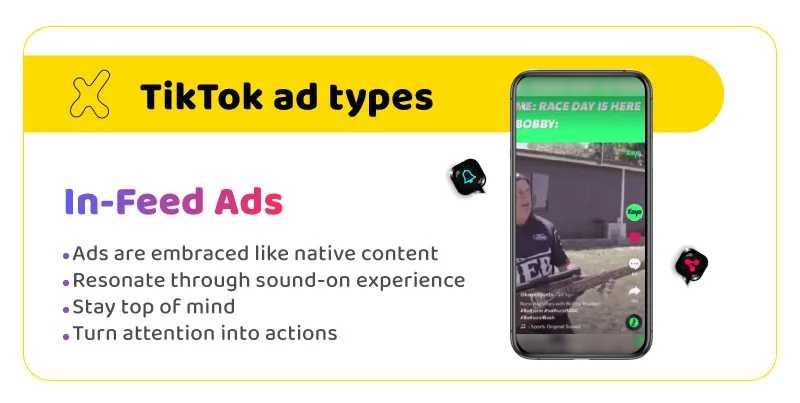 TopView ads
TopView ads cover the whole screen to fully grab the viewer's attention. TikTok calls it its "most premium real estate" since ads of this type appear as a full-screen takeover as soon as the user opens the TikTok app (only once per day for each user for obvious reasons).
The extra-high visibility of TopView ads makes them an ideal choice for boosting brand awareness. They could be 5 to 60 seconds long and play automatically with the sound on.
Branded hashtag challenge ads
Branded hashtags are unique to TikTok. These ads tap into the power of TikTok's community to provide brands with an incredible way to engage with their audience and spread their name.
A branded hashtag campaign starts with a promoted video that features a branded hashtag and sound. Brands then challenge users to create their own content and share it with others while using the aforementioned hashtag and sound in their videos. The campaign could last three to six days and the user-generated content appears on the challenge's dedicated page.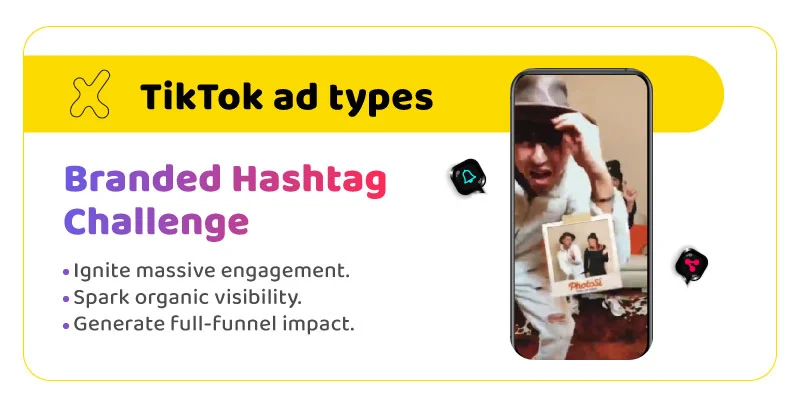 Branded effects ads
Just like Instagram, AR effects and filters are important parts of TikTok's content. Brands could create custom filters, effects, and stickers and encourage video creators to use them.
TikTok Promote
TikTok Promote is another unique advertising feature. It works somehow similarly to Facebook's Boost feature, where you pick one of your organic post and promote it to reach a wider audience. All you have to do is select a video, set a budget, running length, and a goal (website visits, views, followers, etc.) and you're good to go.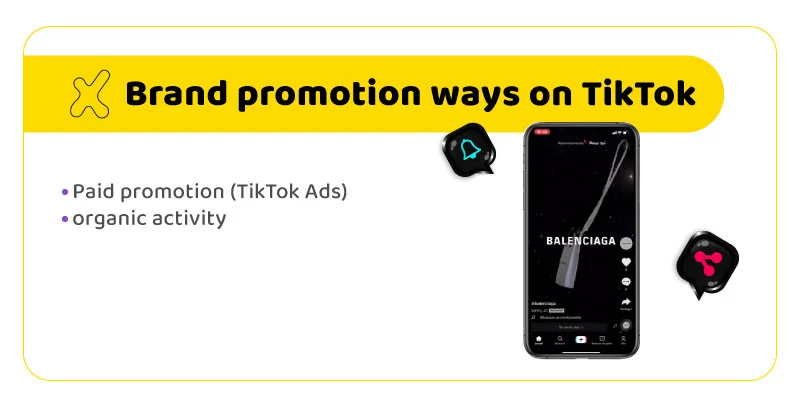 Spark ads
Spark ads are similar to Promote, where you boost an organic post into an ad. The biggest difference between the two is that alongside the option to promote your own posts, you can also leverage other creators' content in your advertising (with their approval). Spark Ads also gives you more control over your target audience and business goals.
TikTok influencer marketing
Influencer marketing is a huge part of TikTok. Teaming up with influencers enables you to unlock new audiences and tap into the power of large communities that might have been out of your reach. Multiple billion-dollar brands have been doing it for some time to take advantage of the massive fanbases TikTok influencers possess. It doesn't have to be a very high-profile, expensive influencer like Carlie D'Amelio either. You'll definitely find local content creators or niche influencers with a considerable following that overlaps with your intended audience. Thankfully, TikTok has made collaborations very easy. You can discover creators that fit your brand in the "Creator Marketplace" and invite them to work with you.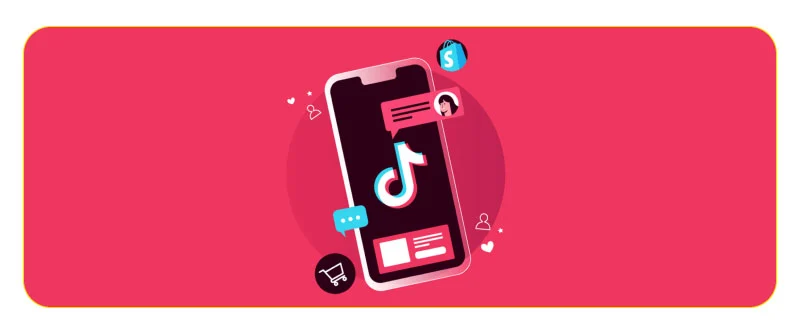 Not sure about paid promotion? Become a creator
Advertising on TikTok is not the only way to get the most out of it for your business. That's the beauty of TikTok. It doesn't matter if you're a total newcomer or an influencer with millions of followers. Any video can go viral on TikTok. The top-notch suggestion system could recommend your content to a huge audience, and there are multiple ways to convince it to do so.
Creating your own TikToks gives you the highest level of creative freedom. Based on your brand identity and target demographic, you can create fun, entertaining, and informative content that also shows off your product and tell your brand story. You'll have the entire TikTok arsenal at your disposal. You can take feedback from customers, launch a challenge and ask your audience to do a certain task and upload their own videos of doing it. The possibilities are endless.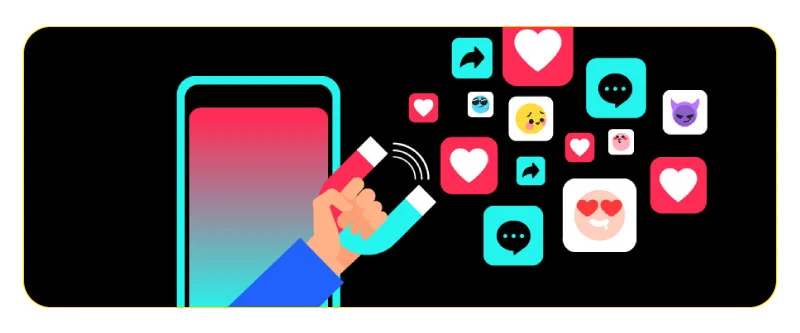 The important thing to know is that TikTok basically runs on trends. There's always a theme, topic, dance, news, or song that's trending, and the most successful brands on the platform are the ones that take advantage of these trends. Make sure to spend sufficient time exploring TikTok, finding out what is driving the most engagements. Create high-quality content related to trends while subtly promoting yourself on the side. Here's our complete guide on how to get more views on TikTok.
Conclusion
Whether with paid promotion or organic activity, TikTok has the power of boosting your business to unimaginable levels. Keeping up with the trends on the platform and regularly producing relevant, high-quality content is the key to success on TikTok.
FAQs
How can I promote on TikTok for free?
Advertising on TikTok is not the only way to get the most out of it for your business. That's the beauty of TikTok. It doesn't matter if you're a total newcomer or an influencer with millions of followers. Any video can go viral on TikTok. You can create fun, entertaining, and informative content that also shows off your product and tell your brand story.
How can I use TikTok to reach new audiences?
Influencer marketing on TikTok is a terrific way to reach new audiences and build brand awareness. TikTok has a dedicated Creator Marketplace feature to help brands partner up with suitable influencers and take advantage of their fan base.
How can I promote TikTok videos?
TikTok Promote is a feature similar to Facebook Boot that lets you promote one of your organic posts and turn it to an ad to reach a wider audience. There are multiple ways to use Promote, but the easiest way is to open the video you want to promote, tap on the three dots icon on the right and then select Promote. Then you have to select a goal, audience, and set a budget.