As the fastest-growing social network in the world, TikTok is enjoying massive popularity right now. It has already reached the impressive one billion monthly active users milestone and it seems like there's no stopping the Chinese short-video platform from growing. TikTok is specifically popular and influential among the younger generation.
Thanks to its smooth interface design, top-notch content curation algorithm, and a large pool of very active and talented content creators, every user feels hooked on the app as soon as opening it, consuming a flow of fun, engaging, and informative content without almost any annoying interruption.
ByteDance, the company behind TikTok, clearly knows how to keep things fresh and thriving on the app. The obvious next step would've been monetization, which they have made possible to encourage TikTokers to create more and more joyful content and give everyone a chance to make money from TikTok by putting their creativity to use.
People are making huge bucks from TikTok right now. If you wish to try your luck, you better learn about how much TikTok pays for views and how you could optimize your content to keep that cash flowing.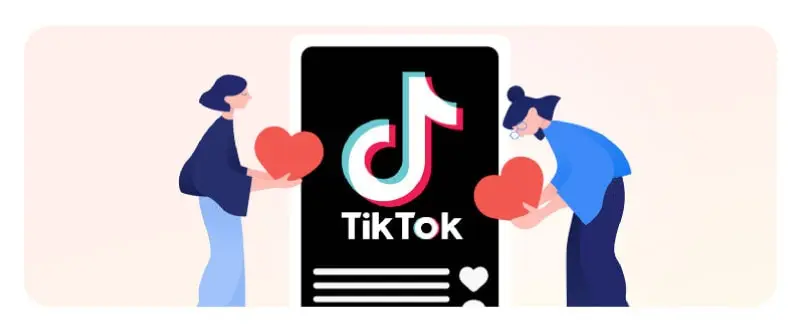 How much does TikTok pay?
Content creators basically drive TikTok forward, and the company hasn't refrained from sharing its success with them. Although, it wasn't always like this. Prior to the introduction of TikTok's monetization system, influencers had to find other ways to make money from their fame, like striking exclusive deals with brands or accepting promotions.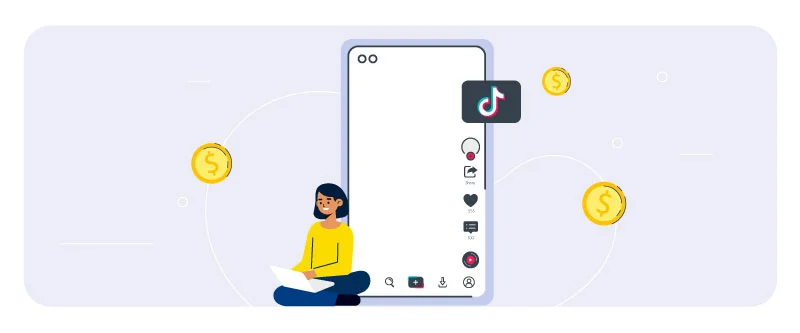 Now, TikTok is officially supporting its creators by paying them based on the views their videos grab. According to estimates, TikTok pays 2 to 4 cents per 1,000 views on a video. So if a video gets a million views, the creator would snatch $20 to $40. This payment is part of TikTok's Creator Fund initiative; A program they've committed more than $300 million dollars to for the next three years.
Frankly, TikTok isn't that generous with its creator funding, but when you put in into context, it'll make more sense. TikTok's engagement rate is truly massive, and thanks to the state-of-the-art content curation system, the road to becoming viral on the platform is much easier than you would expect. Besides, How much TikTok pays its creators is more like an incentive to drive user-generated content and for many content creators, it's not the main source of income from TikTok.
TikTok Creator Fund
So what exactly is this Creator Fund? As an effort to appreciate the influencers for their hard work in creating viral videos (and of course, encouraging them to create more), TikTok has launched a reward program to pay content creators based on a number of factors. This is how the platform itself puts it:
We want to show our appreciation to our brilliant creator community by rewarding them for their incredible TikTok videos and creativity. We want all creators to have the opportunity to earn money doing what they love and turn their passion into a livelihood.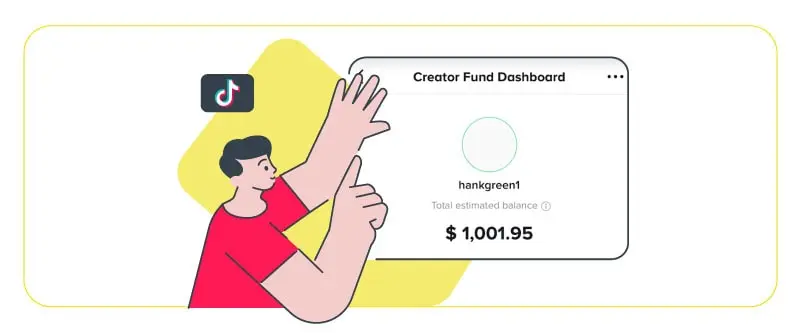 The factors that determine how much fund each creator earns in this program includes:
Number of views
Authenticity of views
The engagement level of the content
Amount of published content
There's no upper or lower limit to the amount of money you can earn from TikTok. But if you want to join the Creator Fund, you'll need to meet these requirements:
At least 18 years of age
A minimum of 10,000 followers
A minimum of 100,000 views in the last 30 days
Be based in the United States, United Kingdom, France, Germany, Spain, or Italy
Full adherence to TikTok community guidelines and terms of service
How does TikTok count views?
Obviously, the more views your videos get, the more money you earn. But how does TikTok count those views? Almost every social platform measures views differently but on TikTok, it's very straightforward (and rather generous).
As soon as your video starts to play, it's counted as a view. Rewatching, autoplay and loops are all counted as new views. Note that TikTok only counts the views of your audience, not yourself. So watching your own video a million times on replay won't do you any good.
Watching videos all the way to the end doesn't have a specific measure to inspect, but it plays an important role in feeding TikTok's mighty algorithm and bringing your content to more For You pages.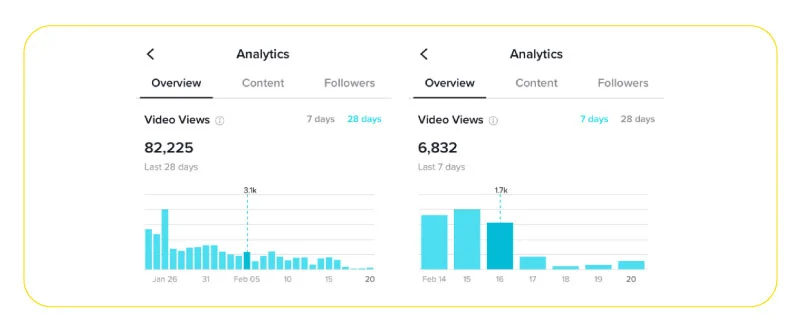 So far up to this point, there's not much difference between TikTok and other major video-sharing platforms like YouTube in terms of content monetization, but here's where things get interesting. On TikTok, almost anyone has the chance to go viral.
The platform's superb algorithm doesn't care about how many followers you have or how your previous content has performed. It doesn't matter if you're a total newcomer or an influencer with millions of followers. The system could recommend your content to a huge audience, and there are multiple ways to convince it to do so.
Creating your own TikToks gives you the highest level of creative freedom. If you're a business owner, you can create fun, entertaining, and informative content that also shows off your product and tell your brand story. You'll have the entire TikTok arsenal at your disposal. You can take feedback from customers, launch a challenge and ask your audience to do a certain task, and upload their own videos of doing it. The possibilities are endless.
How much money do popular TikTokers make?
There are many popular content creators on TikTok with millions of followers who make videos about almost any topic for large communities. According to Forbes, these are the seven highest paid TikTokers in 2022 and the amount they've earned from the platform:
| Charlier D'Amelio | $17.5 Million |
| --- | --- |
| Dixie D'Amelio | $10 Million |
| Addison Rae | $8.5 Million |
| Bella Poarch | $5 Million |
| Josh Richards | $5 Million |
| Kris Collins | $4.75 Million |
| Avani Gregg | $4.75 Million |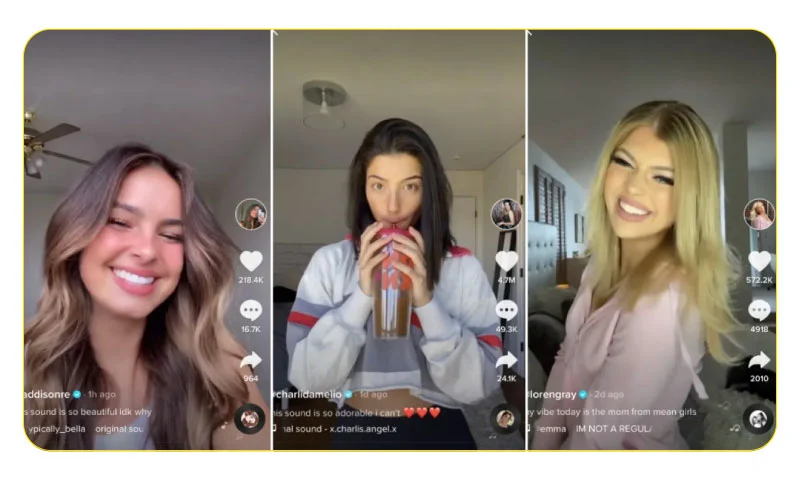 We have to mention that all these numbers aren't just from the Creator Fund program. In fact, the majority of the bucks popular TikTokers come from partnerships with big brands and paid promotions in their videos. Charlie D'Amelio for example has advertising sponsorships from Invisalign, Morphe cosmetics and Dunkin' Donuts.
How to make more money from TikTok
The Creator Fund is definitely a nice incentive to bring your talents to TikTok, especially since you'll have an easier job finding a large audience on the platform. But the money you'll earn is not mind-blowing. Don't worry though. There are other ways to make big bucks from TikTok.
The Creator Marketplace is probably the biggest opportunity to make considerable money from TikTok. It's basically a feature that links brands and businesses with the appropriate content creators and significantly streamlines the process of doing collaborations. Consider trying it out if you've gathered enough large audiences in your niche and found a way to create viral videos. You could also reach out to brands directly, asking for collaboration and partnerships, or accepting product or service promotions in your videos.
Collecting community gifts and donations is another great approach to getting rewards for your awesome content. Once you reach a point where you find a dedicated following and make people come back for your videos, you could include donation links or ask for tips and gifts on live streams. You could also launch your line of merchandise and encourage your followers to try them.
Quick Tips on how to go viral on TikTok
Make your videos short. They can be up to 10 minutes, but you don't have to make them that long. Try to keep them under 30 seconds and grab the viewer's attention in the first few seconds. People have VERY short attention spans on TikTok.
Make the best use of sounds. Swipe through videos to find out which sounds and records are trending and use them in your content. TikTok lets you check out a list of popular tracks and handpicked playlists when creating videos.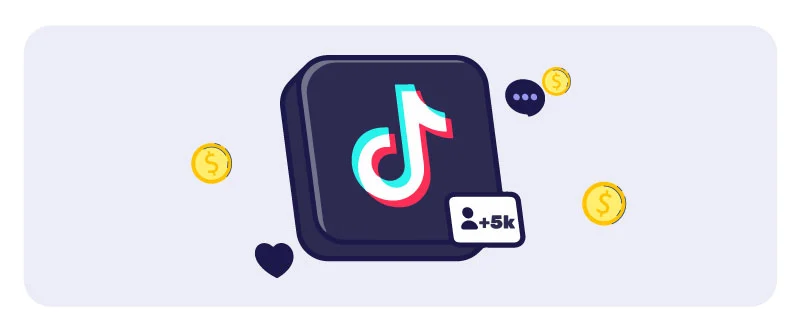 Schedule your content. Many times TikTok creators fail to get their videos off the ground just because they don't pick the right time to publish. Make sure to post your videos during your audience's online hours, so that they can watch them as soon as possible.
Create high-quality, vertical videos with crisp visuals and good lighting. Make sure to use TikTok's popular effects to make your videos eye-catchy and more appealing to TikTok's algorithm.
Want to learn more tips on how to create viral TikToks? Make sure to check out our complete guide on how to get more views on TikTok.
Conclusion
TikTok's Creator Fund may not pay huge money to content creators, but it's a nice and welcome gesture and a strong incentive to encourage people to grab their cameras and add their unique creativity and POV to TikTok. Once you've managed to gather a following for your account, you could try other, more money-making ways to earn big bucks.
FAQs
How much does TikTok pay for views?
TikTok currently pays 2 to 4 cents for every 1,000 views on a video.
How much does TikTok pay you for 1 million views?
You could earn $20 to $40 for a video with one million views on TikTok.
How much does TikTok pay monthly?
It depends on the number of videos you publish per month and how well your content performs.