It may not be on fire like TikTok or Twitter right now, but overall, Facebook is still the most popular social media platform by a landslide. A staggering three billion people actively use Facebook on a monthly basis, and other platforms have a very long way to catch it. Facebook also owns one of the most advanced advertising platforms in the world. The company has managed to harness the power of its massive user base to develop a platform that helps brands and customers find each other smoothly.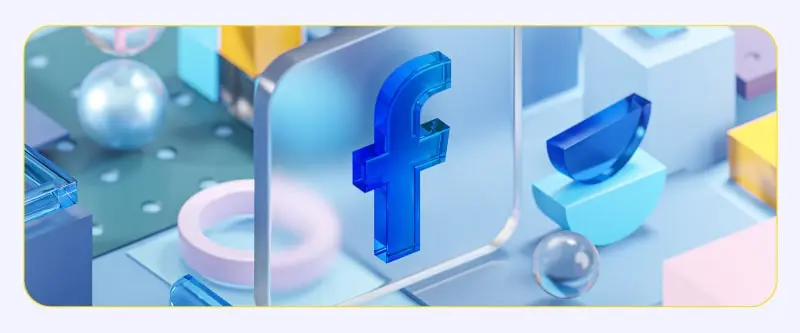 Millions of businesses of different types, sizes, niches, and countries take advantage of Facebook Ads to reach more customers in various ways and with pinpoint accuracy without draining their pockets. If you're a business owner and planning on adopting Facebook Ads in your marketing strategies, first of all, kudos for making a great decision, and second of all, you've come to the right place! We've gathered all the important Facebook ad tips you need to know in 2023 to create winning ads and killer campaigns and boost your revenues like never before.
Why Facebook Ads?
Advertising has always been a huge part of Facebook, and it generates the biggest chunk of revenue each year for the American company. Facebook owns one of the most sophisticated online advertising platforms in the entire digital world. SMBs to billion-dollar brands use this platform to promote themselves, build brand awareness, establish a strong connection with their clientele, and find new customers. Facebook Ads can effectively help a business achieve any marketing goal.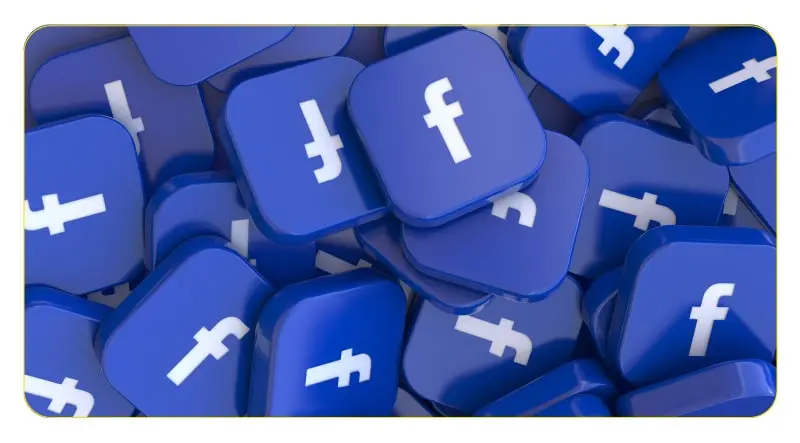 The platform has such a massive user base that it's almost impossible not to find your audience in it. 44% of users admit that Facebook has directly influenced their shopping behavior. In another huge stat, 26% of all users who clicked on ads have reported making a purchase. Advertising on Facebook is a perfect way to put your brand in front of millions of people. If done right, the chances of converting them to customers are very high.
Define your target audience
If you're an absolute beginner at Facebook advertising, you might not even have the slightest clue how powerful it can be when it comes to narrowing down your audience. With Facebook, you can get granular with your ads and only target those who are most likely to buy from, or at least consider your brand and exclude everyone else. When creating a campaign, you can get very broad or very specific with your targeting based on dozens of filters available to define who's going to see your ads and who's not.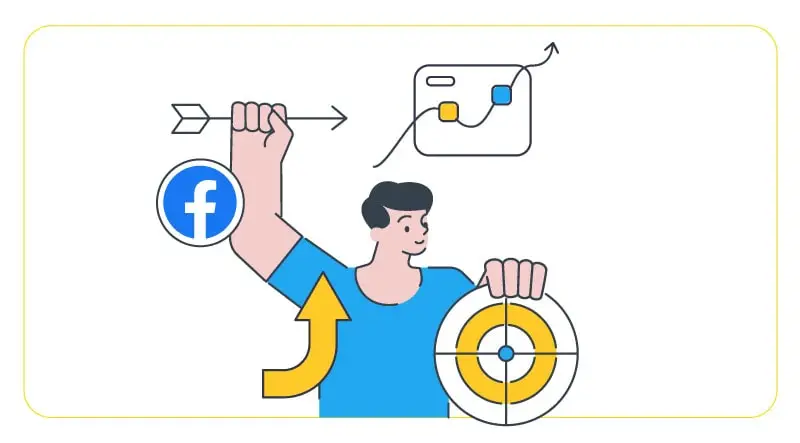 Location: One of the primary filters that let you target specific countries, regions, states, provinces, cities, communities, and ZIP codes. Local businesses can use the radius feature that gives them the option to select a central point on the map and target the surrounding area.
Age: You can set a minimum and maximum age for the users that are supposed to see your ads on Facebook. The lower limit is 13 and the upper limit is 65+ years old.
Gender: Showing your ads to men, women, or both.
Language: By selecting a specific language that isn't common in your location, your ads will be displayed to people who use that language.
Detailed targeting: Now this is the juicy part. The Detailed targeting feature on Facebook gives you tons of options to get really specific about ad recipients. It's divided into three categories: Demographics (from life events to relationship status), Interests (From hobbies to shopping preferences), and Behaviors (Digital activities, purchase behavior, anniversary, etc.). Check out these Facebook Laser Targeting Tips to learn more.
Set up Facebook Pixel on your website
Once you've decided to promote your brand on Facebook, one of the first things to do is set up Facebook's tracking tool on your website. Regardless of the types of campaigns, you'll be running on Facebook, you'll need to closely monitor the user activity on your website. This includes page visits, sign-ups, add-to-carts, etc. By tracking these activities, you could expand your audience lists and segment your potential clients based on what stage they are at on your marketing funnel.
Pixel is a small piece of code that fires up any time a user takes the aforementioned actions on your website. Then, Pixel identifies these actions and associates them with respective Facebook accounts. You could use the data Pixel accumulates to shape your custom and lookalike audience lists and retarget people who have shown interest in what you offer.
Related: A Simple Guide To Verify Facebook Page
Run Facebook Ads campaigns based on a marketing funnel
A marketing funnel is the foundation of your Facebook advertising strategy. It gives your campaigns directions and enables you to seize all the possible opportunities for turning a prospect into a customer. The marketing funnel is the journey your prospects take from becoming familiar with your business, all the way to buying from you and recommending you to others. Having a clear funnel that's tailored to your business is essential. Remember that your potential customers have different levels of awareness of your brand.
Some of them have never heard from you, some might have heard your name or seen your ad, but have never checked you out, and some might have checked your website but haven't purchased anything. You can't target all of these people with one campaign. A marketing funnel helps segment your audience and take the appropriate stance toward each segment with your campaigns. Here are the three primary stages of a marketing funnel: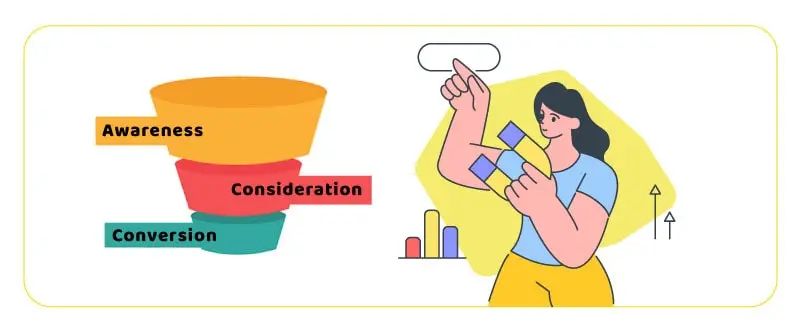 Awareness: At this stage, people have never heard of your brand and are just starting to notice you. The goal here is to grab their attention without going for the hard sell right away. You'll introduce your brand with your Facebook ads and make them interested.
Consideration: The next stage in the funnel is encouraging the people you've just attracted to consider what you offer to solve a problem they have. You should highlight your strengths and show your uniqueness. For this to happen, you can publish more detailed content or video ads.
Conversion: The "Aha!" moment. The conversion stage is where you go for the kill. Prior to this stage, you have grabbed potential customers' attention and nurtured them down your customer journey to show them how your product or service best fits their needs, and now all you need is a little push to convert them into actual customers. This push could be a tempting incentive or a clever retargeting campaign.
Don't sleep on the headline
Don't underestimate the short text next to the CTA button. Headlines may not be the first thing users notice in your Facebook ad, but it plays a key role in pushing the audience to respond to the CTA and get interested in your product or service.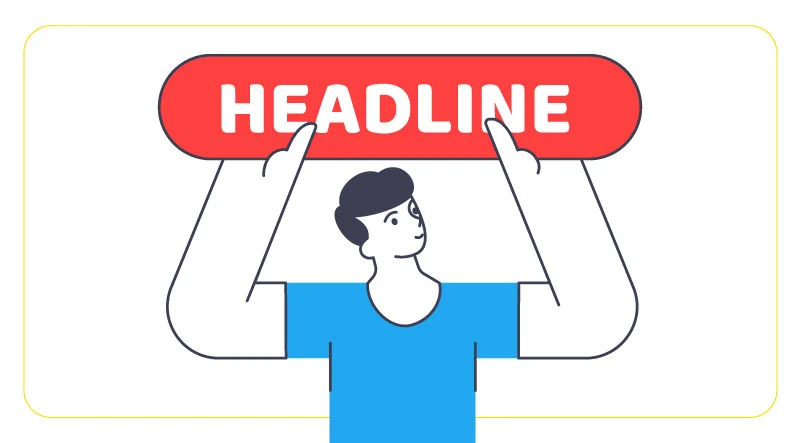 Headlines can increase your conversion rate, help you reemphasize your point, and highlight certain aspects of your product that the target audience could resonate with them. You can create a sense of urgency with your headlines, highlight your unique selling points, or even complement your ad body with more information about the product you're promoting. Check out our Facebook Ad Headline Tips to learn more.
Optimize your ads
Use these tips and tricks to maximize the impact of your ads:
Use one clear call-to-action. You don't want your audience to check out your ad but not know what to do next. Choose the right CTA based on your goal and make sure it's easy to understand and relevant to your ad body and headline.
Create a consistent visual identity for your ads. The creatives you use in your ads should match the identity of your brand and be visually powerful and attention-grabbing. Follow the same design guidelines as your website and other materials when creating images or videos for your ads.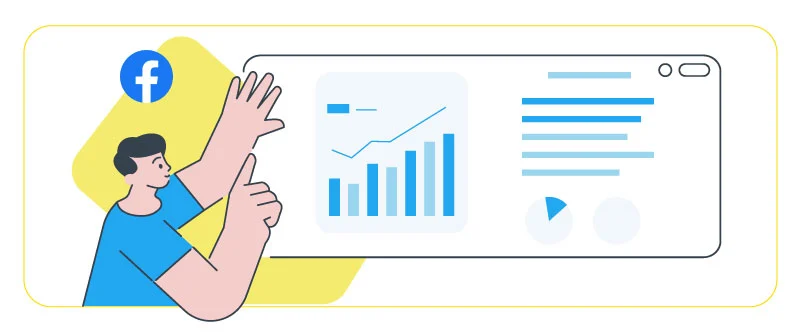 Focus on video. Video ads get much more impressions than other ad formats and give you much more room to highlight your advantages or tell a story. Make sure to make short, high-quality videos that get to the point quickly and include clear CTAs at the end.
Don't cover more than 20% of your ad's images with text. This will have a significantly negative impact on your ad's quality score.
Take advantage of social proof in your ads. People trust other people's words much more than you. Use the positive feedback and comments you got from previous customers in your ads to generate trust in your audience. You can even ask existing customers to record videos or take pictures of themselves while using your product. Check out The Best Practices For Writing An Effective Advertisement to learn more.
Keep testing and improving your campaigns
Even if you create and run campaigns based on a robust Facebook Ads strategy and use every well-proven trick in your ads, there's still no guarantee you're going to get desired results. Constant split testing helps you figure out what's working and what's better to be changed or ditched altogether.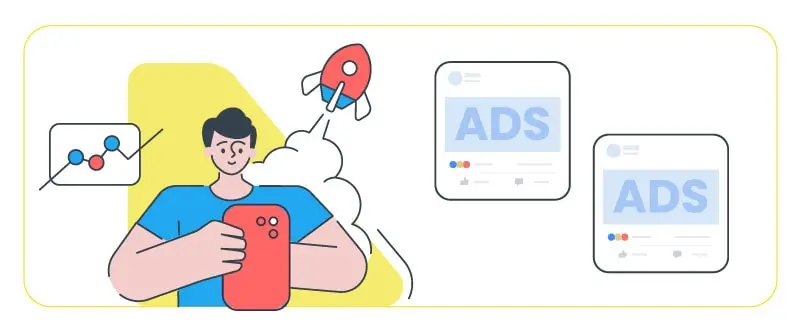 Test different ad copies, creatives, targeting, and scheduling for your different audience segments and see which ones get the best results. Luckily, Facebook has powerful A/B testing features that greatly streamline the process for you.
Spy on your competitors
Last but not least, keep an eye on your competitors. There are dozens of reasons why you should spy on other Facebook advertisers. With a competent competitive research tool like AdFlex, you can figure out the latest Facebook Ads trends in your niche and discover how the best-performing campaigns are attracting customers.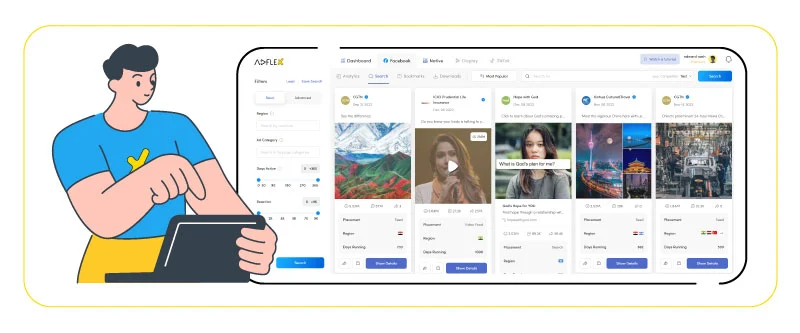 If you're an affiliate marketer, an ad spy tool is essential to find the products with the highest potential. An ad spy tool's benefits aren't limited to the ads either. These tools are also great for finding high-quality post-click landing pages and getting inspiration from them. To sum it up, Facebook ad spy tools could be of great help to every advertiser and we strongly recommend you give them a try.
Conclusion
Whatever you do, keep this in mind: Achieving success on Facebook requires a lot of patience and hard work. Don't get discourages if your first few campaigns fall short. Keep optimizing and improving your campaigns based on performance analytics and split testing results and take advantage of the tips we just gave you to master the art of Facebook advertising and enjoy a massive return on investment. It's difficult, but with the right attitude and by following well-proven tactics, it's definitely within reach.
FAQs
How can I make my Facebook ad more effective?
First of all, create a marketing funnel for your business and run campaigns based on it. Use the right tone and offers for your different audience segments and make sure to split-test everything to see what resonates with your prospects and what doesn't.
How to create a successful Facebook ad?
A successful Facebook is one that's tailor-made for the audience it's targeting. It should be eye-catchy and attention-grabbing, have a clear call-to-action, create a sense of urgency, and accompany a highly-focused landing page.