Advertising has come a long way since its inception. Nowadays, running ads has become so easy; Anyone with access to an Internet connection and a computer can do it. The advertising world owes this convenience to the progression of social platforms. These channels have become an inseparable part of people's lives. Connecting people is now only a part of what social networks can do. Almost three billion individuals alone use Facebook as a primary way of following news, consuming content, shopping, and making money.
Social networks impact the world in many ways on a massive scale. With such a strong influence on our everyday lives, they're undeniably the perfect place to put something in front of people. By advertising on a platform like Facebook, you could be confident your ad reaches more prospects than any other traditional method. The sheer scale of Facebook's user base might sound enough. Well, apparently, not for the folks at Facebook. The mega-company has also perfected its advertising tools to provide a plethora of options to find your ideal customers among this giant crowd.
Related article: How Facebook Ads Targeting Works
So how come countless advertisers fail to get desired results on the platform? Well, for one thing, the overly confusing Facebook's Ad Manager doesn't help at all. But their biggest mistake is sticking with the bare minimum targeting options. Facebook offers much more fine-tuning capabilities than just location, age, and gender. These features make Facebook Ads laser targeting possible; An approach that significantly improves your targeting accuracy. Learning how to use them will bring terrific targeting opportunities for your ads, so you could find the right audience and turn them into loyal customers.
Multi-layered audience customization
Facebook knows a lot more about its users than you might think. We're not talking about trivial info like salary and ethnic group. Facebook has extensive knowledge of your interests, online behavior, life status, and personal info. Scary as it is, in the eyes of an advertiser, this is insanely valuable. It provides unparalleled freedom to laser-focus on a specific portion of billions of people who use Facebook every day with top-notch accuracy.
In order to stay ahead of the millions of advertisers on Facebook, you need to harness this flexibility. In the Facebook Ads Manager, additional targeting options are divided into three main categories, each having several subcategories. It's really fantastic how specific these options are. For instance, you can select parents with children aged 18 to 26 as your ad's target.
The categories are as follows:
Demographics
Interests
Behaviors
We have to mention that these categories reside in the Detailed Targeting section, just after the three main targeting parameters which are Locations, Age, and Gender. It's easy to miss, especially if you're a newcomer. As previously mentioned, a big mistake would be sticking to the basic targeting options and missing out on the detailed targeting. With the super high flexibility these additional options provide, you can precisely target users that are likely to become your customers.
If you think Facebook's targeting options end there, you're gravely mistaken. Not only do you have access to a glut of different audience characteristics, but also the option to combine them. This makes creating a multi-layered targeting strategy possible.
How Facebook Ads laser targeting strategy works
Head over to Facebook Ads Manager and create an ad campaign for your page. When you get to the Audience section, set your preferred primary parameters. Prior to setting up your campaign, you've probably done your research on whom you would like to target as your audience. If you haven't, now would be a good time. Customer research can be done in different ways, for example:
Get help from the buyer personas you've already created for your product or service. It gives you a good image of who your ideal customer is.
Use a Facebook Ads spy tool like AdFlex. Buyer personas visualize your potential customers from your point of view. But with AdFlex, you can find out how different audiences actually respond to ads in your niche. You might be surprised after discovering how certain people you haven't even considered are interested in what you have to offer. Find the most successful ads related to your business and check where and to whom they've been the most popular.
Now that you have chosen your audience's primary info, it's time to get to the specifics. In the Detailed Targeting section, click on browse to reveal the three main categories. Here, you're going to begin broad, then narrow down your audience step by step by choosing more specific criteria.
Let's say you own a camping equipment business. Your unique selling proposition is your wide catalog of high-quality, but affordable products for travel enthusiasts. Since your business is local, you'd want to limit your audience to people living in your area of operation (let's say New York City). Based on your research, you've already set the location (NYC), age (30 to 60), and gender (Men). In the detailed targeting section, start broad and choose Frequent travelers in the Behaviors category. After this, click on Narrow audience to add more specific parameters.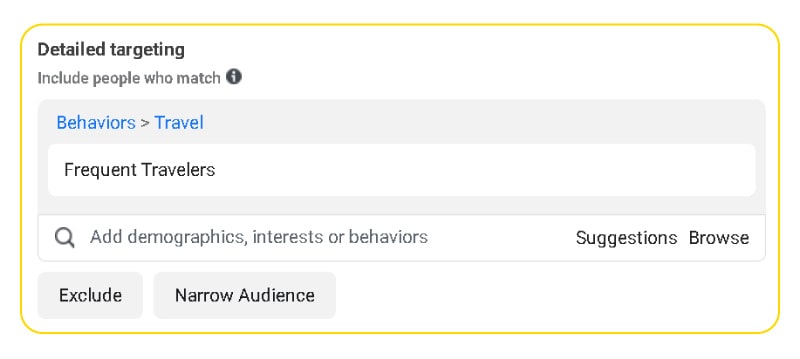 Camping is an adventurous activity in nature. Obviously, you'd want to exclude people who prefer a fixed travel destination from your target audience. You can easily do this by selecting Adventure travel in Hobbies and activities, which is part of the Interests category.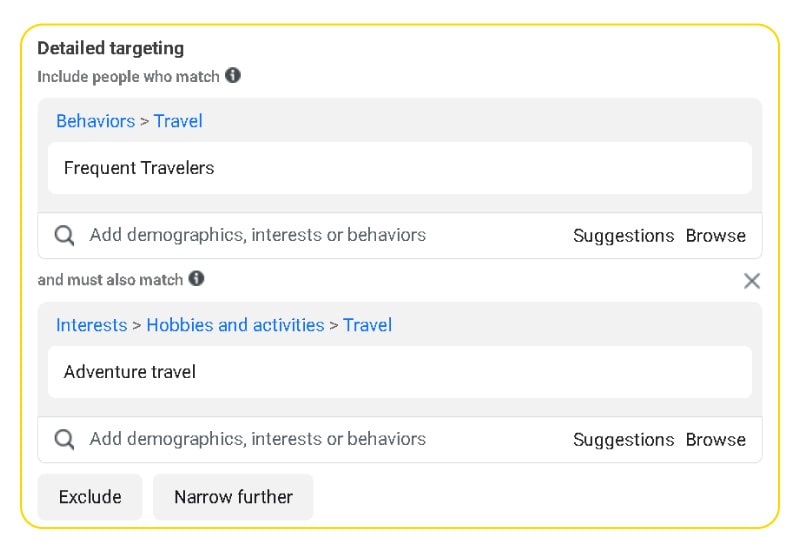 Now it's time to narrow your audience down even more. Click on Narrow further so you can add another parameter. At this point, you have multiple ways to select people who might benefit the most from your reasonable price tags. Your buyer persona and your imagination can come in handy here. For instance, you can select people who frequently use rental cars or have lower incomes. Keep in mind that you can add more than one parameter in each layer. There's also the option to exclude certain people from your targets.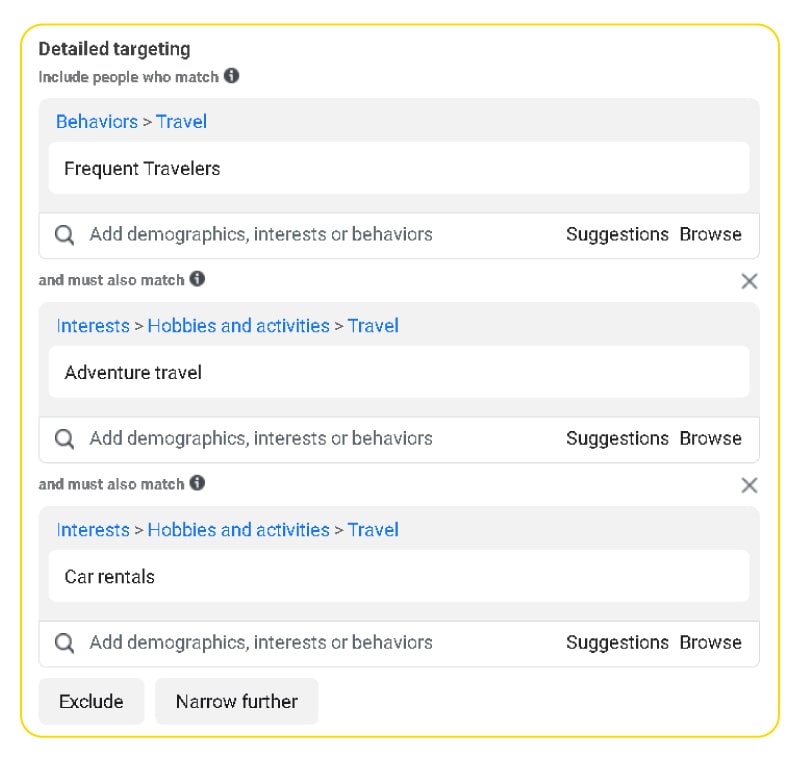 Each time you set a parameter, Facebook gives you an estimate of your ad's audience size. There's also a very useful daily reach estimate that tells you how many people you'll reach every day during your ad's life span. The more laser-focused your targeting is, the lower your audience size will be.
---
Conclusion
It's almost disturbing how big the number of active Facebook users is. Luckily, the platform has prepared everything for business owners to find their ideal customers among them. Take advantage of the tips we explained above and your ads will have laser-focused targeting, which eventually will boost your click-through rate and drive significantly more conversions. Also you can read about a Facebook Ads Targeting Trick That'll Boost your Campaigns.
FAQ
How does the laser targeting strategy work?
Facebook Ads laser targeting is a super effective method to find your ideal customers with pinpoint accuracy. For using this method, you must use Facebook's extensive detail targeting properties to clearly define to whom you want your ads to be displayed.
Facebook gives you the option to select different interests, behaviors, and demographics at the same time, and in different layers. You even have the ability to exclude certain audiences from your targets.
When does laser target work in your strategy?
It's quite impossible to give an exact timeframe, but laser targeting gets results considerably faster than broad targeting since you're defining your prospects for Facebook at a granular level. If done correctly, laser targeting will boost your CTR and conversion since your ads are displayed to people who have a higher chance of becoming interested in them.