The online shopping experience has witnessed considerable improvements over the past few years. As e-commerce businesses are growing in number and size, major advertising platforms have developed exciting features to enhance the user's shopping experience and strengthen the connection between companies and consumers. Google has achieved one of the most impressive examples of integrating shopping advertisement into its services with Google Shopping.
In recent years, the giant company has pushed things even further by heavily mixing AI and machine learning with its shopping service and creating Smart Shopping campaigns. Stick with us to learn more about this new, automated feature that Google claims can boost your results and generate more sales for you. We'll deep dive into these ads and have a Smart Shopping Ads vs Shopping Ads comparison to help you pick the best for your business.
What is Google Shopping?
Before jumping into Smart Shopping, let's talk about the whole package itself. Google first started venturing into online shopping services in 2002 with "Froogle", a free product listing service that indexed product data from websites using Google's engine and let users search through them. It was (and pretty much still is) a service that lets consumers find, compare, and buy physical products from retailers.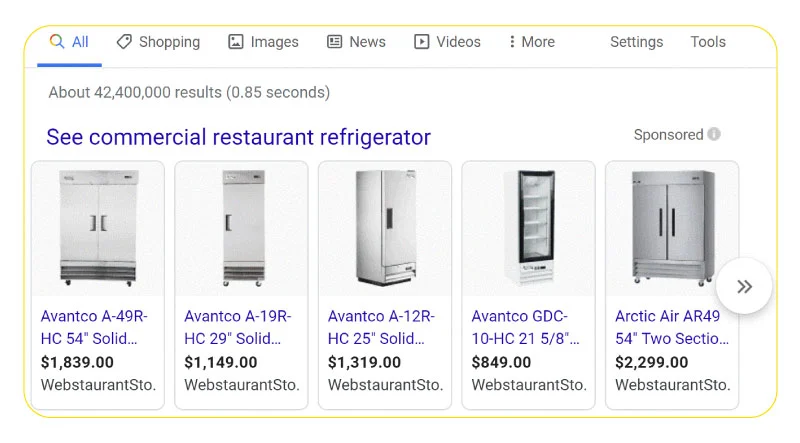 As the years went by, Google kept improving and adding features to Froogle and integrated it with Google Search, so the products would appear alongside other search results in one place and create a smoother experience. The service changes names multiple times and was changed to use a full-paid model, ultimately becoming Google Shopping in 2012. As of then, merchants have to pay for their products to be listed and shown to users, and Google has expanded this service by adding a dedicated search tab, making the setup process easier and shopping ads smarter, and more.
What are standard Google Shopping Ads?
Google Shopping advertising is a type of display advertising customized exclusively for physical products. These ads display images of products, alongside some other basic info like price, store name, star ratings, and offers. These characteristics make them an ideal choice for grabbing the attention of buyers and giving them a sense of the products before checking out the store and proceeding to purchase.
Compared to Google's massively popular paid search services, shopping ads work a little bit differently. Shopping ads appear on search engine result pages (SERPs) just like search ads, but unlike them, they don't involve the advertiser targeting their preferred keywords and bidding on them. Instead, Google requires them to provide a product feed through a separate account in Google Merchant Center.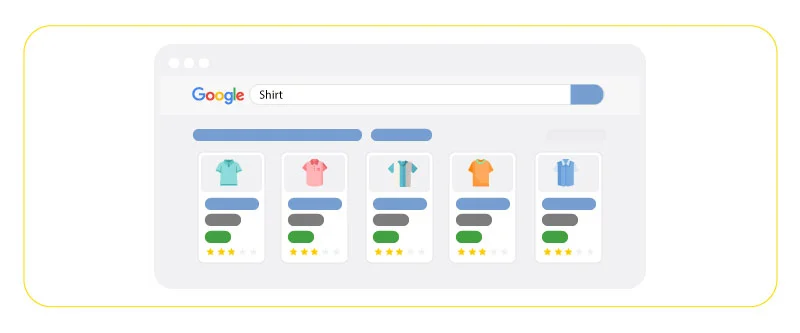 This feed contains product data like name, type, availability, condition, and more. Once you run shopping campaigns for the products in your feed, Google itself decides what keywords should trigger your ads based on the data you've provided. So the more complete, accurate, and optimized your product data is, the more customers and qualified traffic you reach and attract.
As previously mentioned, shopping ads are served on the Google Search Network but compared to text search ads, they have more placements, including their own dedicated tab and the Images tab. This gives them more visibility and higher chances of getting clicks.
What are Smart Shopping Ads?
Smart Shopping Ads are no different than standard Shopping Ads in terms of format and appearance, but campaigns of this type benefit from Google's advanced machine learning and artificial intelligence to expand reach across more places. Smart Shopping Ads could also appear on the Google Display Network, YouTube, and Gmail, with Google's automated system completely taking care of bidding and ad placement.
Google strongly recommends advertisers switch to this kind of campaign and leave everything to the machines to make the process of running shopping campaigns very easy and get better results. (much like Google Smart Display campaigns). To be honest, these campaigns actually are way easier to set up and optimize since almost everything is fully automated.
The system optimally combines your product data and assets to create ads, automatically bids to get the maximum conversion value for your budget, and selects the best placements across all the networks. Whether it could get actual better results than manual shopping campaigns is another question that we'll answer shortly.
Which one should you choose?
So, is Smart Shopping actually smarter than you? Well, not exactly. Smart Shopping campaigns surely make the advertising and optimization process much easier and require almost zero maintenance, but that doesn't mean you should ditch your standard shopping campaigns right now and go full robotic. Smart Shopping is almost fully automated, and the system even takes care of testing different ad combinations, and while this may sound good to some people who dislike manual work, it minimizes your control over everything.
You no longer can manage bidding strategy, customize ad scheduling, create tier systems and product segments, or even use negative keywords to filter out unwanted clicks. Sadly, Google has pushed things toward automation too far and assumed you won't be needing any in-depth performance analysis with these campaigns. So say goodbye to all the extensive audience, search term, and channel data and reports you received from standard campaigns. You should also know that Smart Shopping campaigns always override standard Shopping campaigns, so make sure you're not running them simultaneously and wasting your budget.
There is another downside to these campaigns too: You're only limited to one landing page per campaign, whereas with standard campaigns, you can have multiple landing pages for your shopping ads. However, since smart campaigns use machine learning heavily, you could expect good results if you've optimized your product feeds. Smart campaigns will expand your reach by displaying your ads in more places.
A big plus for them is enabling advertisers to reach customers with different levels of buyer intent thanks to also covering display remarketing and YouTube. Bear in mind that these campaigns are extremely dependent on data, so they're not available right away for new advertisers who've not run any shopping campaigns before and it's best to use them if you've collected actionable data through previous campaigns.
How to set up Google Smart Shopping campaigns
We've previously shown you how to set up a Google Shopping Ads campaign (the standard kind). Now let's see how you could create Smart Shopping campaigns:
Before launching campaigns, you'll need a Google Ads account and a Merchant Center account that are linked together. Merchant Center is where you enter your product feed. You'll need a Google account to sign up. When creating your account, you have to enter your business address, a name for your account, and a valid phone number. Next, you should choose one or more checkout options which could be on your website, on Google, and at your physical store.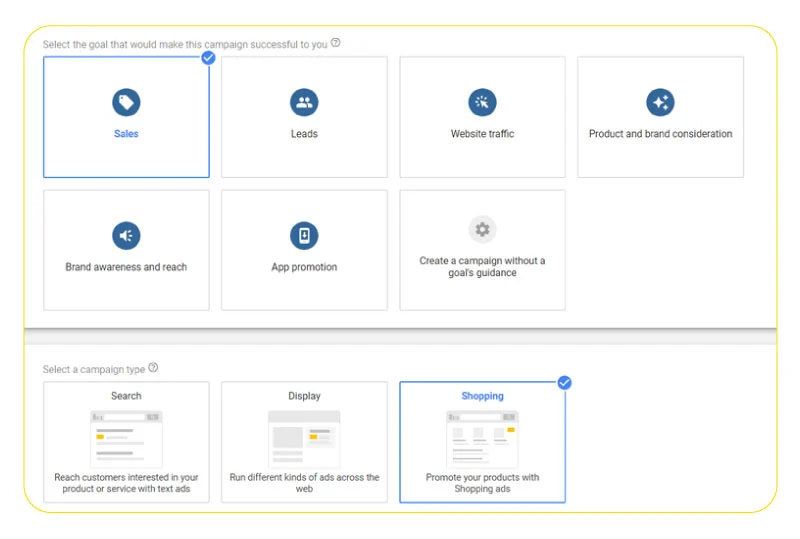 Once you're done creating your account, you should create product feeds and link your Merchant Center account to your Google Ads account. Here's how:
Go to the Feeds section under Products in your Merchant Center account and click the plus button in the primary feed section. Next, you have to enter these pieces of information:

Target countries: Countries in which the products in this feed are sold.
Language: Your product data is written in this language.
Feed label: A label that indicates which products belong to this feed.
Destination: Selecting one or more feed destinations allows you to determine which Google features can use the items in your feed.
Primary feed name: A name for your primary feed.
Input method: Uploading product data can be done in several ways:

Google sheets
Scheduled fetch directly from your server
Uploading files directly via SFTP, FTP, Google Cloud Storage, or manually
Website crawl

File name: Depending on your preferred input method, you might be asked to enter a name for a file you're submitting. This name must match the exact name of the file you created.
Click on Continue, then you can view and manage your new feed in the Feeds section of your account.

Link your Merchant Center account with your Google Ads account by requesting a link to Google Ads in Merchant Center. You can link multiple Merchant Center accounts to one Google Ads account and vice versa:

Click on the gear icon in your MC account and under Settings, then on Linked accounts.
Select Google Ads, and under "Your Google Ads account".
Find the customer ID of the Google Ads account you want to link. You can find it at the top of any Google Ads page when you're signed in, near your email address.
Then click on Link under "accounts".
Now, to create Smart Shopping campaigns, head over to your Google Ads account and:
On the left menu, select Campaigns. Then click on the plus button and select New Campaign.
Select Sales as the goal for your campaign (or you can go forward goallessly.
Choose Shopping as your campaign type and click Continue.
Select your preferred Merchant Center account.
Select Smart Shopping campaign as your campaign subtype, then click Continue.
Create a name for your campaign.
Set a bid and strategy. By default, Google tries to maximize the conversion value within your budget.
You can set a target return on ad spend (ROAS) as a performance goal and Google tries to reach that goal once it gathers enough conversion data.
Set your average daily budget.
You can specify a group of your products for promotion, otherwise, your entire feed will be advertised which is not recommended since it could have a negative impact on performance.
Upload required assets including images, logos, and text that will be used to generate responsive shopping ads for the Display Network and YouTube.
Preview some of your potential ads that'll be generated by the system.
Click Save.
Conclusion
Google is really doubling down on the Smart Shopping campaigns and claims it's better than traditional shopping campaigns in almost every way, but we can't really corroborate that. Smart Shopping campaigns surely make everything much easier for advertisers and put your products under more spotlights, but they limit your control over almost everything and you'll be missing out on some important features like performance reports and segmentation.
FAQs
What is the difference between standard Shopping ads and Smart Shopping ads?
Smart Shopping Ads are almost completely automated and only require you to provide the product feed, assets, and very few optimization preferences. The system automatically takes care of bidding, performance optimization, placement, and responsive ad generation. Smart Shopping Ads could appear on more networks, including the Display Network, and YouTube, but they limit the number of eligible landing pages to one per campaign and won't provide advertisers with in-depth performance reports or let them segment their audience and products.
What are the different types of Shopping ads?
Standard Shopping ads which is the "Legacy version" and
Smart Shopping ads which is highly automated and feature more placements and networks.