Facebook admittedly has one of the most sophisticated digital advertising platforms in the world. Meta, the company behind Facebook, makes mind-blowing amounts of money each year from running ads on its social platforms. The superb flexibility and top-notch advertising feature definitely play a huge role in that.
Facebook never seems to get tired of enhancing its business side and for the last couple of years has been heavily promoting its advanced automated systems and tools, better known as Facebook Power 5. Campaign Budget Optimization (CBO) is one of the most important tools in Power 5 that significantly simplifies and optimizes the budget management process. With CBO, you trust Facebook's complex AI systems to process massive amounts of performance data and decide which ads get more budget.
But marketers have the habit of being in total control of campaign specifics to the last details, and budgeting is no exception. Prior to the introduction of CBO, Facebook advertisers had the option of manually controlling the budget of ad sets (they still do); A method known as Ad Set Budget Optimization or ABO. But how does CBO compare to this method? Let's have a full Facebook CBO vs ABO comparison to find out.
How does the Ad Relevance Diagnostics work?
Before diving into Facebook CBO, we should take some time to explain the Power 5 first. The Facebook Power 5 is a series of tactics that when used together, can significantly enhance campaign performance quickly. The overall concept of it is trusting Facebook's algorithms and machine learning to do the heavy lifting for you.
Power 5 consists of five advanced tools that give you the ability to scale your campaigns with little effort while reducing your CPM. These tools are as follows:
Auto Advanced Matching
Simplified Account Structure
Campaign Budget Optimization
Automatic Placement
Dynamic Ads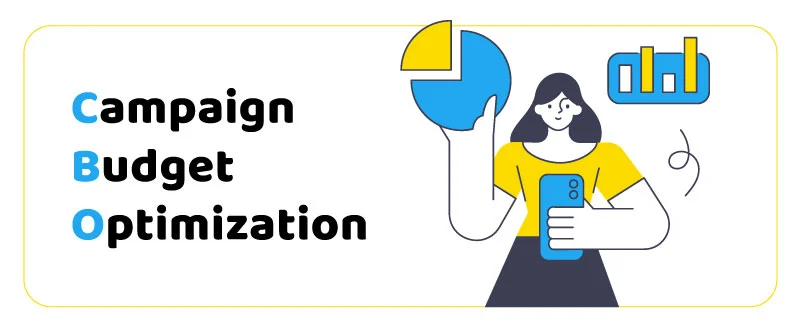 Budget management is one of the most challenging parts of running ads on Facebook, especially if you have to deal with a lot of campaigns and sets. As an important item in the Power 5 menu, Campaign Budget Management is developed to simplify and automate this process. To achieve this goal, Facebook has taken advantage of its advanced ml and data processing techniques and technologies to create a system that is capable of managing the budget of your campaigns just as well as – and even better than – a human.
With CBO, you set one central budget campaign, and the system will distribute it to each ad set in real time. It does it based on the advertising goals you've already set for your campaigns, and what it predicts as the best opportunities to get better results. In other words, Facebook CBO allocates more money to ad sets that it deems top-performing.
How does CBO distribute the advertising budget?
The primary factor for CBO is performance. In other words, the higher performance ad sets have, the more funds they receive from the system. Obviously, no two ad sets are going to have the exact same performance, so the budget distribution with CBO is always uneven.
But how does the system evaluate the performance of each campaign? As previously mentioned, Facebook developed this feature with artificial intelligence and machine learning techniques, so the automated system is constantly processing every data on each individual campaign, ad set, and ad that you're running. Think of it as a never-sleeping, super-advanced robot you've seen in the movies. Only that here, it's a series of a complex series of codes you and I will probably never understand. But the important thing is, it can monitor, process, and make adjustments in a volume no man could ever dream of!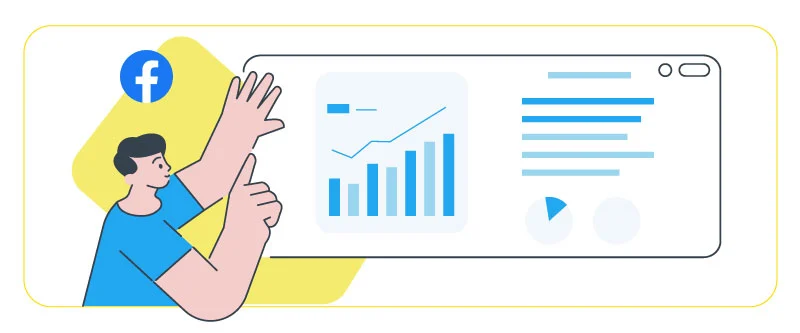 The algorithm keeps monitoring these factors to evaluate the performance of ads and estimate the probability of their success:
Creative assets
Target audiences
Titles, headlines, and ad copies
Target locations
Target interests
Keywords
When should you use Facebook CBO?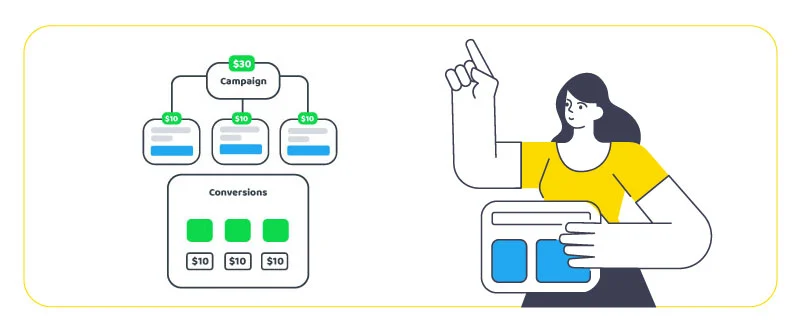 So we learned about CBO and how it works, but is it effective for every use case? There are a number of situations where you better let Facebook handle the budget management, including:
When you have too many campaigns and ad sets. This happens a lot for advertisers working with multiple companies and brands. Constantly monitoring each ad set to find out which ones should be enhanced and which ones are better ditched is a time-consuming, exhausting, and error-prone task.
When you have less experience in managing ad budgets (or Facebook Ads in general). Interestingly, CBO works just as well for newbies as it does for veterans. Facebook Ads has a surprisingly long learning curve, especially in the performance monitoring and budget allocation section. CBO is a great feature to start working with the platform without having to worry about your budget rapidly going to waste.
When you have the intention to scale. Optimizing the budget when scaling is easily done with CBO since the system already knows how to distribute it in the best possible way and there's no need to pause the campaigns.
Learn more about this budget management system and how to set it up in our complete Facebook CBO guide.
What is Ad Sets Budget Optimization?
Ad Sets Budget Optimization or ABO is the "legacy" method of allocating budgets to ad sets. Prior to the introduction of CBO, advertisers could manually choose which ad set to get how much funds and had total control over budget management. The option is still available and actually preferred by many advertisers who wish to have more control.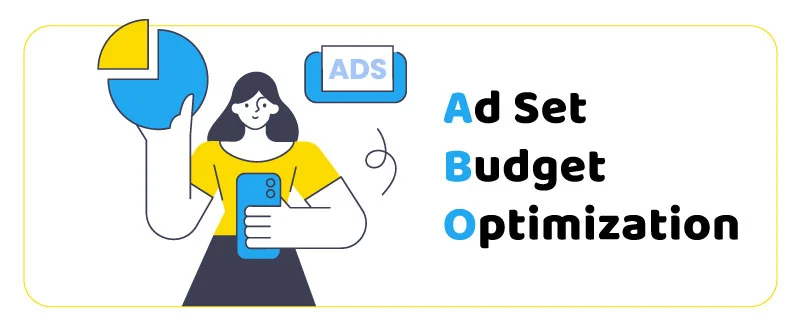 Here, there's no automated assistance involved, and you have to monitor ad performance and make adjustments all by yourself. Here's an example: If you have an overall budget of $100 and you have four different ad sets, with ABO you'll assign $25 to each ad set. But with CBO, Facebook itself will distribute this $100 based on opportunities for high performance. This means one ad set could receive $55, another $20, another $15, and another $10.
A big advantage of ABO is that you don't have to worry about pausing certain ad sets or adding new ones to campaigns. Since CBO works with machine learning, it has a learning phase that shouldn't be interrupted by making changes in campaigns. Otherwise, you'll risk the contamination of your results.
When should you use Facebook ABO?
Though it seems like using ABO is more challenging, it's still a great method for certain situations including:
When you need a testing ground. As mentioned earlier, CBO has a learning phase and requires a considerable amount of data to process and work effectively. ABO, however, is great for testing different creatives, copy, interest, behavior, or location targets with the same budget.
When you need to combine audiences of different sizes and funnel stages. A thing with CBO is that it prefers large audiences and if you combine all your different targets in one campaign, you risk most of the funds going to ads dedicated to cold audiences (since they usually have larger sizes). With ABO, you have total control and can decide which audiences need ads with higher budgets.
When you need to pause or add ad sets. Making any changes in ad sets would cause the learning phase of CBO to restart. This problem doesn't exist in ABO.
Conclusion
We hope this article helps you in deciding which campaign budget management method is the most effective for your use case. Both have their own pros and cons, but we can't help but have a bias toward CBO. Facebook is slowly shifting towards an all-automatic platform and its technological prowess surely enables it to do so without sacrificing performance. Let us know which one you think is the best method in the comment below.
FAQs
What is CBO in Facebook Ads?
Facebook CBO is a fully-automated system that uses advanced machine learning, data-driven techniques to manage your campaign budget across ad sets to get you the best results possible.
Is ABO better than CBO?
Both methods are great for certain scenarios and there's no definite winner. CBO is specifically effective for managing large numbers of campaigns, scaling, and getting started on Facebook Ads. ABO, on the other hand, is great for testing new ad properties and combining different audiences in one campaign.