Native advertising is becoming increasingly popular among brands and advertisers. This unobtrusive advertisement format provides enormous benefits for brands, publishers, and users alike, and the market is clearly embracing it as an effective and flexible digital marketing solution. According to the latest forecasts by eMarketer, native ad spend is expected to reach a whopping $98.6 billion in the US alone. All the signs are pointing at native as the next dominant digital advertising format and the competition for it is expected to get even higher.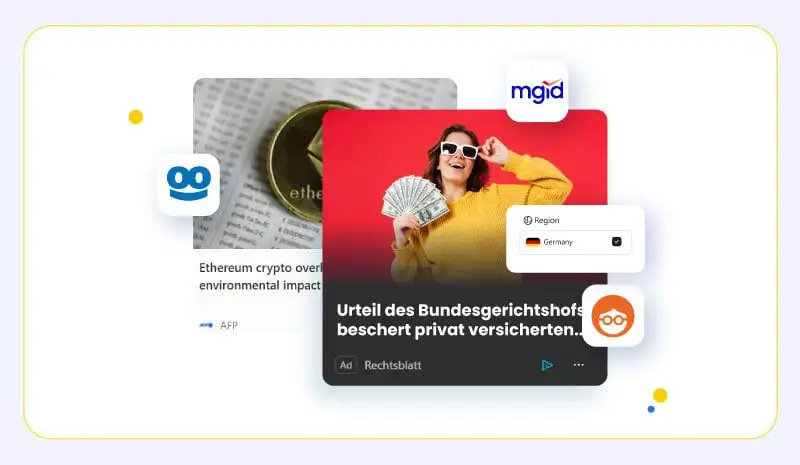 If you'd like to keep up with the market and take advantage of this top-notch format before it's too late, you need to learn about the best native advertising platforms for 2023. After all, native is a digital ad format with dozens of different platforms and networks on the Internet, all of which have their own specifications and unique implementation of native ads. Let's review the top native platforms on the market right now to help you pick the one that best suits your business and available resources.
What is native advertising?
Native ads are a kind of paid promotion which are designed to have similar look, feel, and function to the environment of the platform they're being served on. To the average user, they're not easily distinguishable than their surrounding organic content, and they tend to bring value to users by helping them solve a common problem. Although it's worth mentioning that not all native ads focus on bringing value (like paid search ads). The whole concept of native advertising revolves around low-key promotion of a brand, product, or service without looking or sounding like an obvious sales pitch.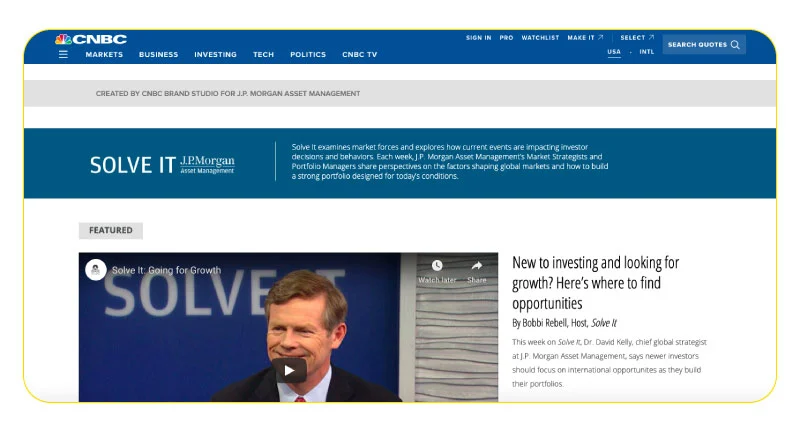 Native advertising traces its roots back to the 20th century, when large companies began ordering sponsored articles on major publications. These articles, known ad advertorials, looked just like other editorial pieces of a magazine or a newspaper, and even their content felt like they were really written by a journalist, but actually, they subtly promoted the sponsor brand by telling interesting brand stories or representing their products as great solutions for common issues.
Nowadays, native advertising is present on almost every major online platform including publication websites, e-commerce stores, search engines, and social networks. They can have many shapes and forms based on where they're served, but they all follow the principle of not looking, sounding, and feeling like an ad.
Popular native advertising formats
Native is one of the most flexible advertisement formats available thanks to the fact that it could be integrated into almost any kind of online platform. The concept of native is blending in with the surrounding environment, and designers are continuously coming up with impressive ideas for implementing native in apps and websites.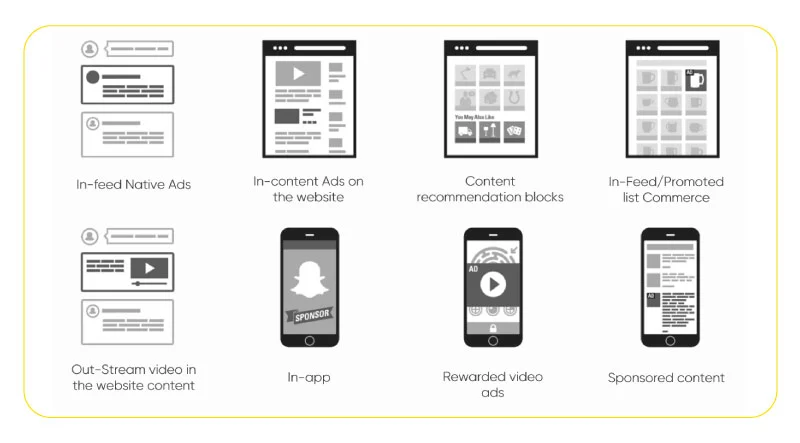 Let's check out the most popular native formats in the market right now:
Paid search
There's no way to describe paid search native ads than giving Google Ads as an example. As a human being living in the 21st century, you've definitely tried searching something on Google at least once. If you have, then you've probably noticed the first and sometimes last few search results on each page have tiny "Ad" or "Ads" indications below or above them. These are instances of one of the most popular native advertising formats right now. Paid search appear on SERPs (Search engine result pages) looking just like a normal result, with titles, links, descriptions, and other additional info.
Promotional listings
This type of native advertising appears mostly on e-commerce websites like Amazon or eBay and is the product search result equivalent of text-based paid search. When users search for something on an e-commerce website, they may see some promoted products on top of the search result.
Content recommendation widgets
Recommendation widgets are classic examples of native advertising that have been around for a long time, but they're still very popular among brands and advertisers. Most online publications like news websites put a "Recommended" section at the end of their article pages or on the side panels. This section contain widgets to other articles that the reader might find interesting. They also contain promoted widgets that links to an advertiser's website. Promoted widgets basically look the same as normal widgets.
In-feed ads
Social media apps are among the best hosts of native advertising thanks to their vast and diverse environment and interface. Native ads could appear in many places on a social app, but the most common one is the user's feed. In-feed native ads look just like normal posts and appear right in the middle of the organic content users scroll through in their feeds.
Top native advertising platforms for publishers
Many entrepreneurs and advertisers believe that well-established platforms like Google Ads and Facebook Ads are the go-to options for anyone looking to run native ad campaigns. Even though these two are among the best places for this purpose, you're not entirely limited to them.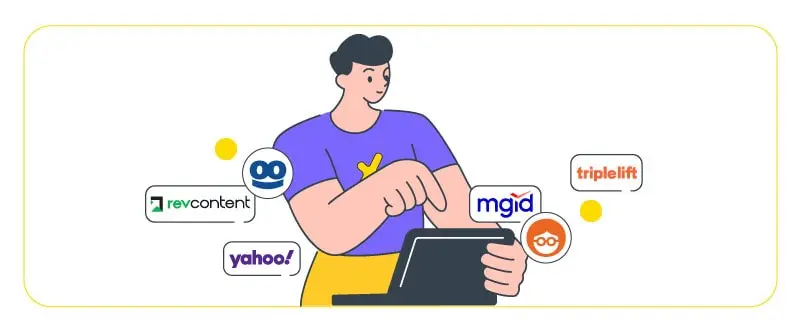 There are several powerful native advertising networks that can help you reach millions of people.
Taboola
Taboola is one of the world's largest content discovery platforms that provide native advertisements services to many publishers worldwide including NBC, Bloomberg, Business Insider, and USA Today. Taboola gives you access to a massive audience of one billion relevant users across these premium publications. Taboola's native ads primarily appear on the bottom of article pages as recommendation widgets.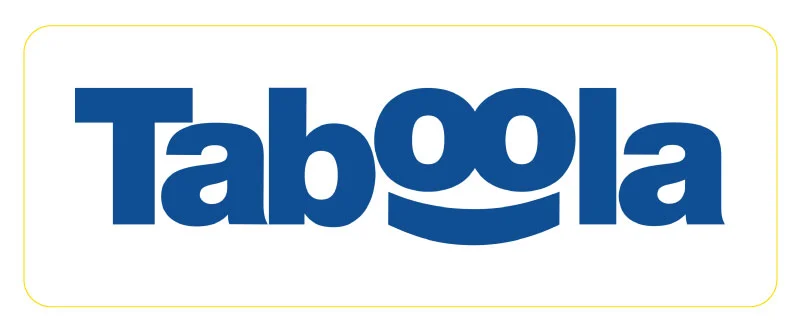 An important advantage of this platform is the Taboola Feed, which provides a personalized newsfeed-like experience for users. This feed consists of sponsored articles or videos, promoted products and services, or third-party modules, with the publishers being in full control of what appears on their feed and how. Taboola also provides tons of advanced native advertising features including granular audience targeting, A/B testing capabilities, and actionable data insights.
Outbrain
Outbrain is another major content recommendation network that has been around for over 15 years. This network is in very close competition with Taboola, providing native advertising services in 55 countries and dozens of well-renowned news sources like The Washington Post, Sky News, and Der Spiegel.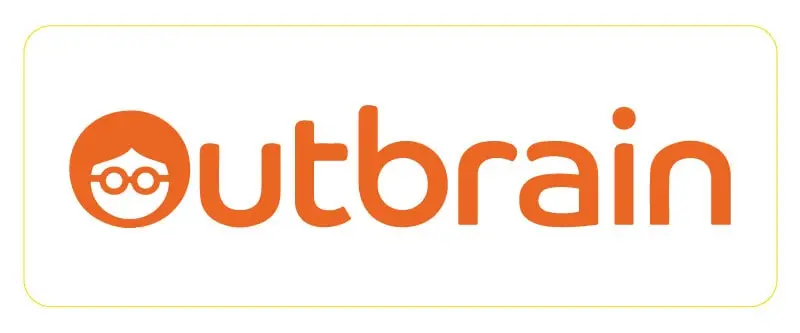 Outbrain delivers a staggering 344 billion recommendations every month and it's a superbly effective way of driving website traffic and generating conversions. Outbrain's feature-rich provides advertisers with tons of audience targeting optimization options and performance analysis. An impressive feature of Outbrain is Smartads, which are interest-targeting based ads that can have different look and feel depending on the place they're appearing.
MGID
MGID is a powerful advertising network that provides several native ad formats like recommendation widgets, videos, in-content widgets, and smart widgets. Though not as big as Taboola or Outbrain, MGID still delivers native ads across a network of over 32 thousand websites across over 200 countries. MGID is designed with simplicity and user-friendliness in mind, making it one of the most hassle-free native advertising platforms in the market.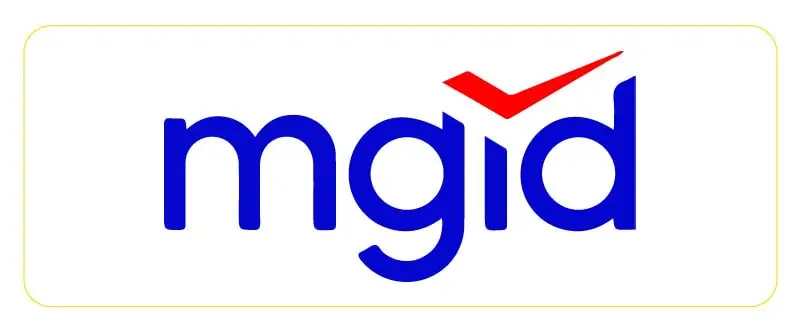 It also has less strict policies and eligibility criteria, making it a great options for newbies or smaller publishers with fewer monthly active users (Outbrain for example, requires at least 10 million page views from publishers).
Revcontent
If you're looking for a large native advertising network with a lower minimum page view prerequisite, Revcontent is a great choice. This native advertising platforms delivers native ads to over thirty thousand websites around the world and heavily focuses on streamlining the process of running native campaigns, making it a great choice for inexperienced advertisers.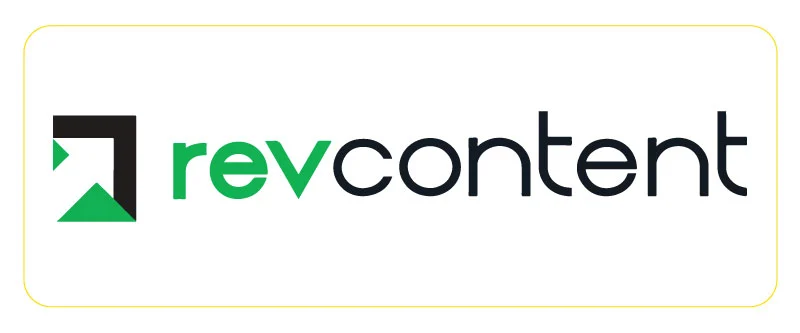 In addition to providing a feature-rich but easy-to-work-with dashboard for advertisers, Revcontent's widgets are also very lightweight to prevent high page latency in publisher websites.
Conclusion
Native advertising is thriving these days and online advertising networks and social platforms are constantly coming up with new ideas to better implement them and reach more customers with annoying them. While renowned self-service advertising channels like Facebook, Google, and TikTok are some of the best options for promoting a brand through native advertising, there are powerful dedicated native advertising platforms in the market that are capable of both promoting brands at a large scale and boost the traffic of publisher websites. Hopefully, our top native advertising platforms list will help you pick the one that best suits your brand and ramp up your revenue.
FAQs
What is a native advertising platform?
A native advertising platform is a network that provides content discovery, sponsored content, and other forms of native advertisement to different websites around the world. It's capable of promoting a business across a vast network and generate traffic for partner websites.
Why are native ads more effective for advertisers?
Native advertising is unobtrusive and usually brings value to users. Its non-disruptive nature makes it much less annoying to users, so there's a higher chance for them to being seen or click on by them.
Are native ads cheap?
While the price of native advertising heavily depends on the hosting platform, the average costs of native advertising are less then traditional ad formats.